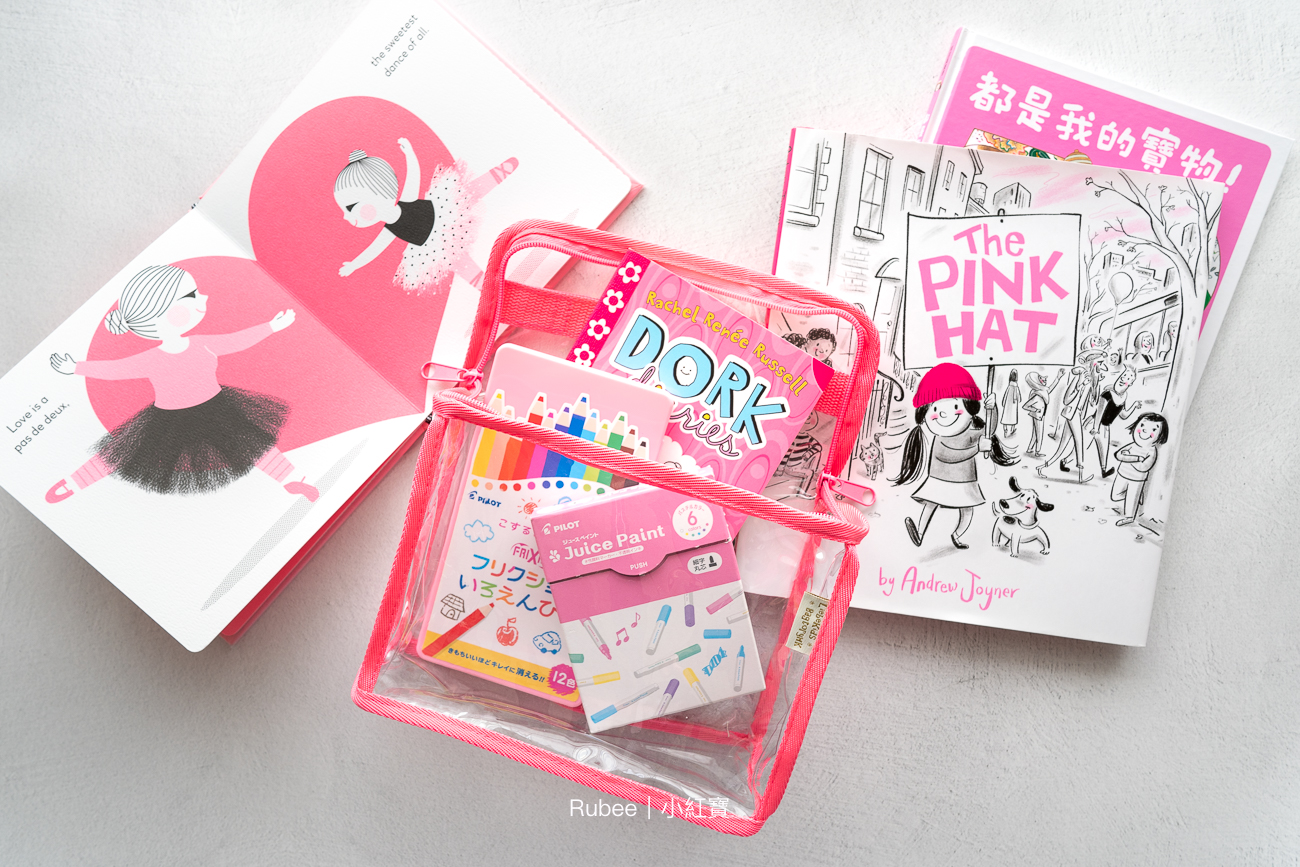 Every once in a while, I will do a big tidying up, eliminate the things that are not in use at home, and store and classify them. After having children, it's really easy to have a lot more stuff, and it can pile up like a mountain accidentally. Only by planning your storage well can you keep your home space fresh. After all, your home should be a place where people can relax. Once you find suitable storage items, you can make good use of the space and make them easy to carry and store away. Only then will you have the opportunity to take out the things you like and put them to good use in your daily life. There are many types of storage products, and I don't think any of them are absolutely useful or bad. It all depends on what you want to store. However, I think it's important to keep things clearly visible after being stored, so that you don't have some things stored at home that you never use, or you don't even know you have similar products and buy them again. Choosing transparent storage products can make finding things more efficient! Today I'm going to share the storage items I recently discovered – Liebekids BAGTORY completely overturns the problems that the material of the storage bag may be too soft or difficult to store. BAGTORY is specially designed with thickened material, so that each storage bag can stand upright one by one. It is lightweight and does not take up space when folded. Storage bags are really a good helper for sorting items! One bag of each kind is convenient and easy to find! If you want to take the toys out, you can go out directly by just mentioning them!
However, we still have to remind you that when there are too many clutter in your home, it will be messy no matter how you put it away, and it will be even more stressful every time you sort it out. The concept of storage mentioned in Marie Kondo's book is to "keep the things that move your heart." Decluttering is about choosing what to keep, not what to throw away. Think in terms of categories of items, collect items of the same category, and then make decisions and organize them together in one go.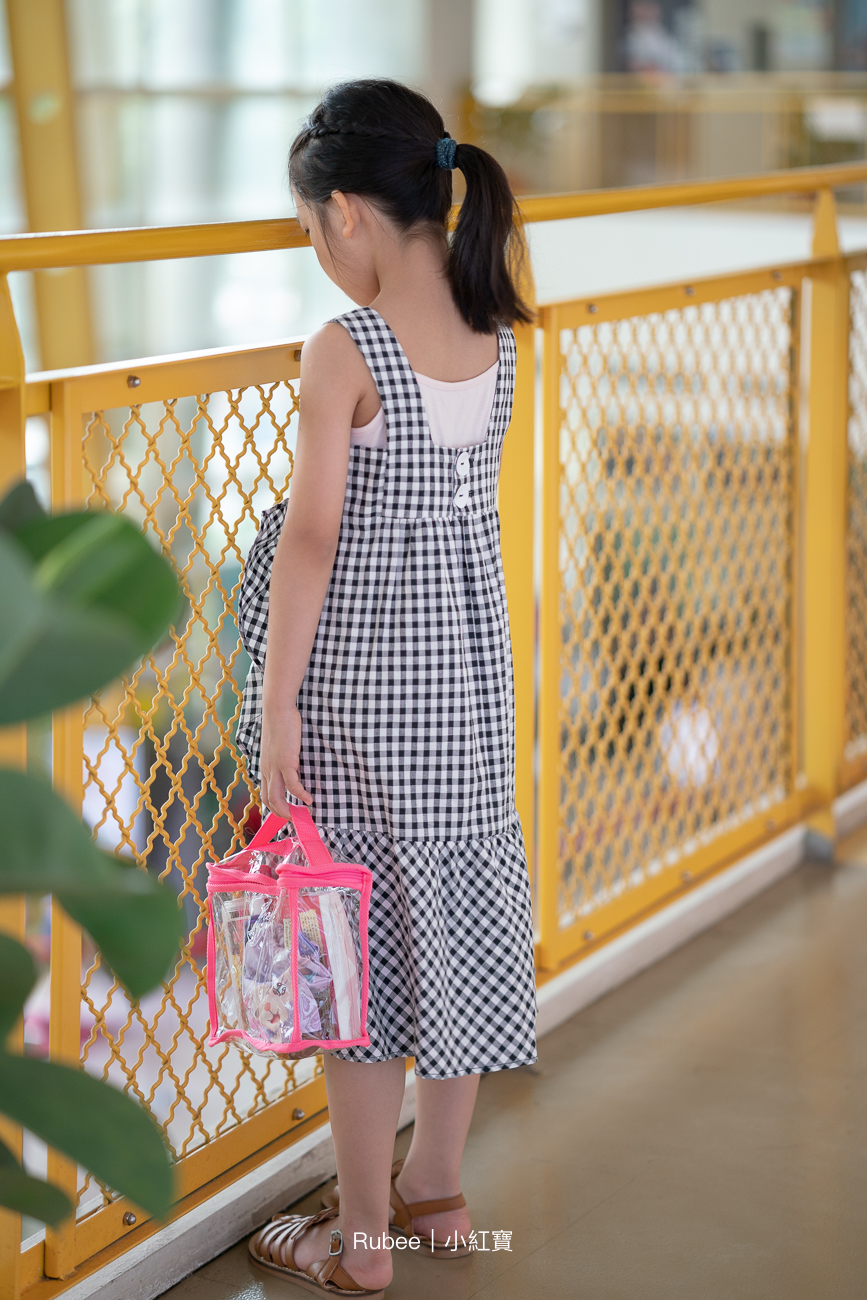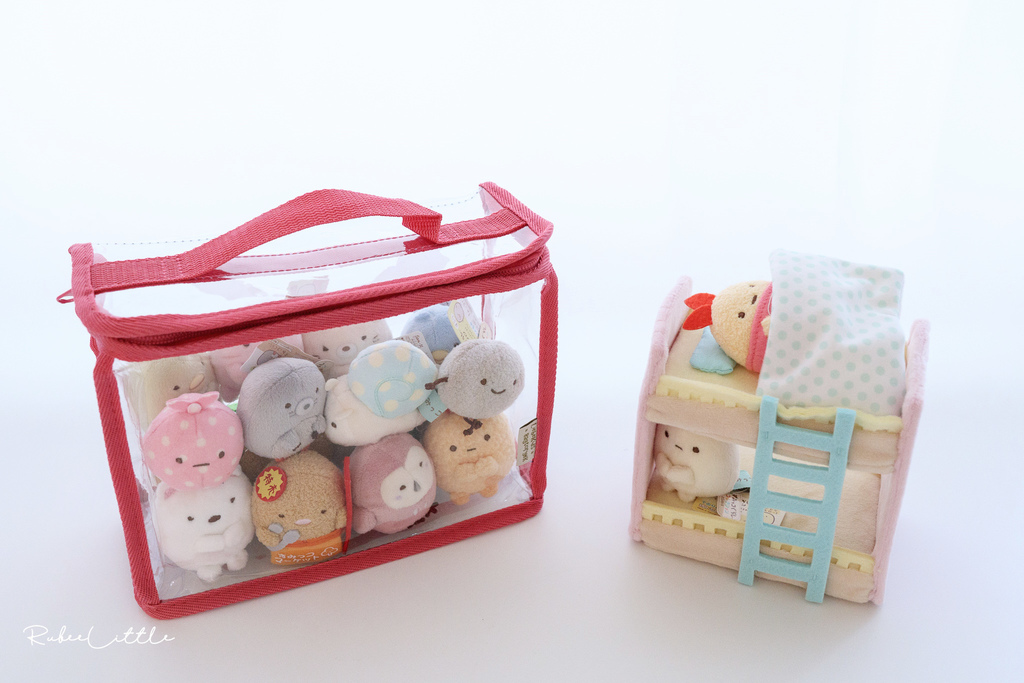 There are many transparent storage boxes at home. The advantage of storage boxes is that they are stiff and easy to stack, but the disadvantage is that if you use them to store irregularly shaped items like toys, it will take more time to store them, because the lid must be closed properly. Just place it just right. In addition, when placing it in the cabinet, the size must be just right. If it doesn't fit, it won't be able to be placed. Even if the storage box is no longer needed in the future, it will still take up space in the cabinet. Now let's talk about storage bags. The disadvantage of storage bags is that sometimes the bags are too soft and difficult to stand or stack when storing, causing the storage to feel messy and untidy. But the advantage is that the size is relatively flexible, so it is very convenient to store toys. You can just put them all in without worrying about not being able to close them carefully! When the storage bag is not needed temporarily, it can also be folded up to save space.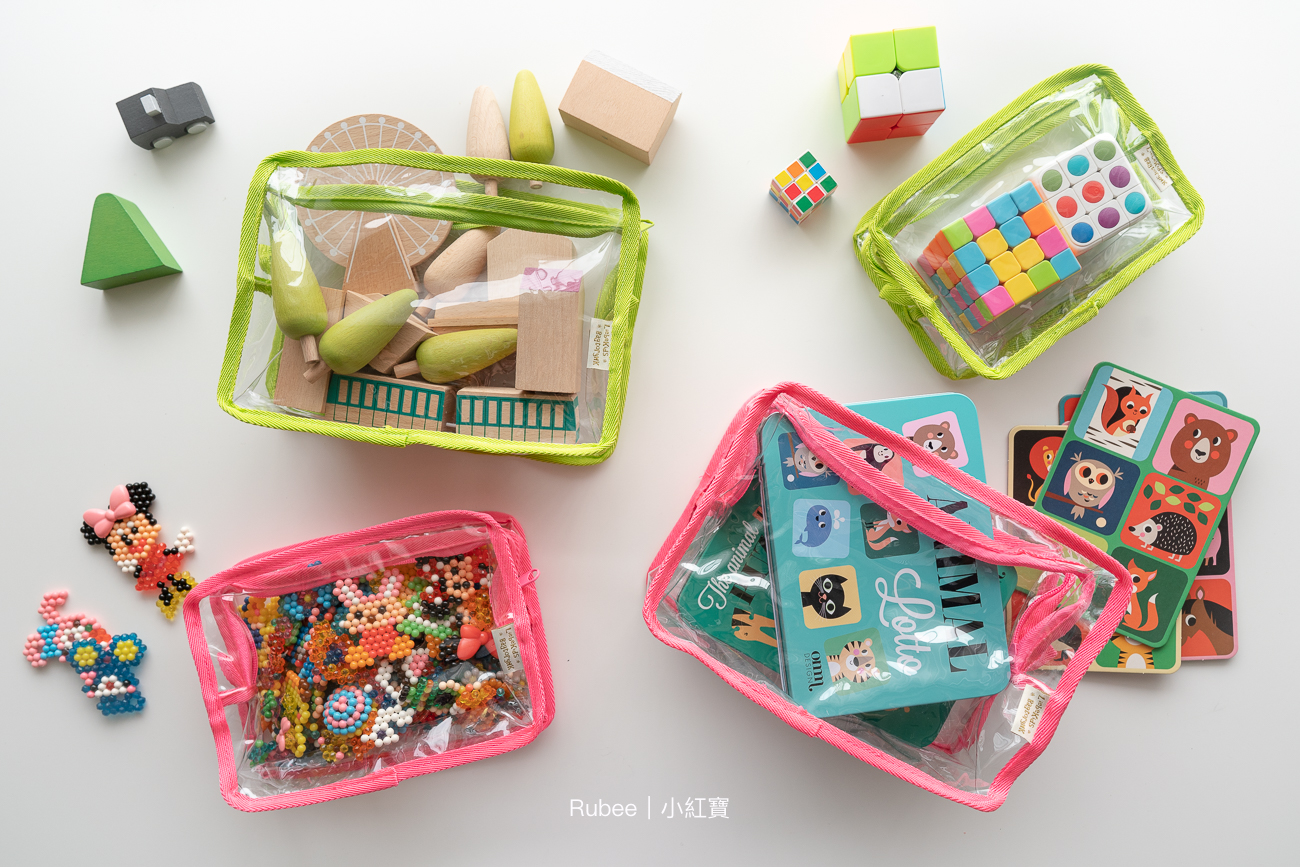 I have been using the treasure bag for a long time and it is really a good helper for home storage!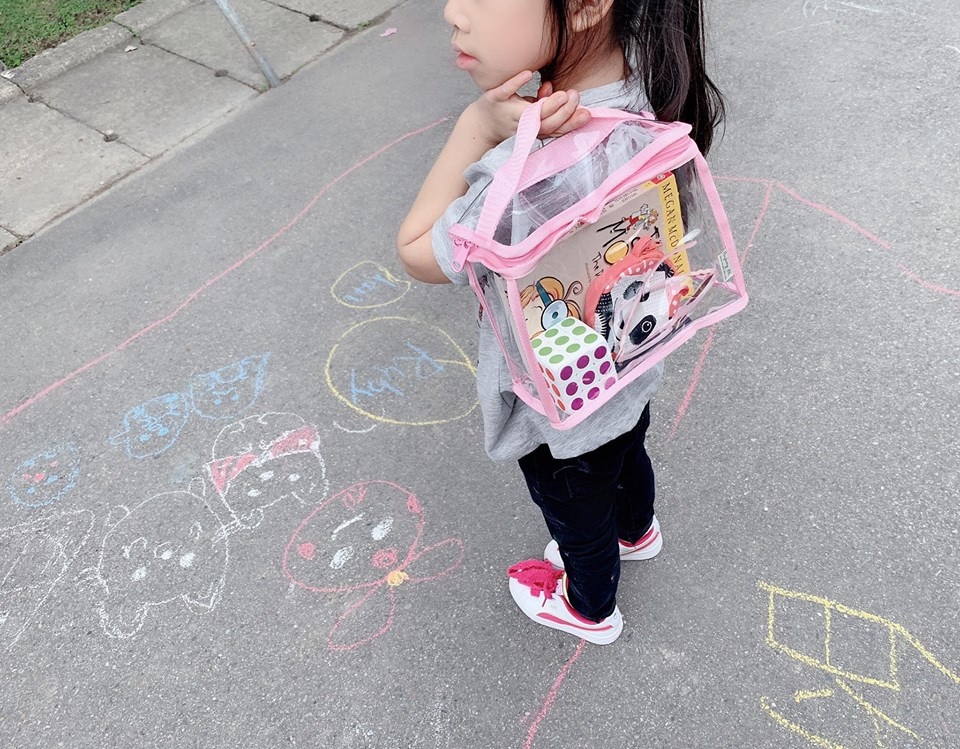 Chapter links

Features of BAGTORY
1. Transparent and environmentally friendly PVC material, certified by SGS, non-toxic and safe.
2. Thickened nylon edging, sturdy and durable
3. Various sizes, you can find a suitable storage bag size for everything from small items to quilts
4. Double zipper design, easy to pull without getting stuck
5. Dust-proof and anti-fouling, easy to clean
Easy-to-carry transparent storage series: Easy-to-carry small size (3 pieces)
This is a medium-sized storage bag with handles that I highly recommend. Whether you want to carry groceries, toys, supplies, etc. when going out, it is very convenient. Or it's perfect to use as a sorting bag at home!
The three-dimensional bag design is very easy to carry things, and the size is easy for children to carry by themselves~
The new colors launched in 2020 this year are fluorescent colors that are perfect for summer!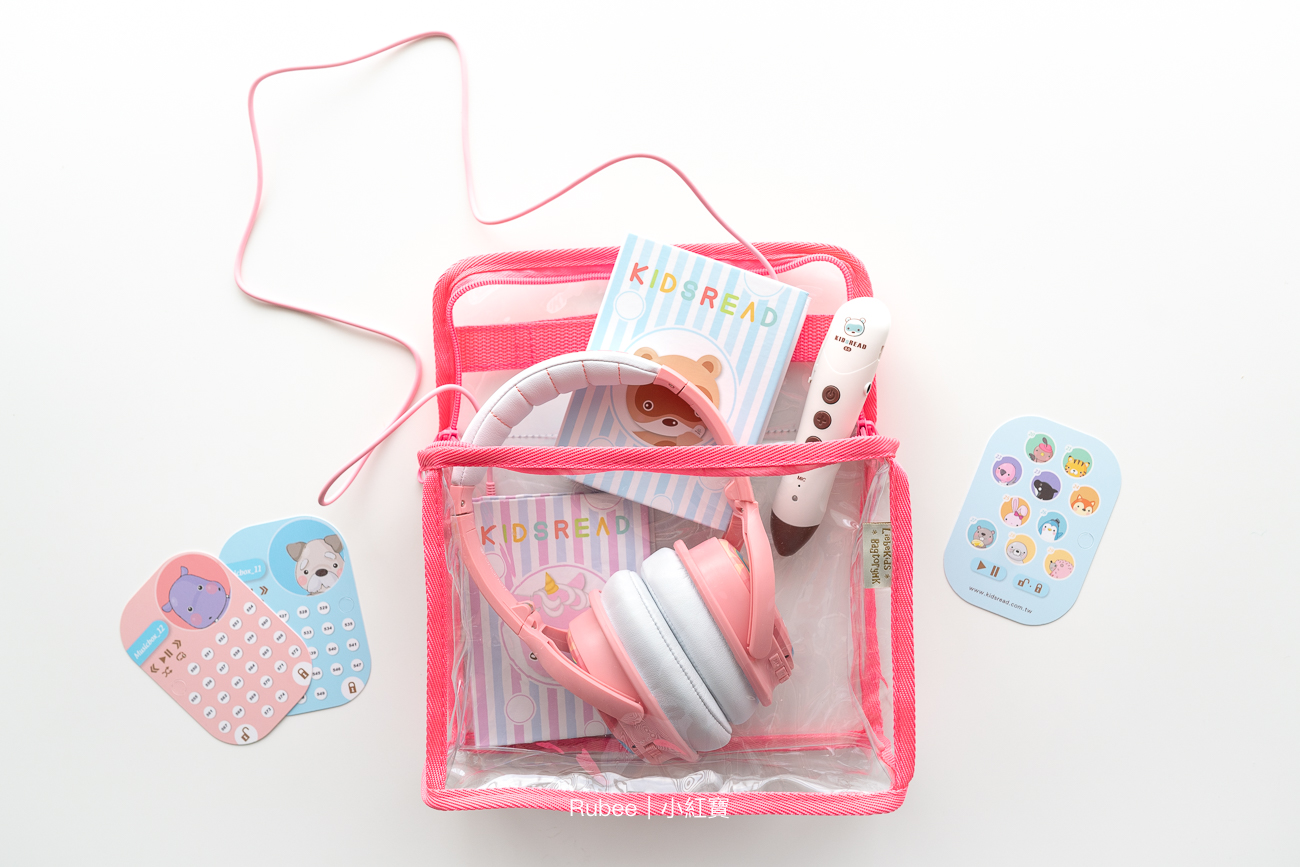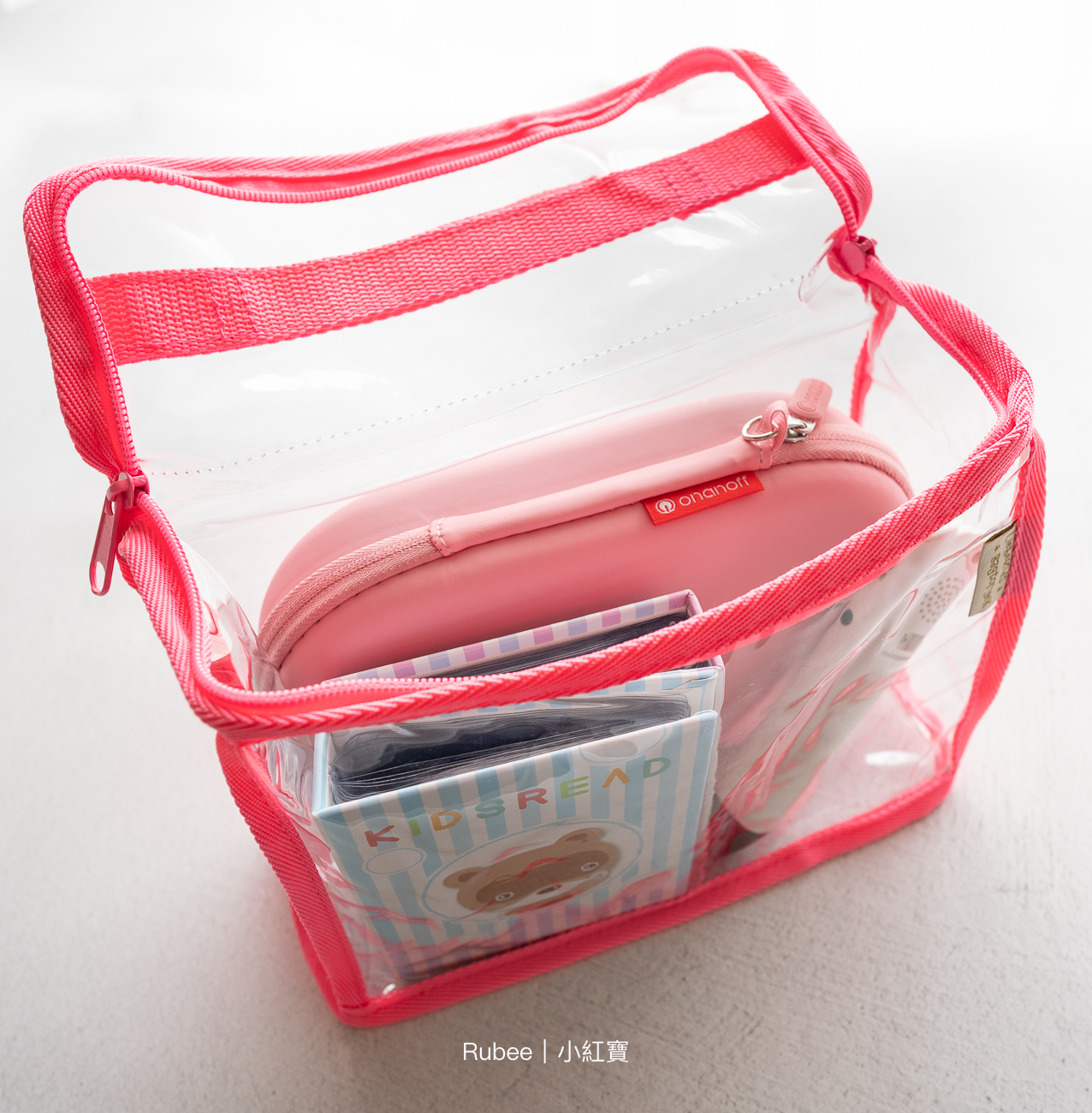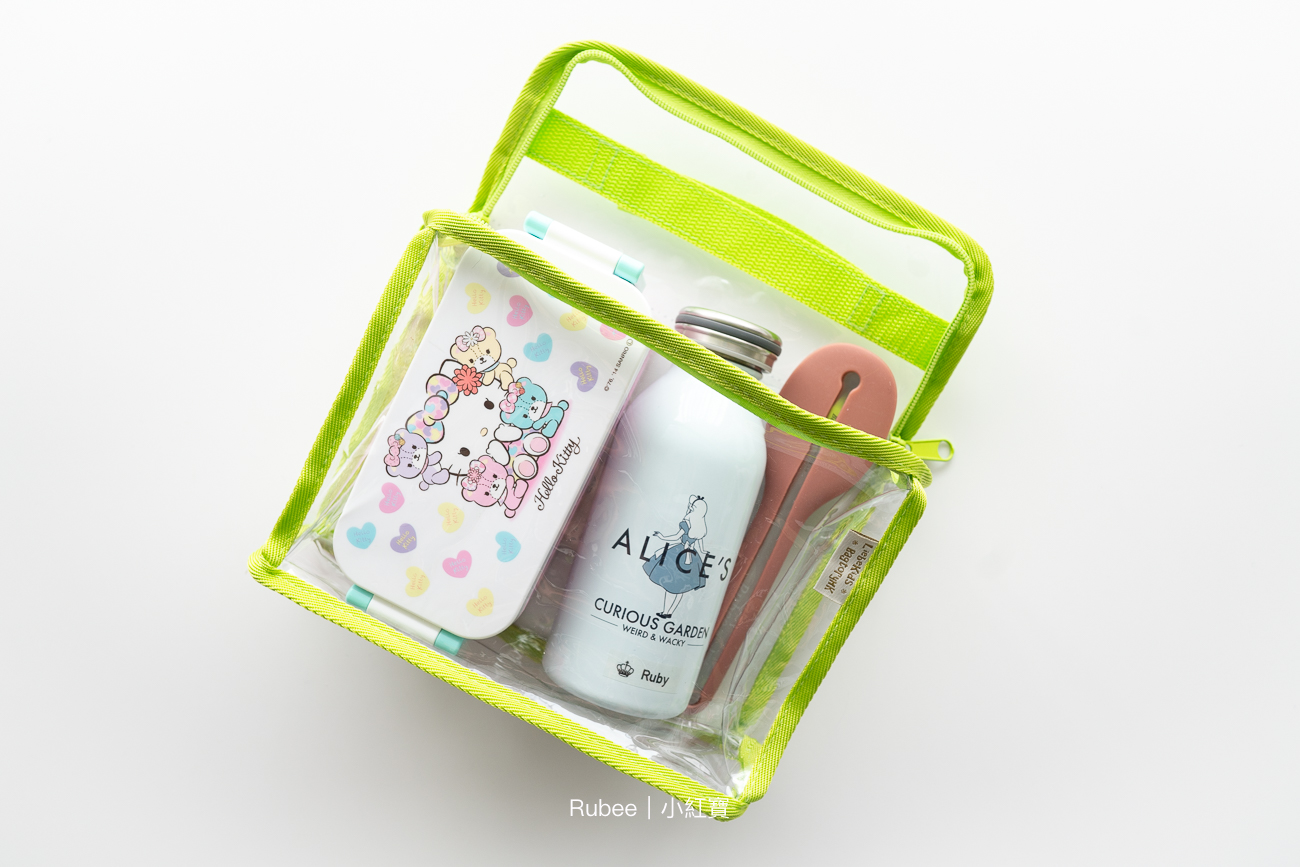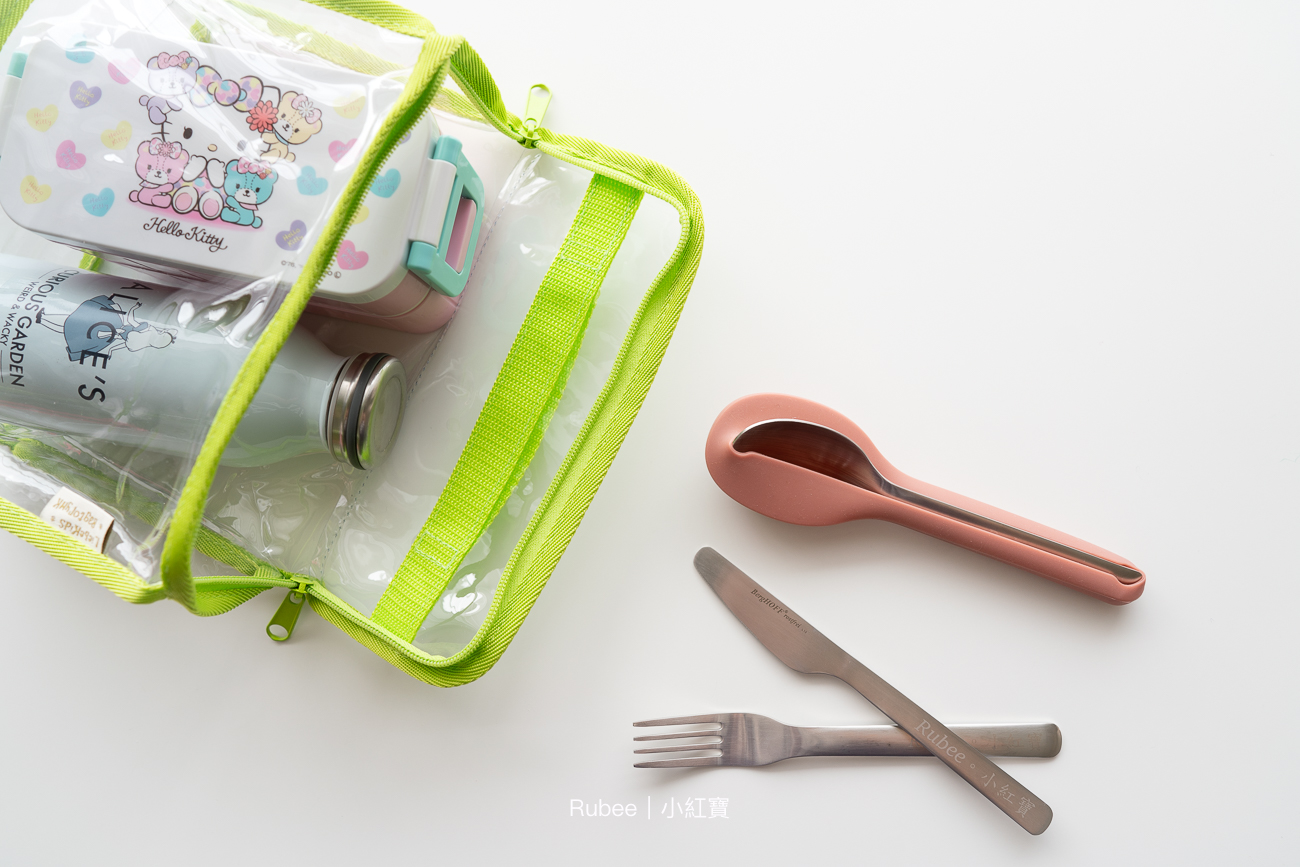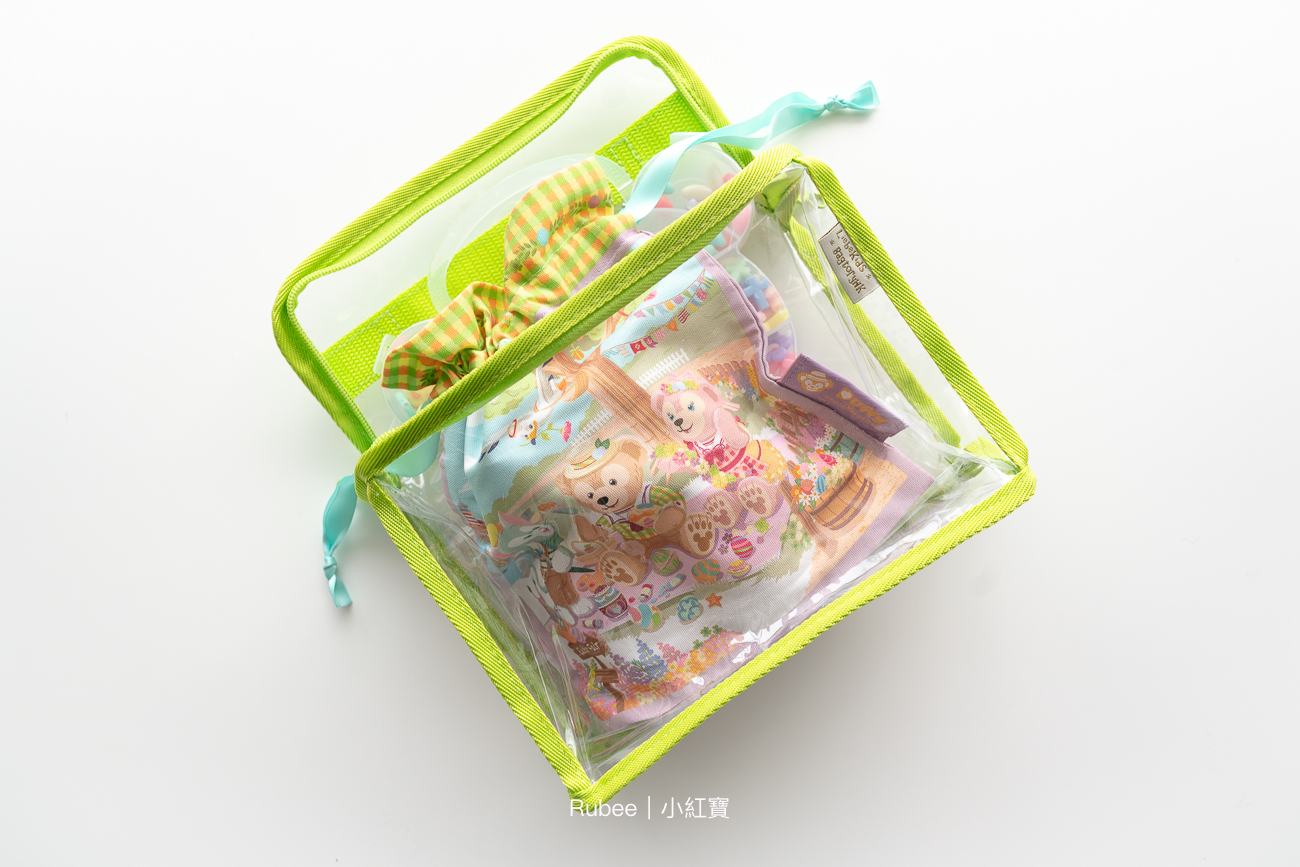 I like the black color of this one very much, it looks fashionable!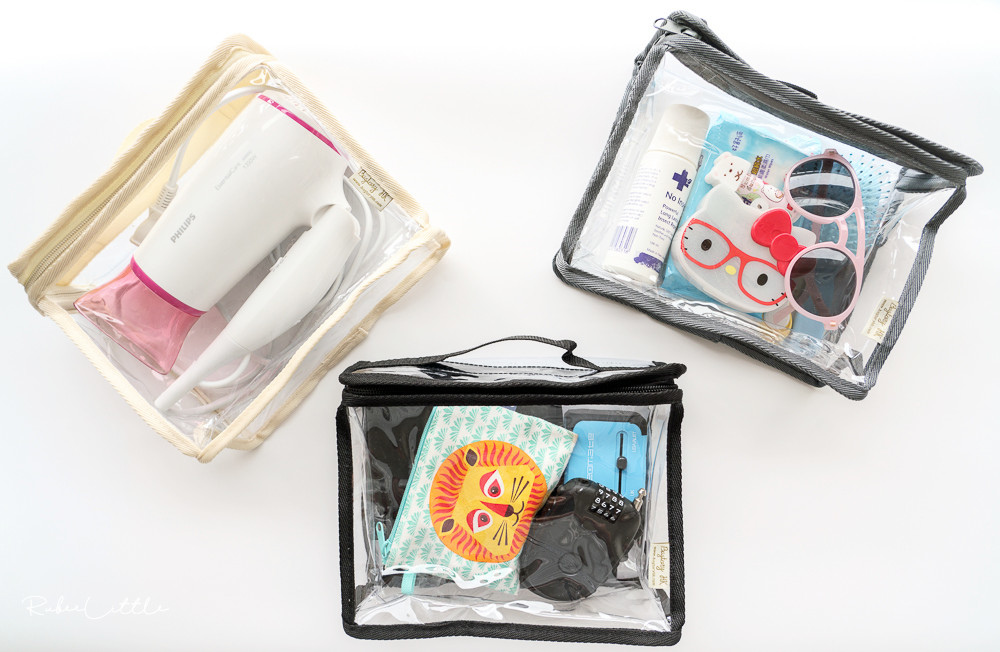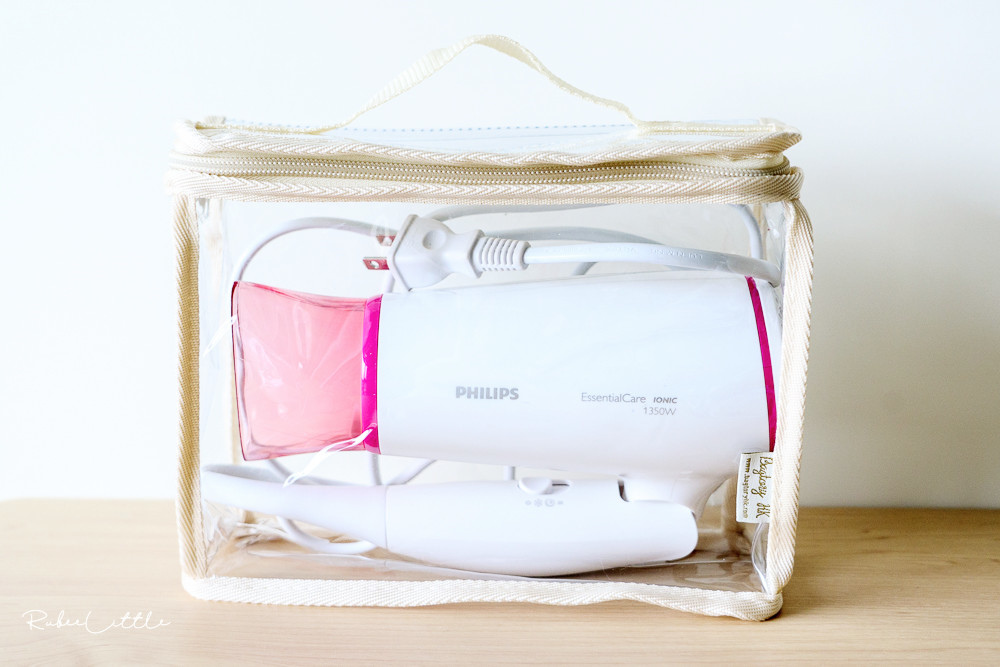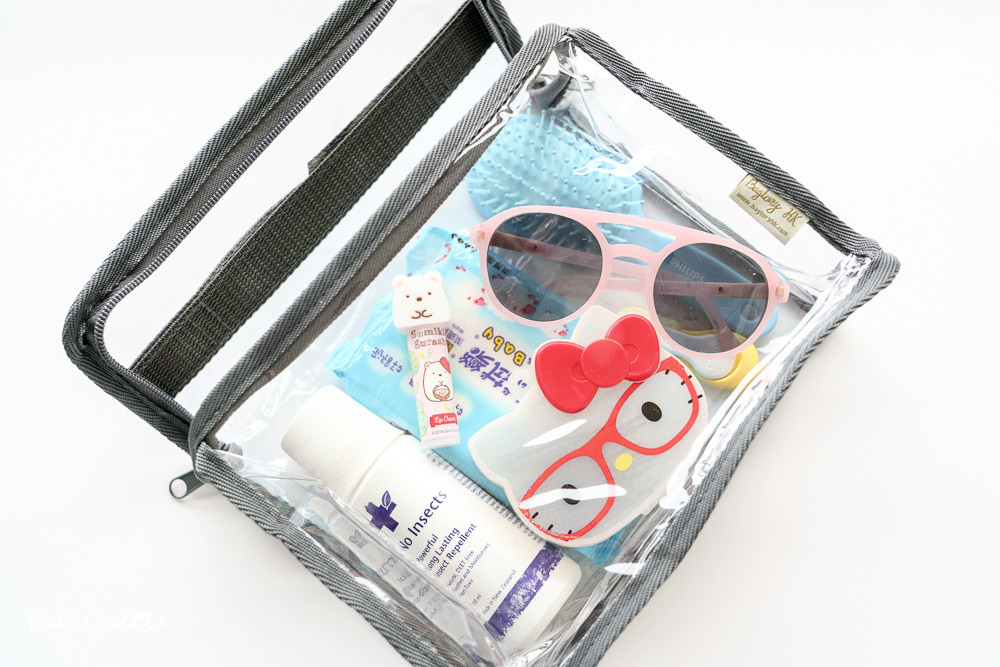 Whether it is small items that children will use when going out, or 3C accessories for travel, this bag is just right!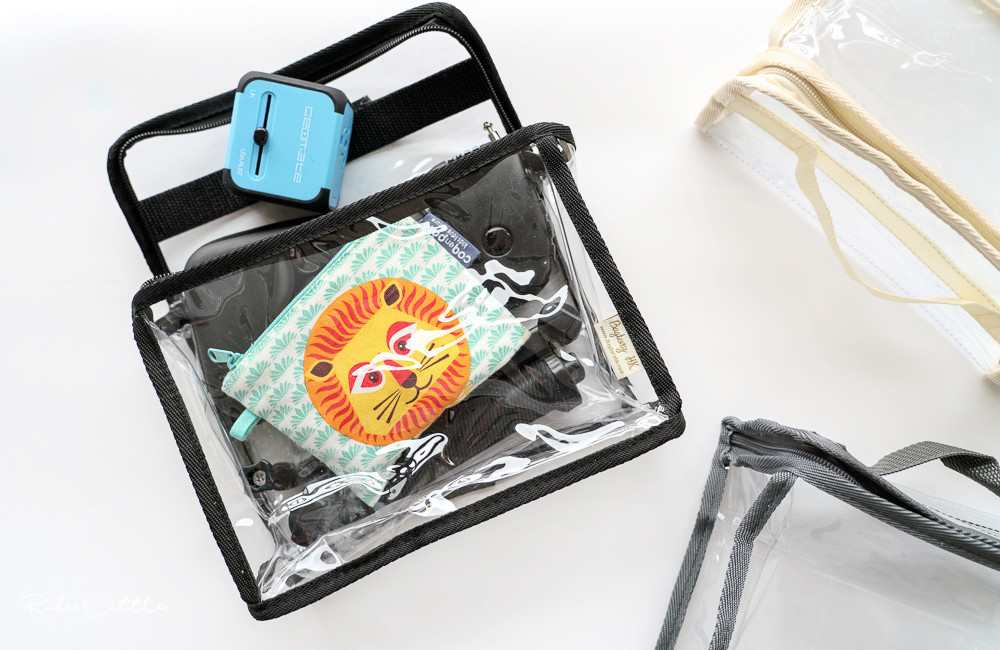 Especially love the lavender purple!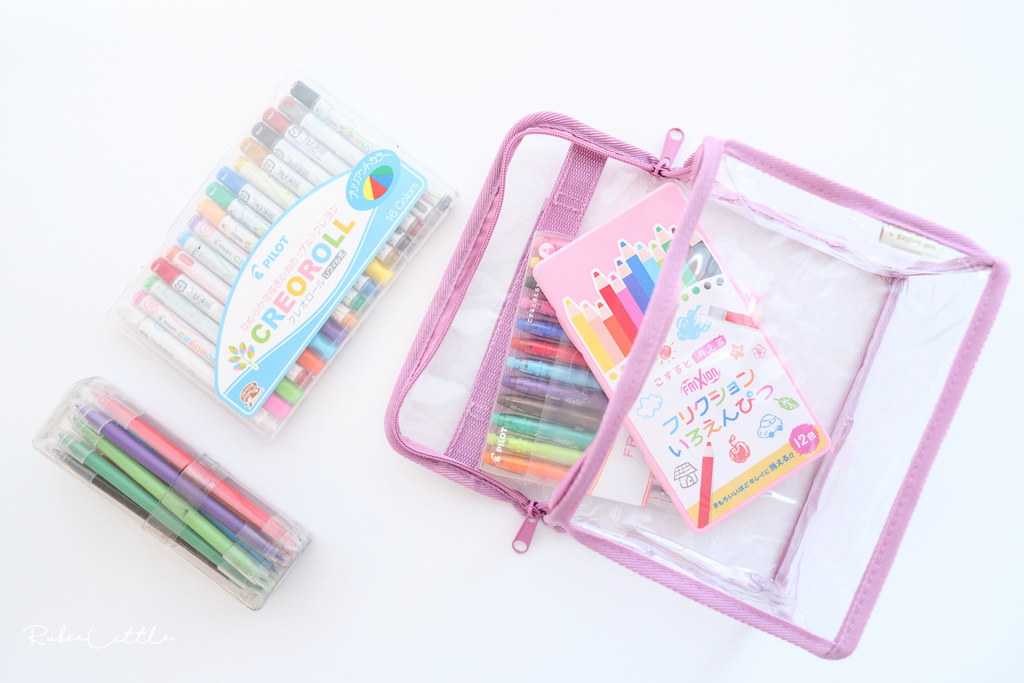 This size is perfect for holding corner creatures~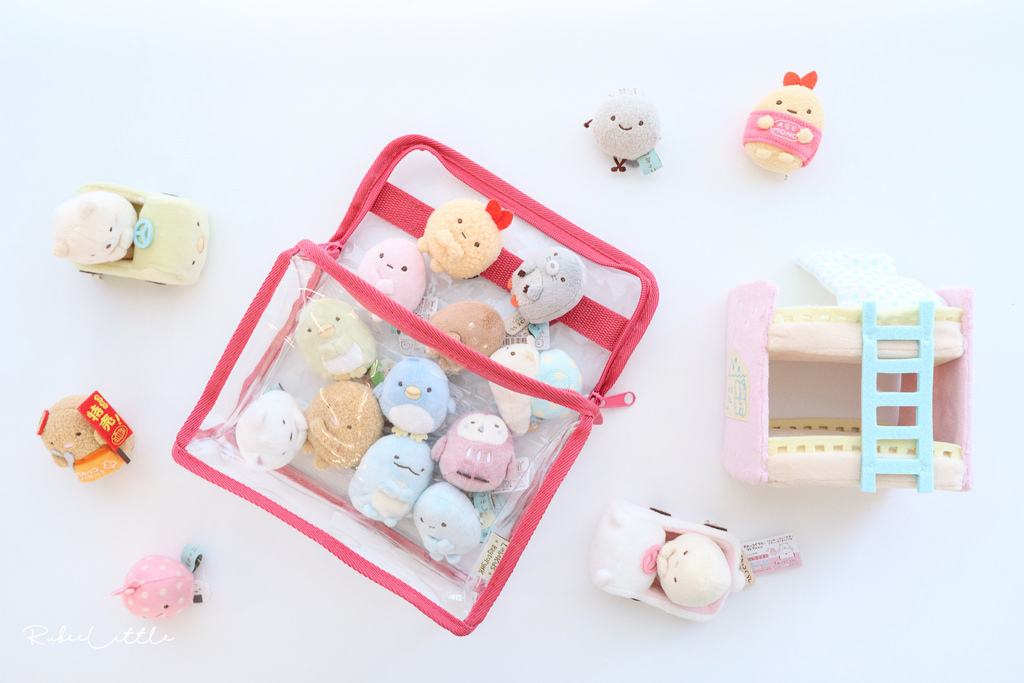 Rubee loves to draw, so she only has a bunch of drawing utensils. It's very convenient to put them in separate bags! Just pick them up and go~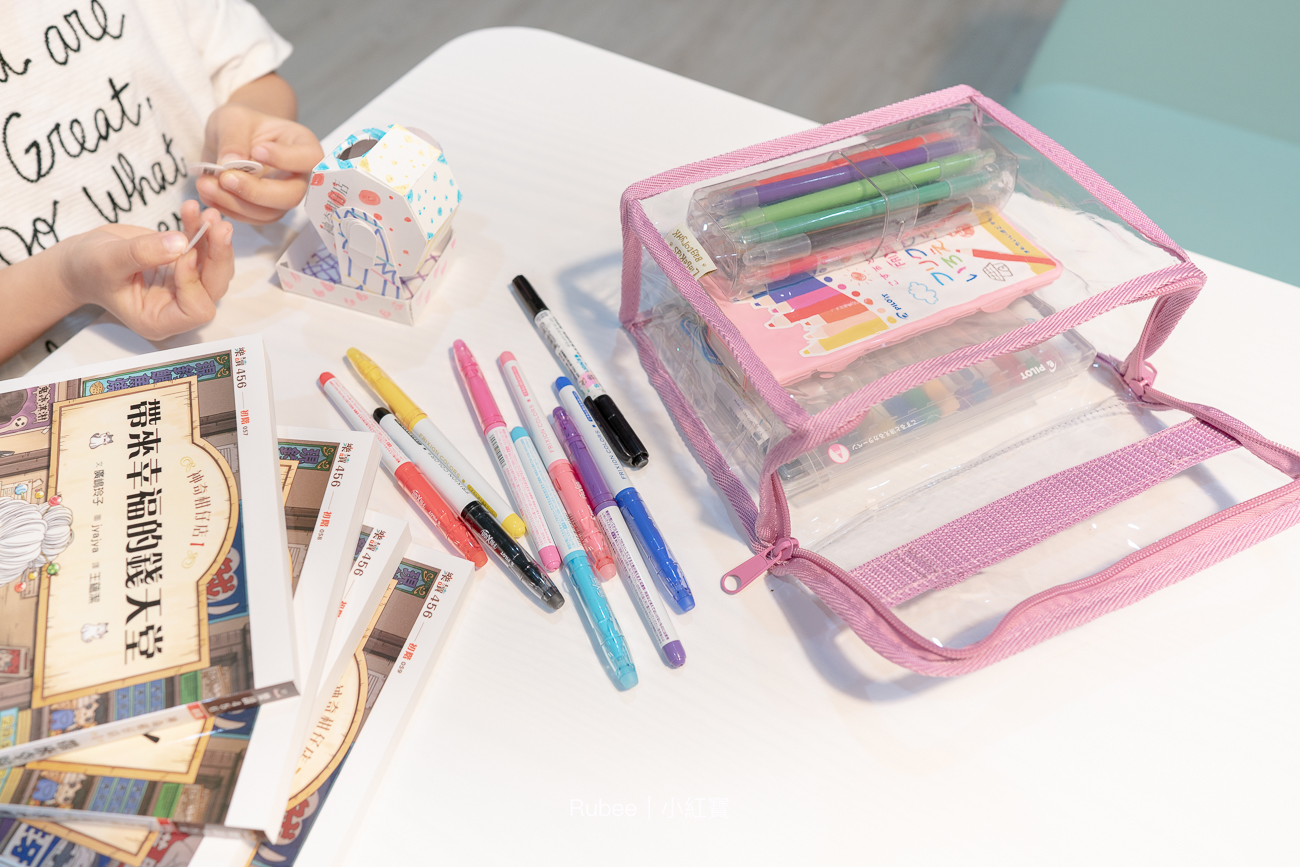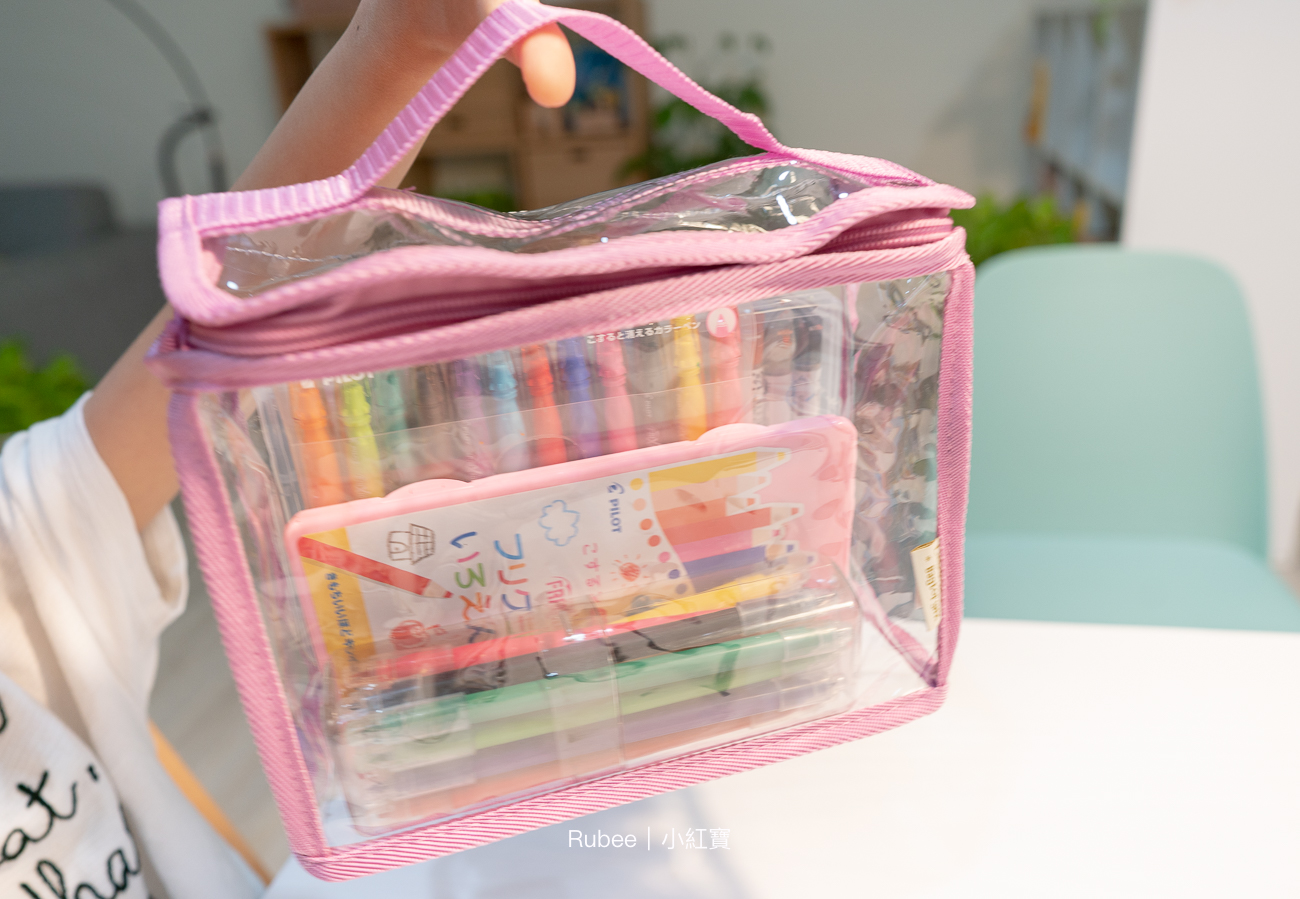 We used this to pack books before we went to England, so we didn't have to worry about the books being crushed or folded in the suitcase~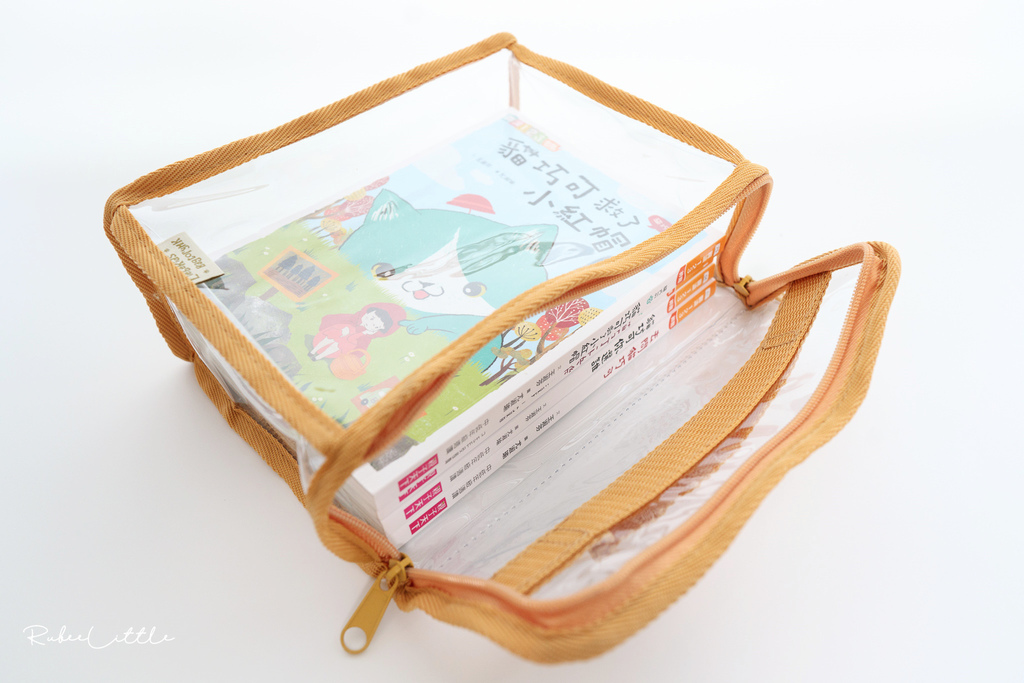 The colorful macaron colors are suitable for children~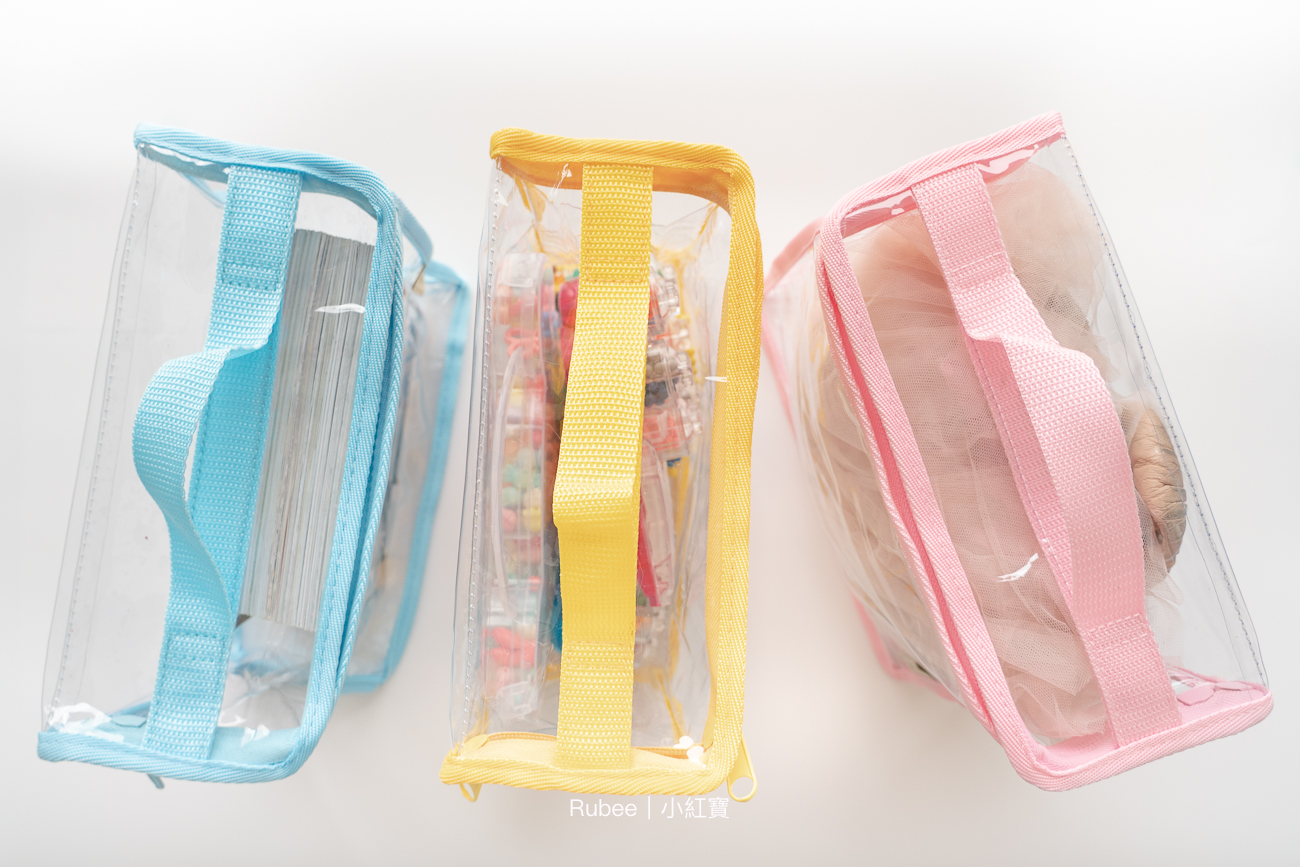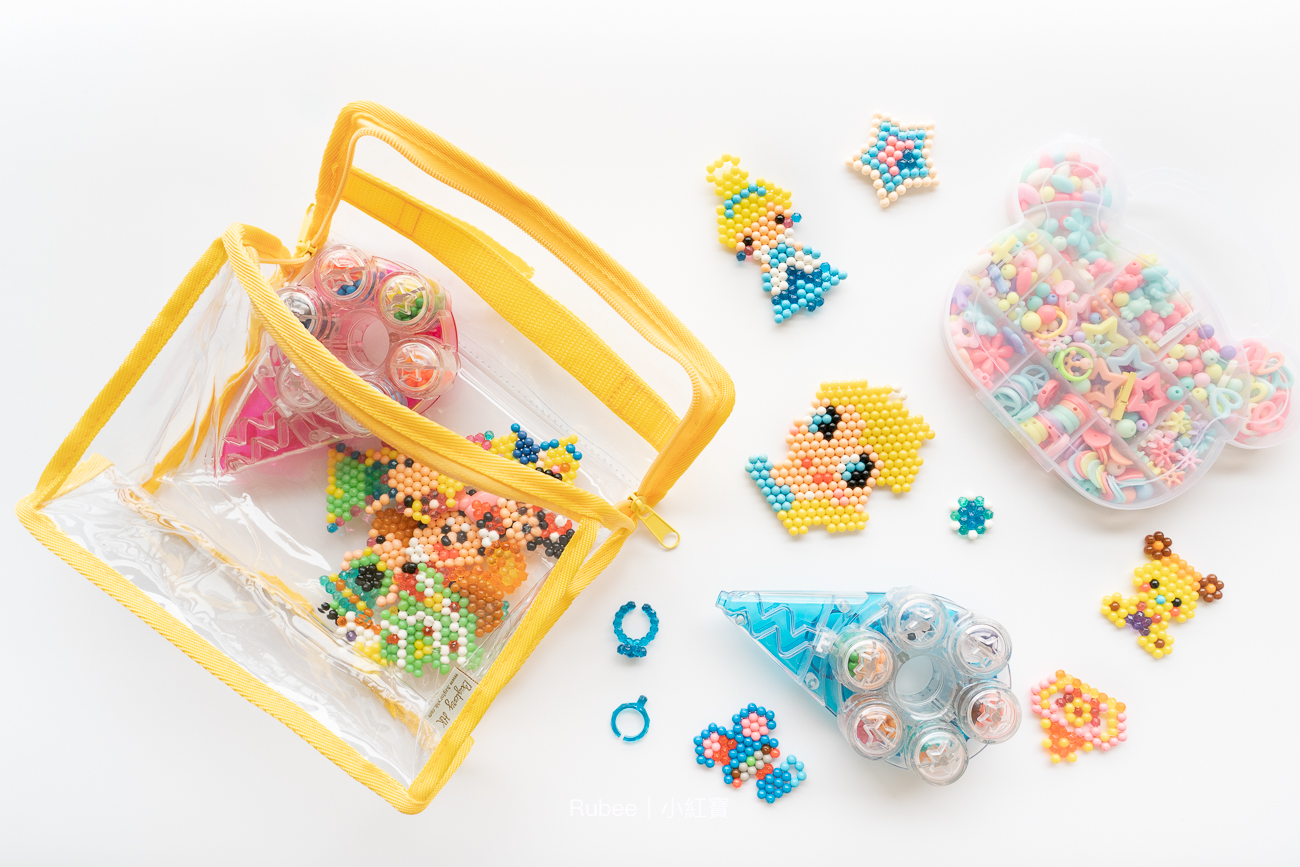 The picture cards used to hold the missions in each monthly box are just right!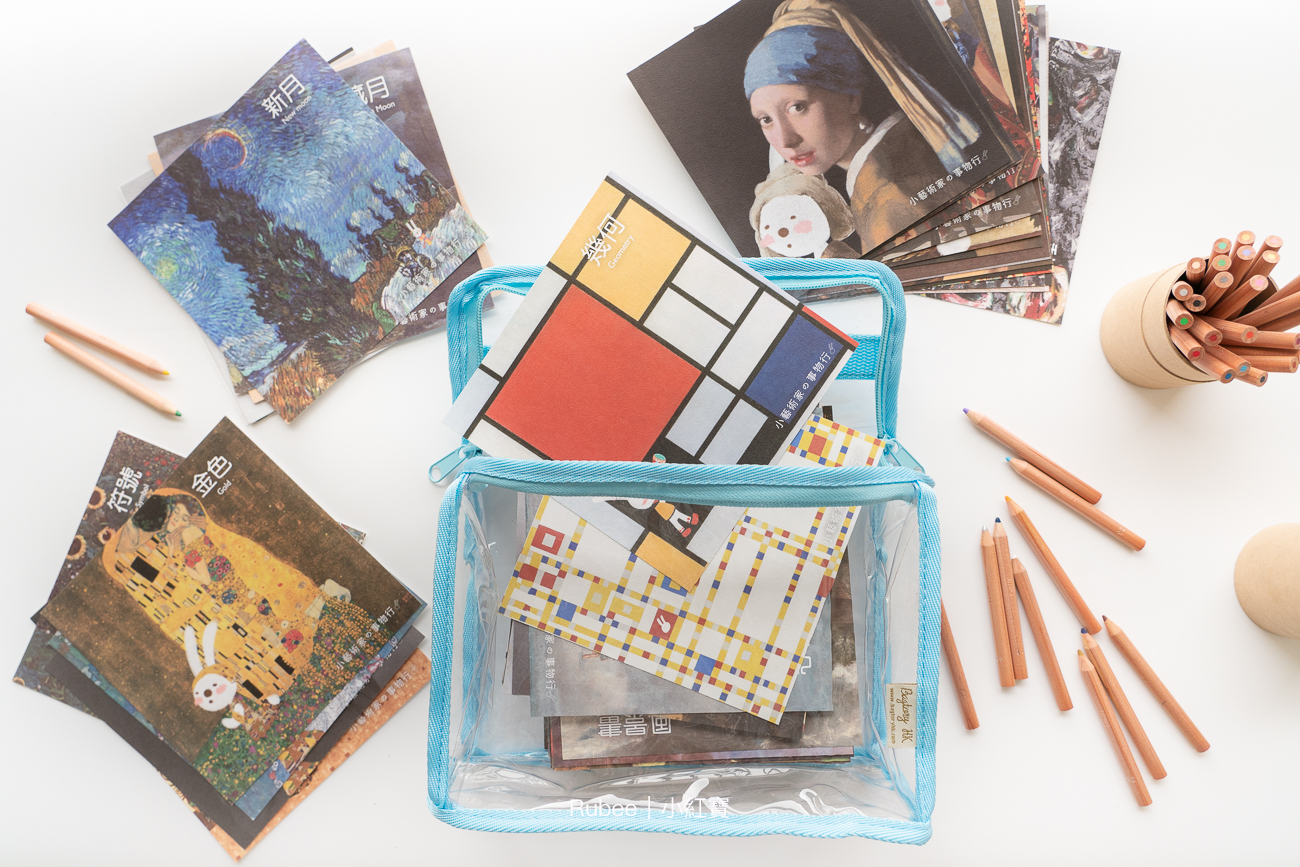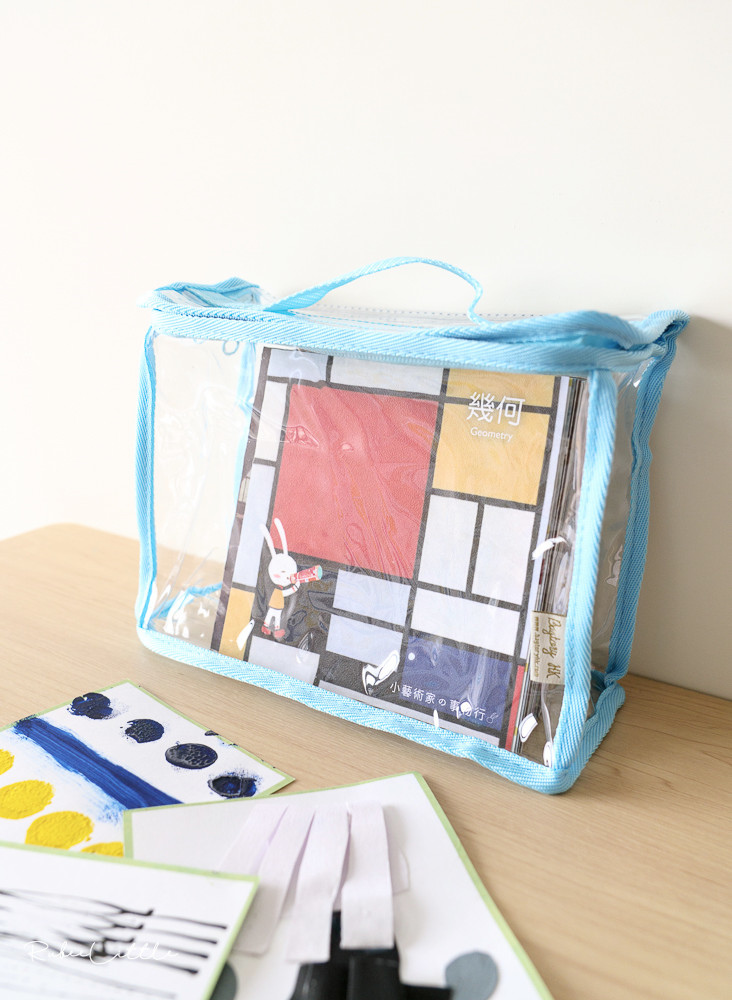 You can also use it to store toiletries when traveling.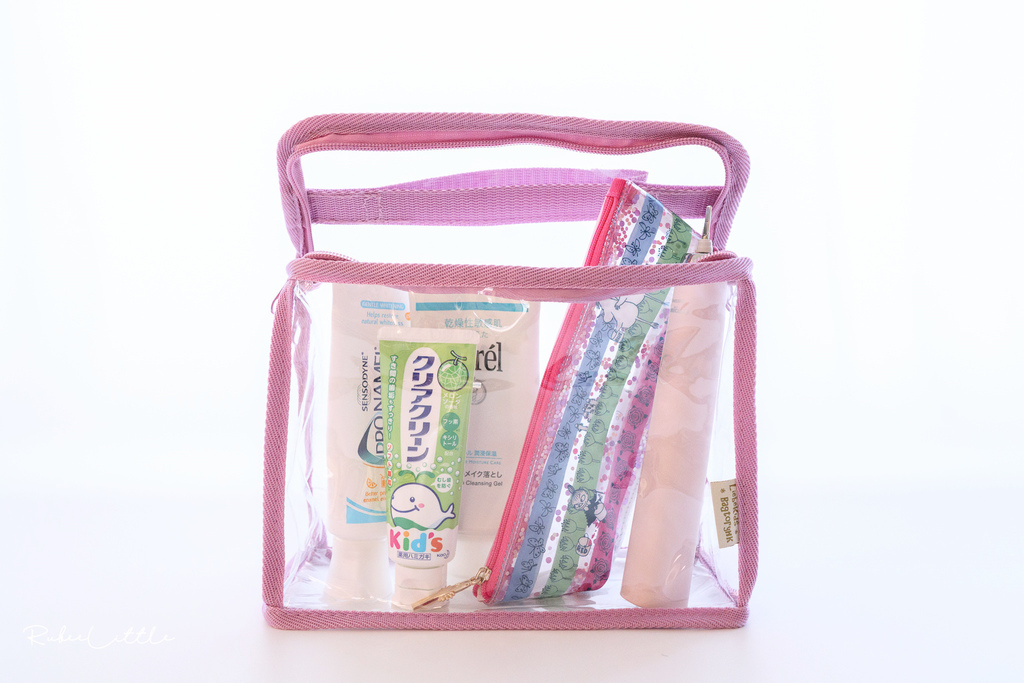 Easy-to-carry transparent storage series: Easy-to-carry mixed style (3 pieces)
▸Size: mixed style (large + medium + small solid color 3 pack)
Large: H22*W20*L34cm
Medium: H20*W16*L32cm
Small: H19*W13*L27cm
The difference from the above combination is that this one comes in three sizes: large, medium and small, and all have handles. Suitable for storing various toys, sundries, etc., it is a very practical combination.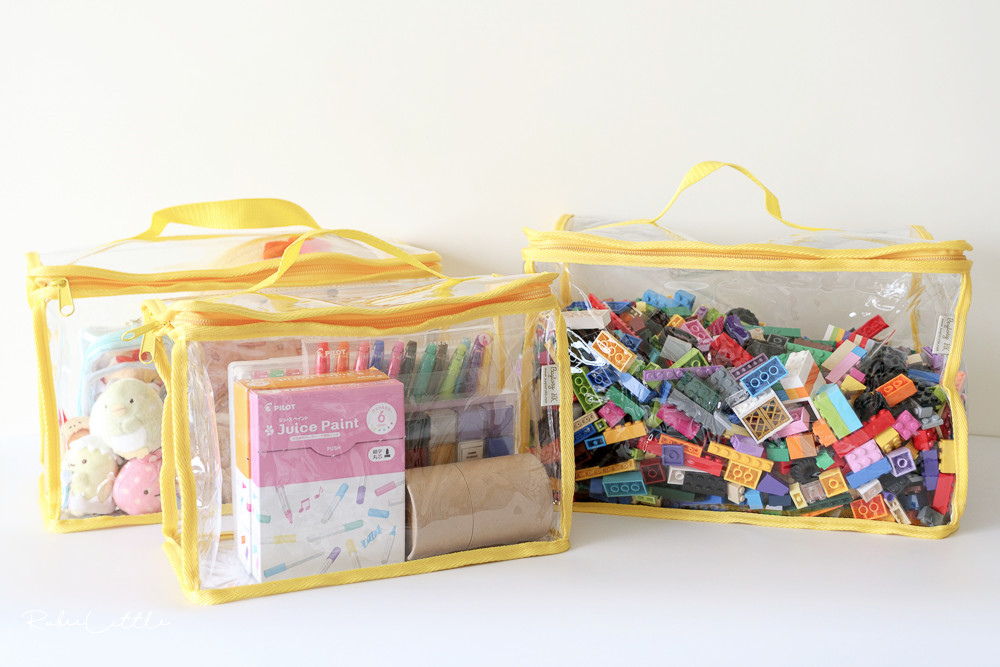 Use the small ones to hold painting supplies, the medium ones to hold smaller dolls such as corner creatures, and the large ones to hold Lego.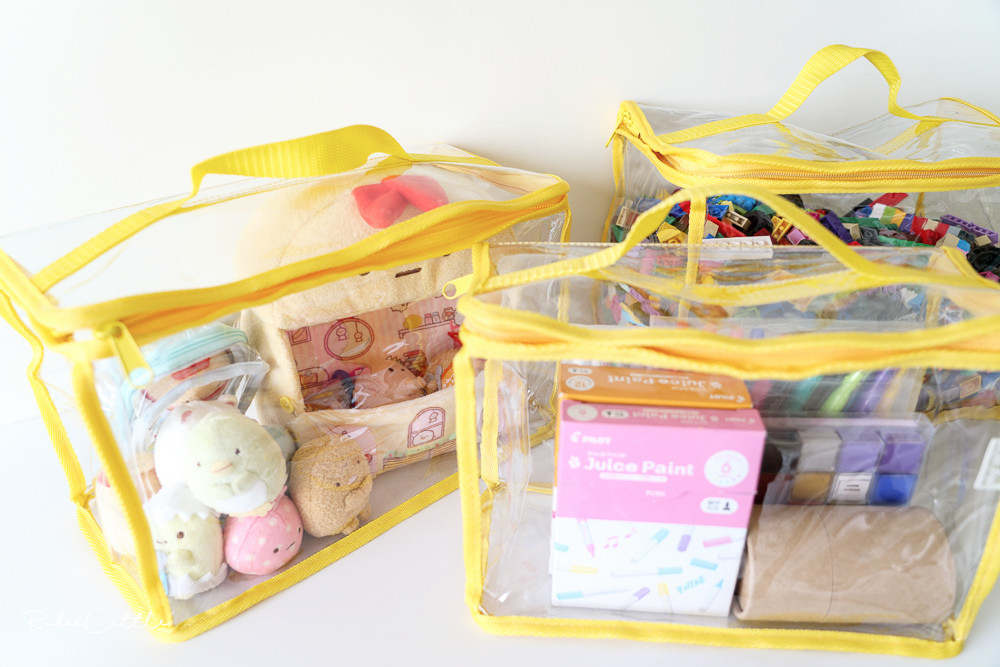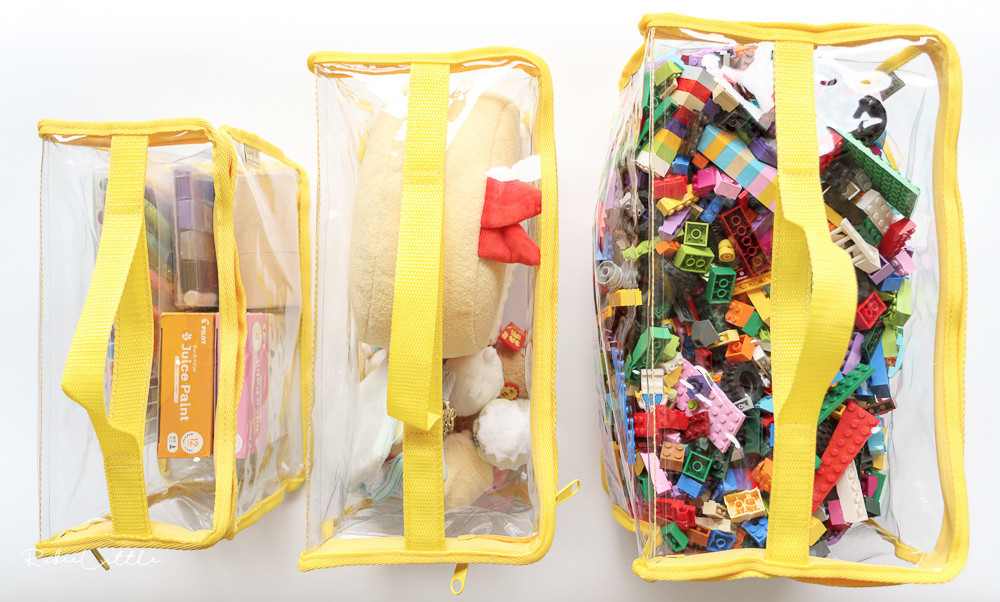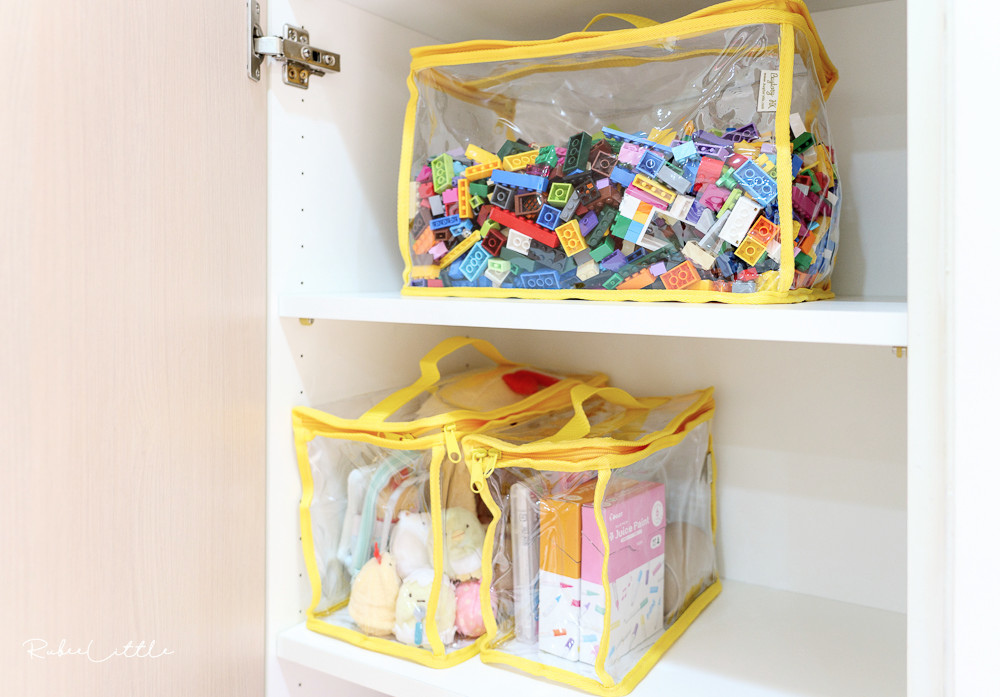 This large-sized storage bag is really suitable for storing Lego. The large opening makes it easy to find the building blocks, but at the same time, the bag itself is stiff and the building blocks will not fall all over. In the past, Lego bricks were always placed in the original brick box that came with the factory. Unfortunately, the opening was narrow, so it was not easy to find the bricks. The bricks were easily spilled after being turned over, so you can find this set of Lego bricks. Really satisfied!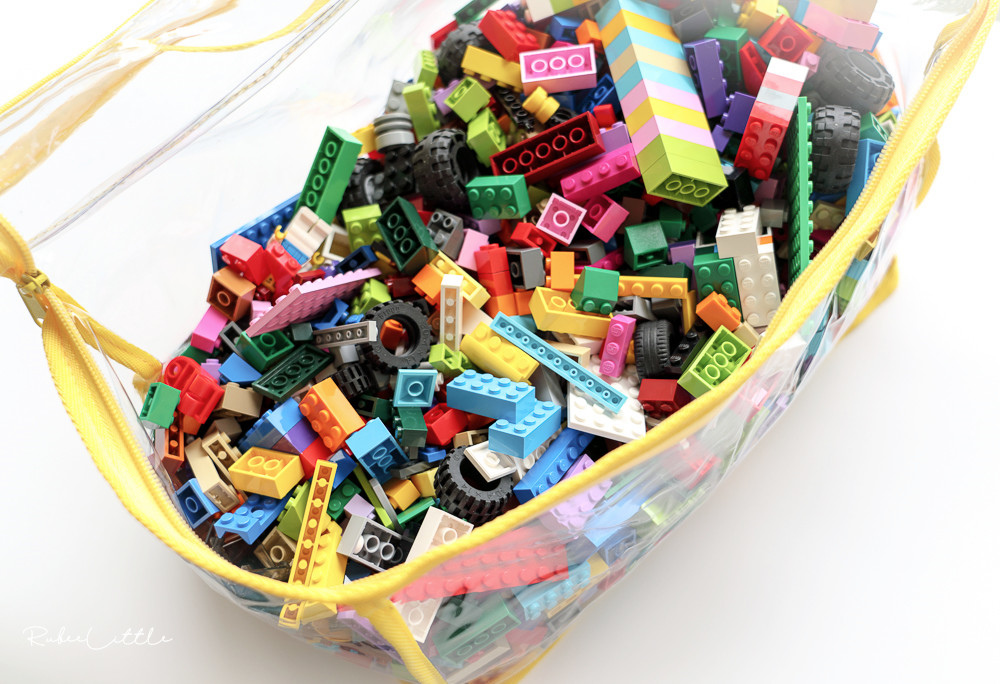 Double zippers are a must-have for a useful storage bag.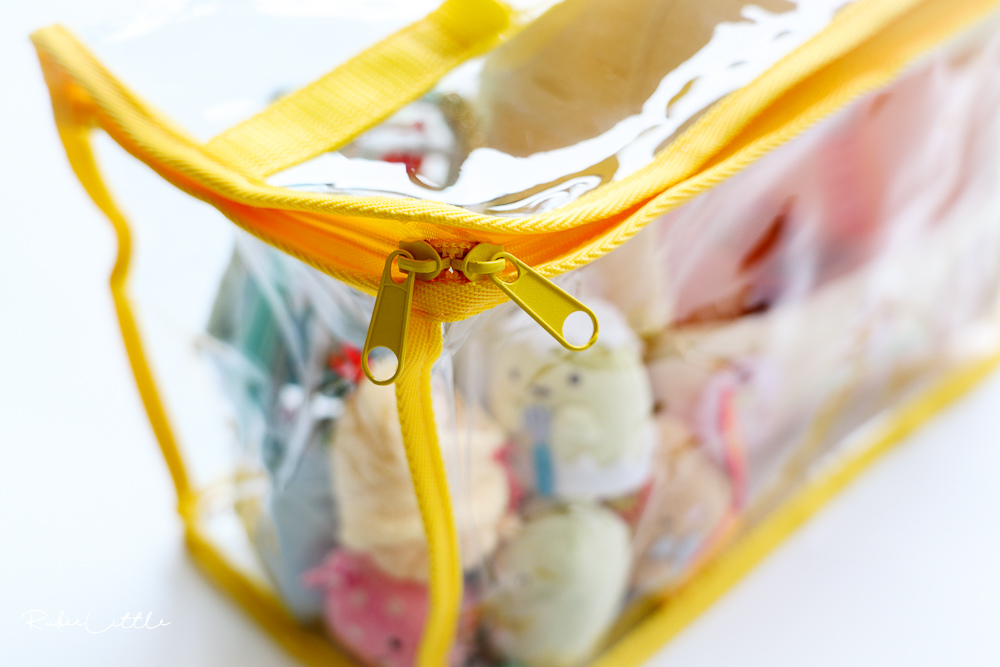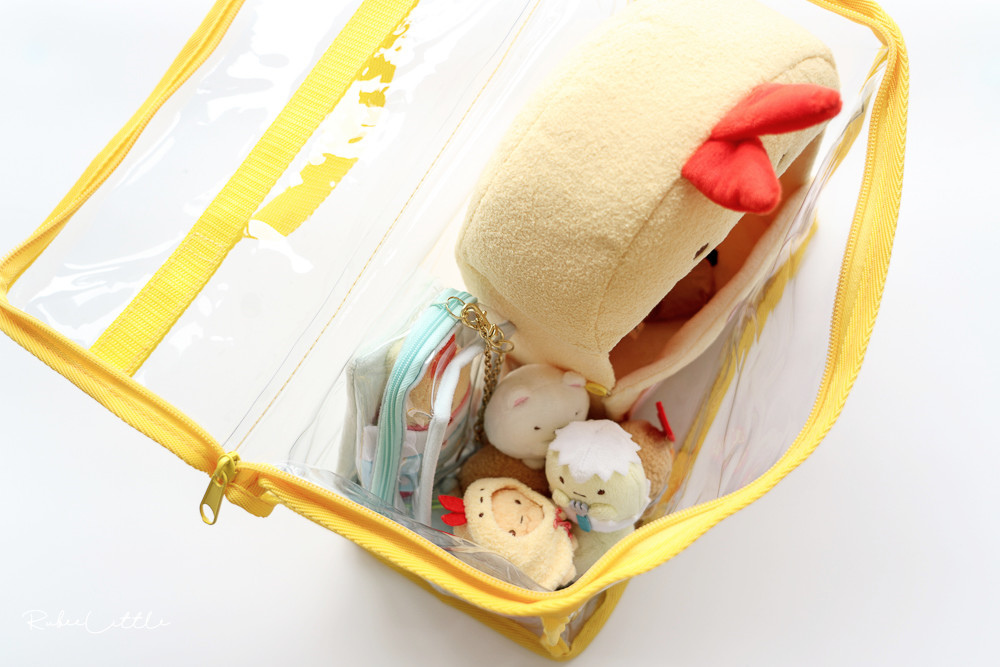 I couldn't find a bag that could hold all the commonly used painting tools before, but now I found this one. All the necessary tools are gathered together in one small bag. It can stand upright on the table. It's transparent and makes it easy to find things! Really easy to dress up~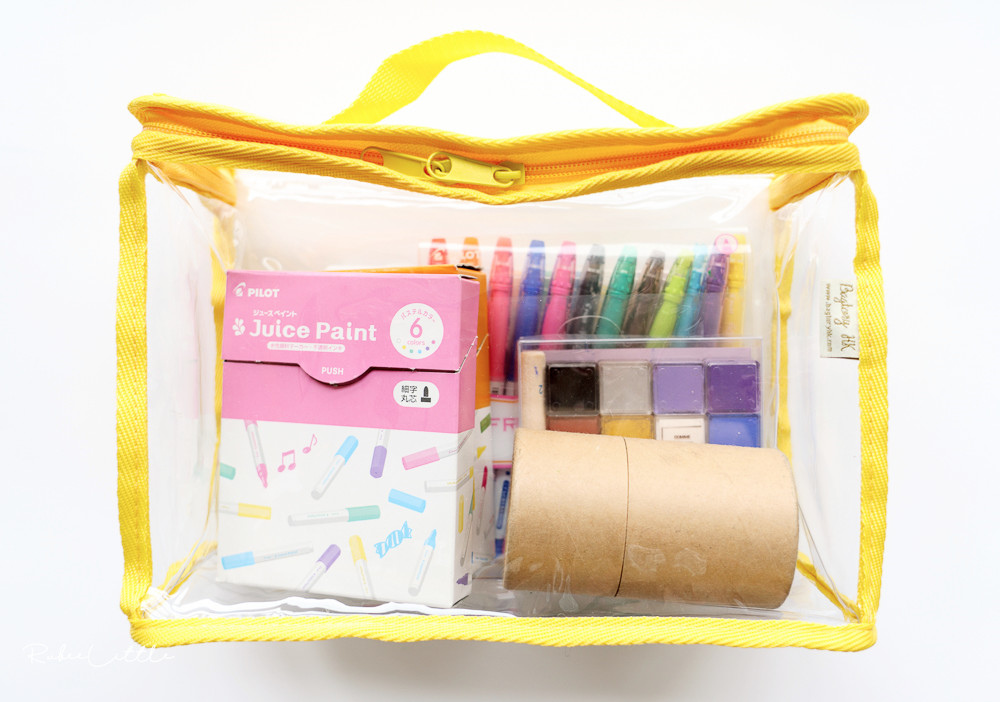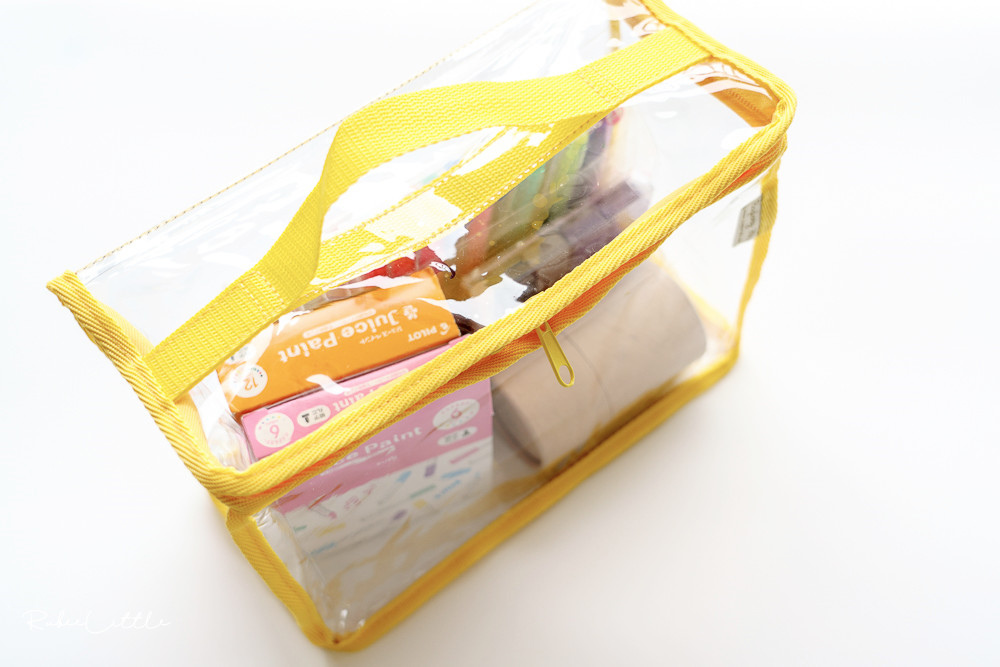 Lightweight mixed toy bag (1 each of four sizes)
▸Size:
XL: 23L x 10W x 16H (cm)
L: 23L x 7W x 16H (cm)
M: 20L x 6W x 14H (cm)
S: 17L x 5W x 12H (cm)
This bag comes in four sizes and can be said to be a universal storage bag that can hold stationery, cosmetics, toys and other small items. It has a lightweight shape and is also recommended for sorting items. Now use it to store your children's favorite forest family accessories. Put one kind in one bag, so you don't have to look for the accessories forever... The transparent bags are really a savior! The extra large ones are for dolls, the large ones are for food and kitchen accessories, and the medium ones are for daily necessities. Small hand accessories, etc. Have fun and ask your children to categorize them so that they are clear and will not be thrown away!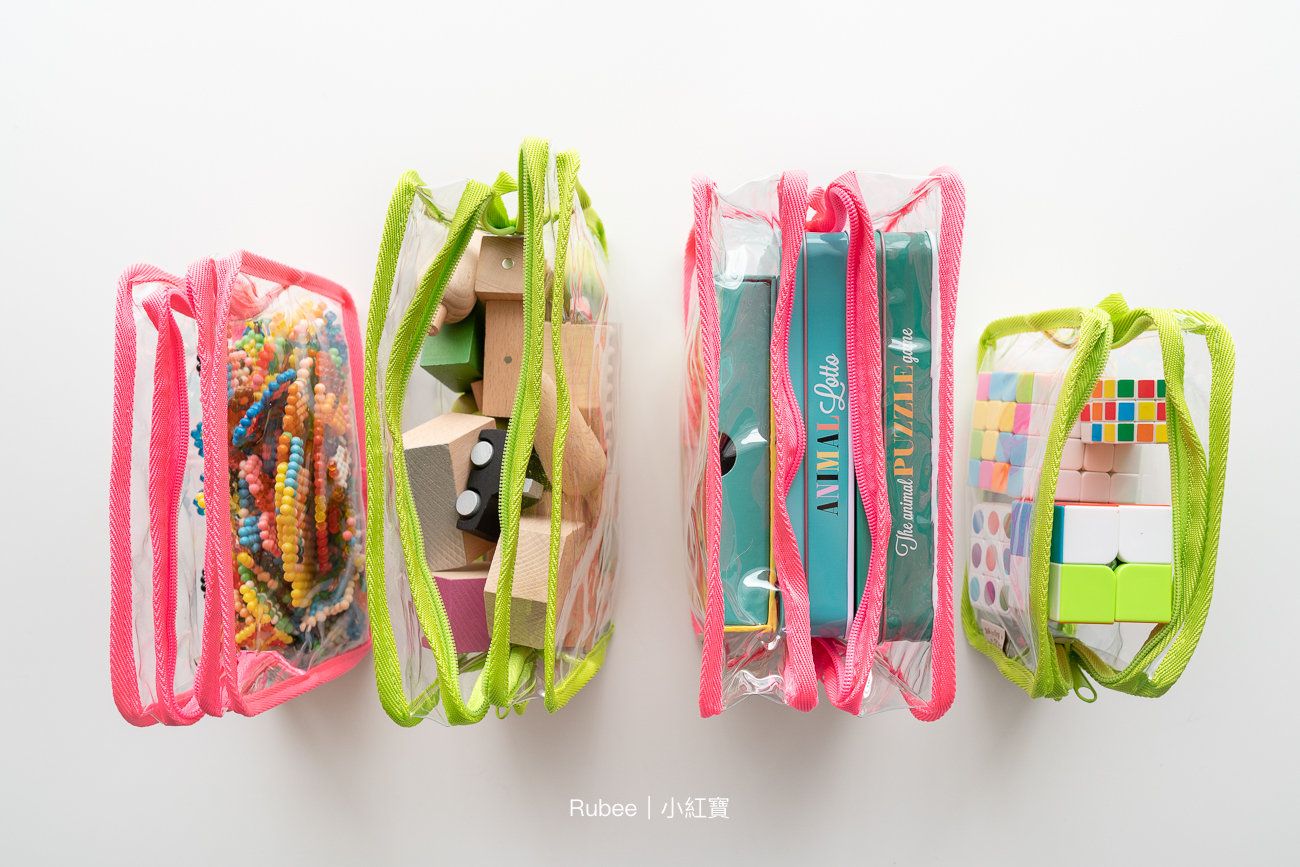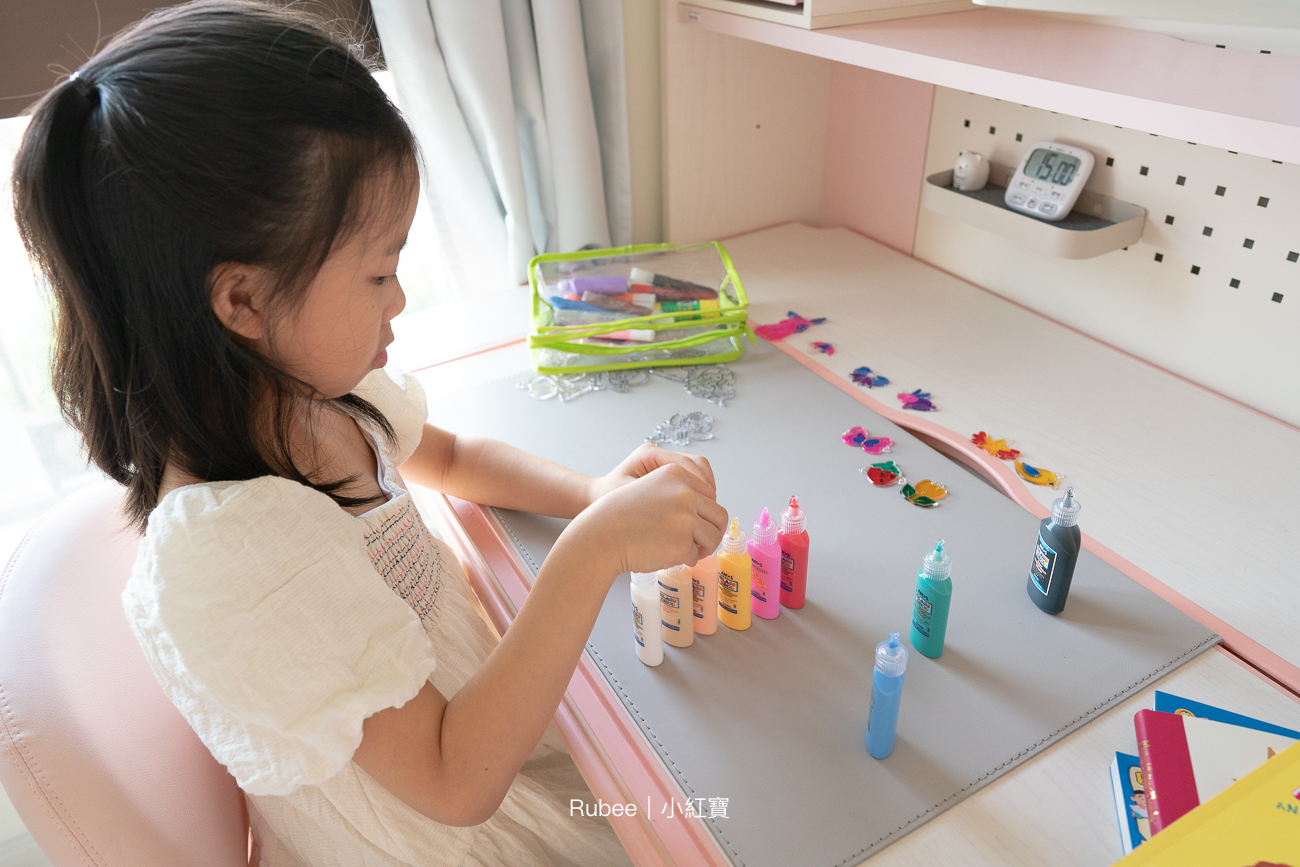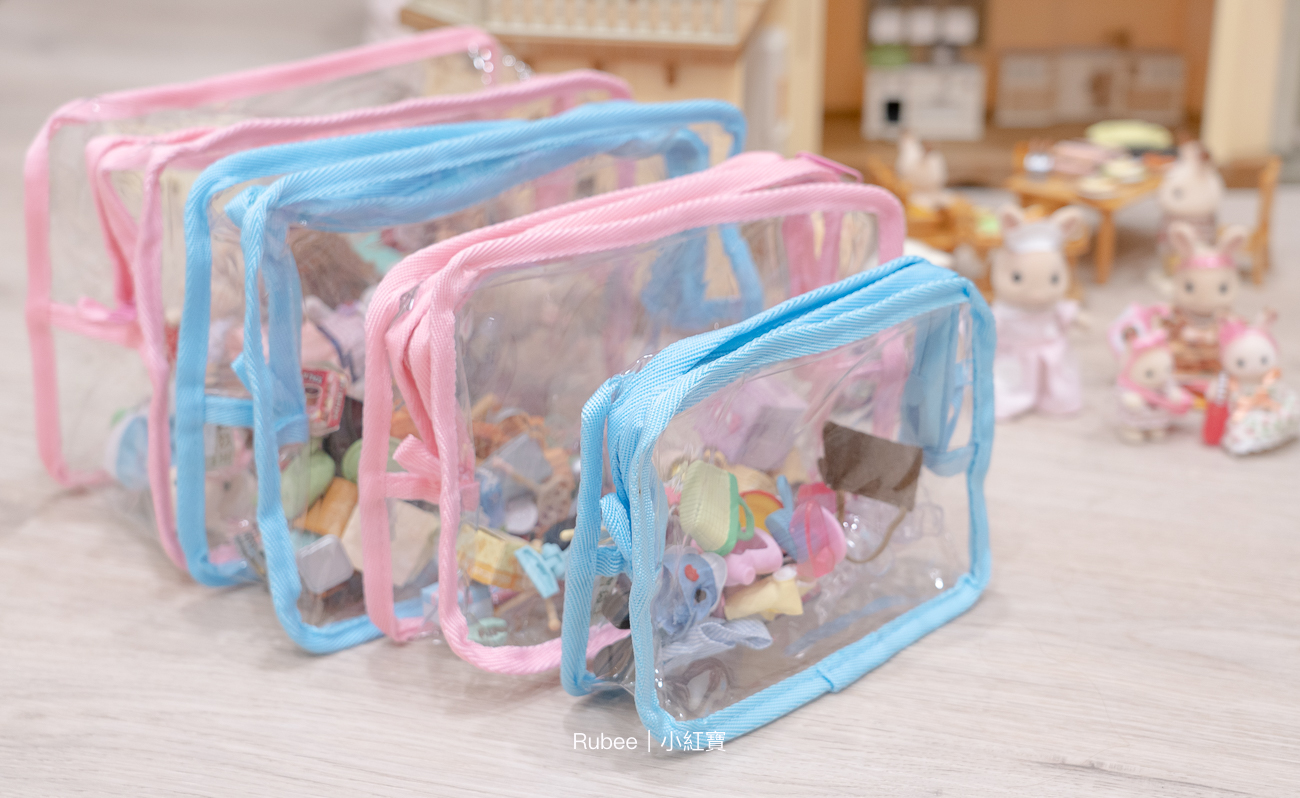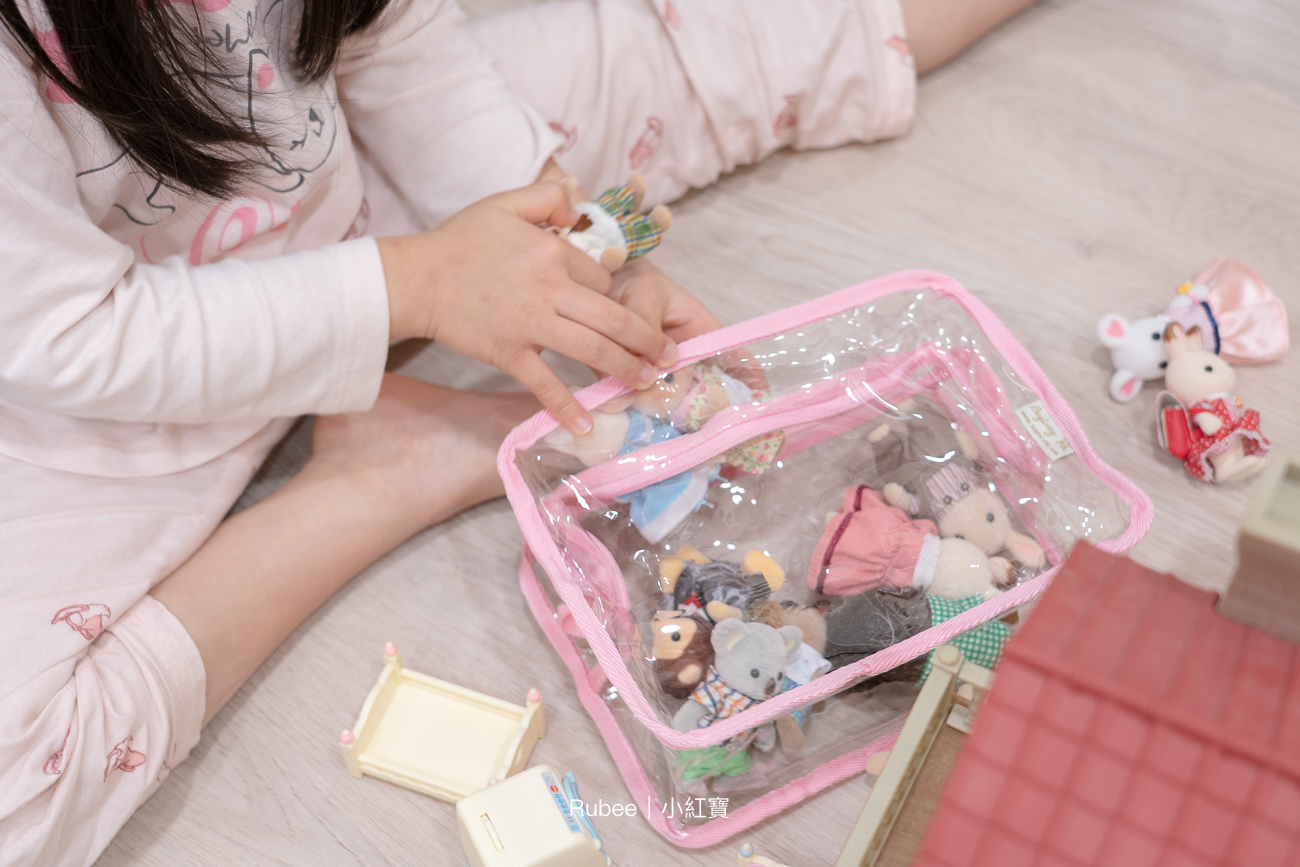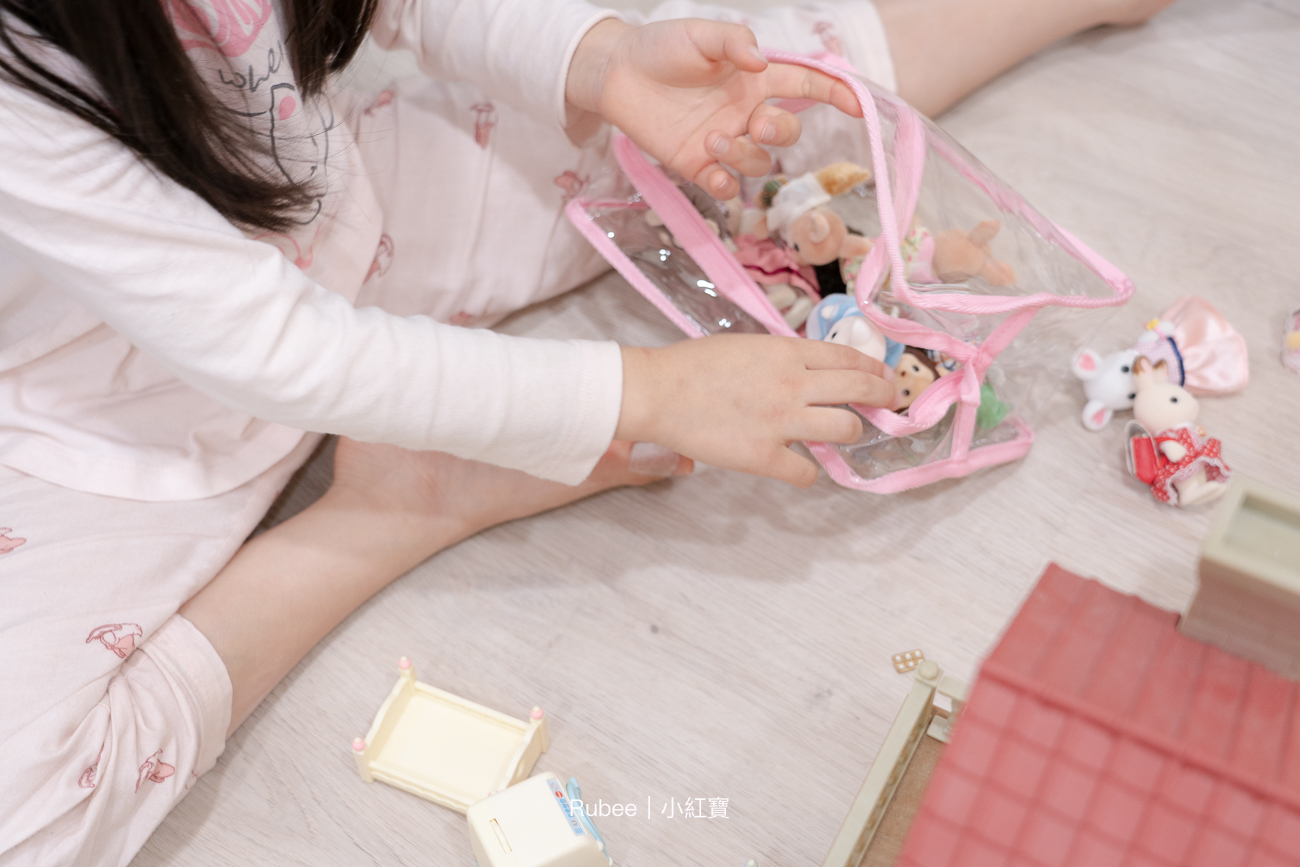 The animals lay obediently inside.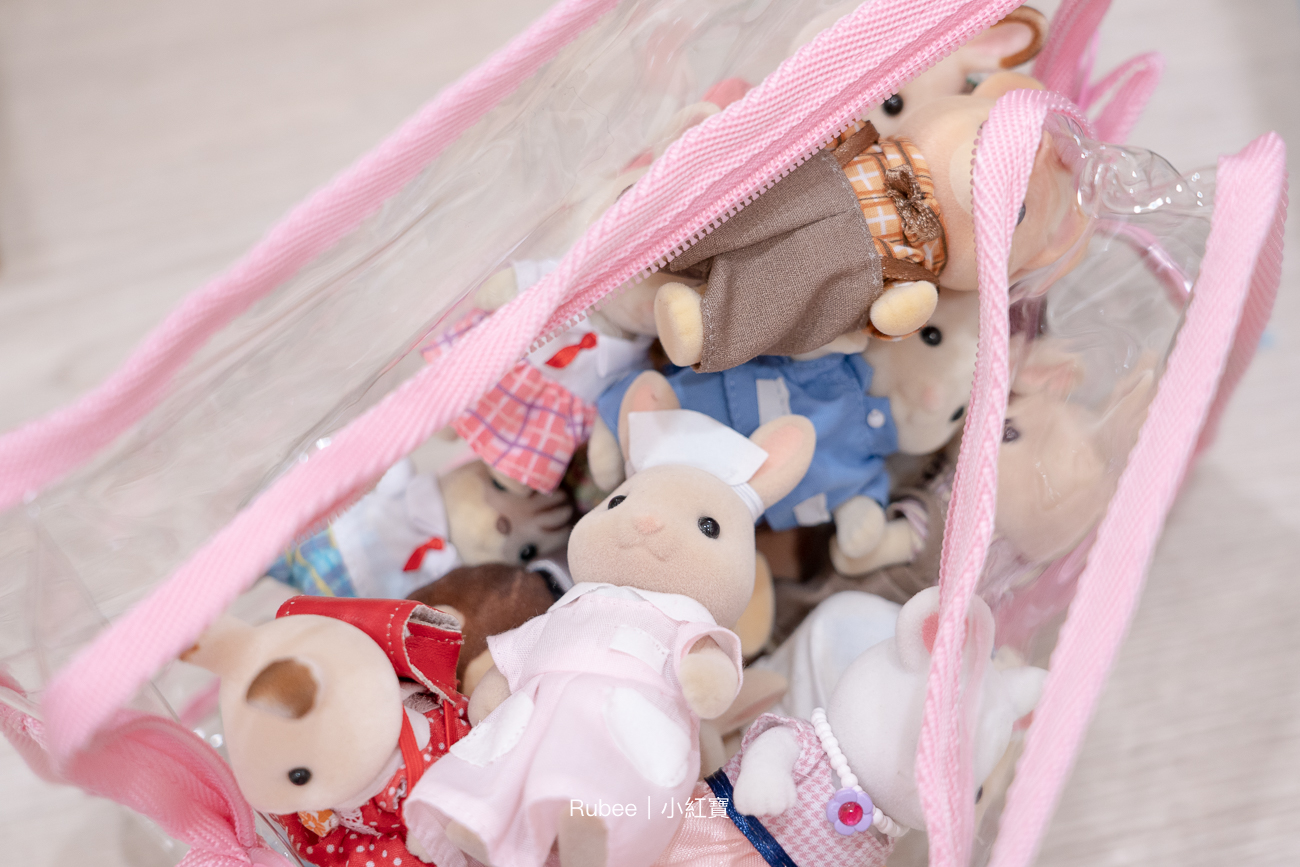 Space-saving upright toy storage series
▸Size:
L: 14L
M: 9L
S: 5L
This series has a large capacity, now use them to store a large number of building blocks. In the past, these building blocks were originally placed in storage boxes. Because they were all mixed together, it was like looking for a needle in a haystack. Now with this transparent storage bag, everyone has their own home. You can take out a bag of whatever kind you want to play with, and it is easy to tidy up. Made easy!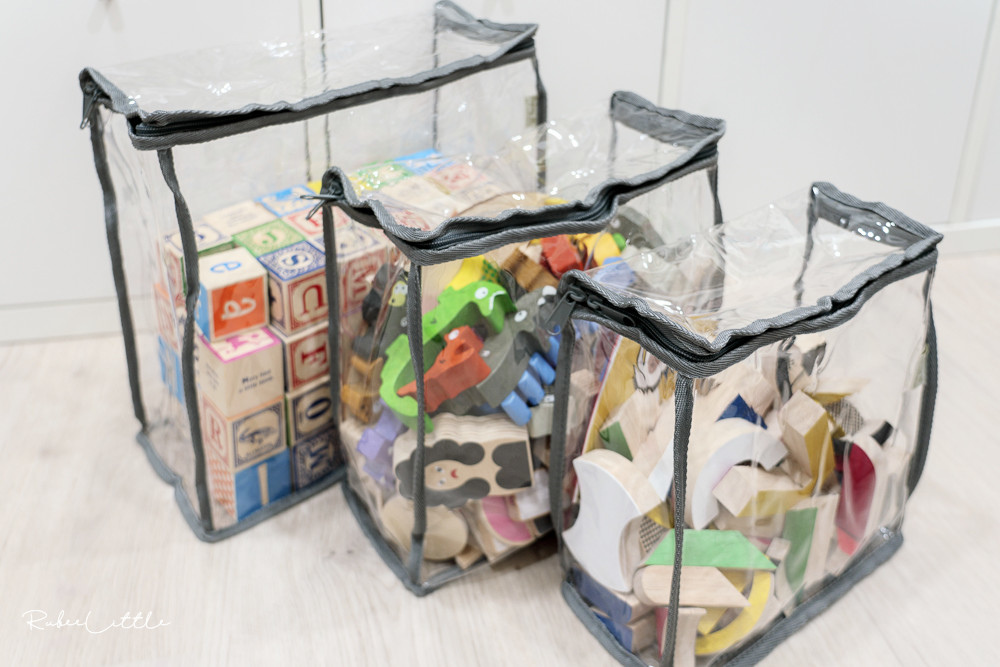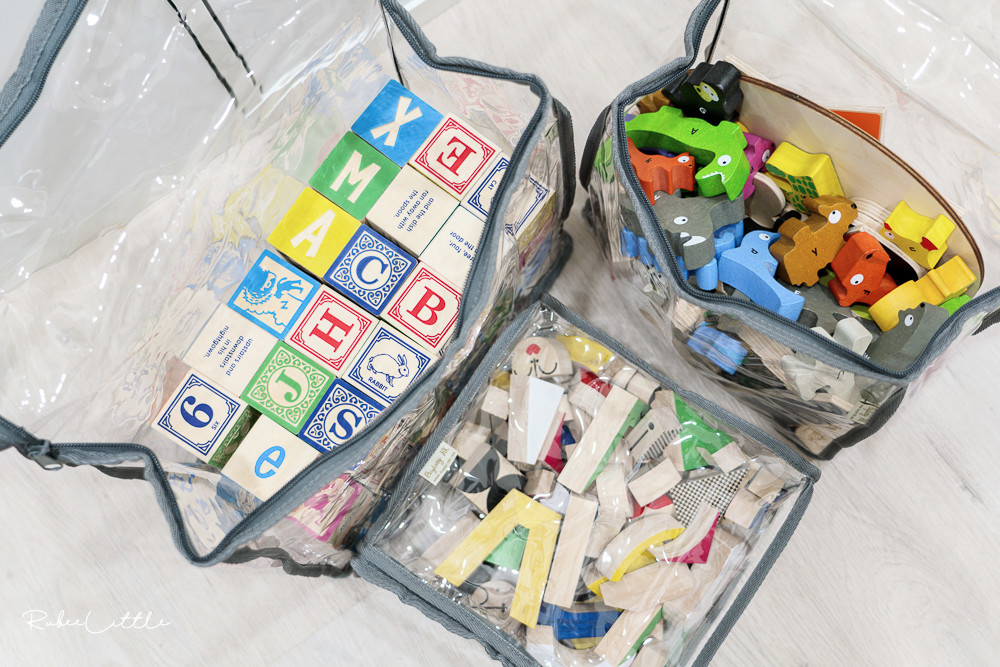 It's just right when placed on a shelf. In the past, these building blocks were easily forgotten when placed in storage boxes. Now, because they are placed in transparent storage bags, children will take the initiative to take them out to play when they see they want to play. This also allows these building blocks to come out and breathe!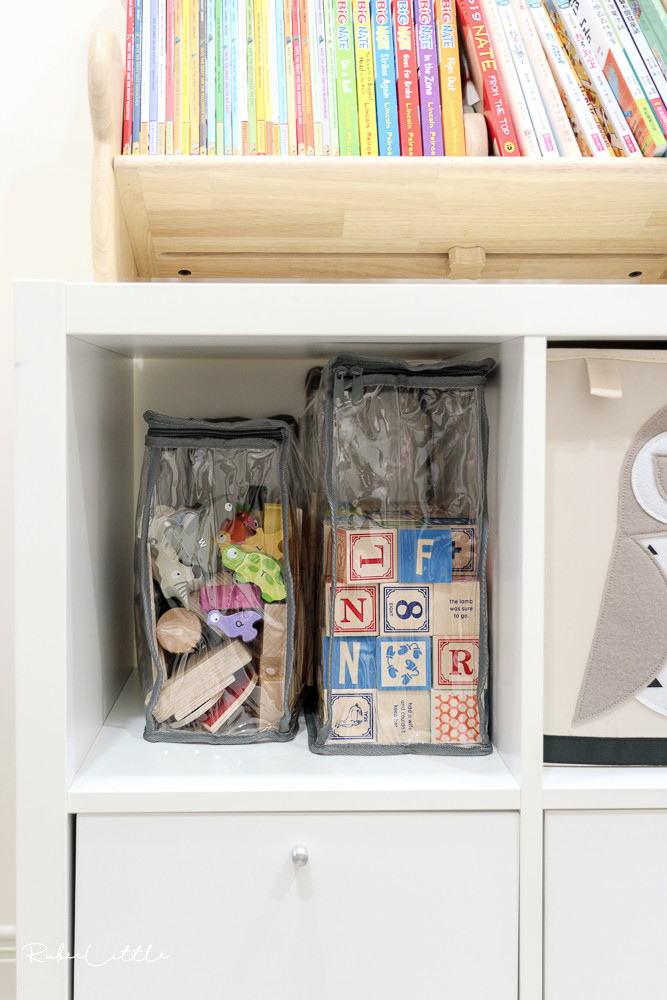 Multi-purpose activity bag (narrow and long)
Size: 18cm x 29cm
The multi-purpose activity bag comes in two sizes, one is narrow and long, and the other is wide.
The narrow and long style is particularly suitable for storing various pens, note papers, stickers, photos, stationery, important documents, etc.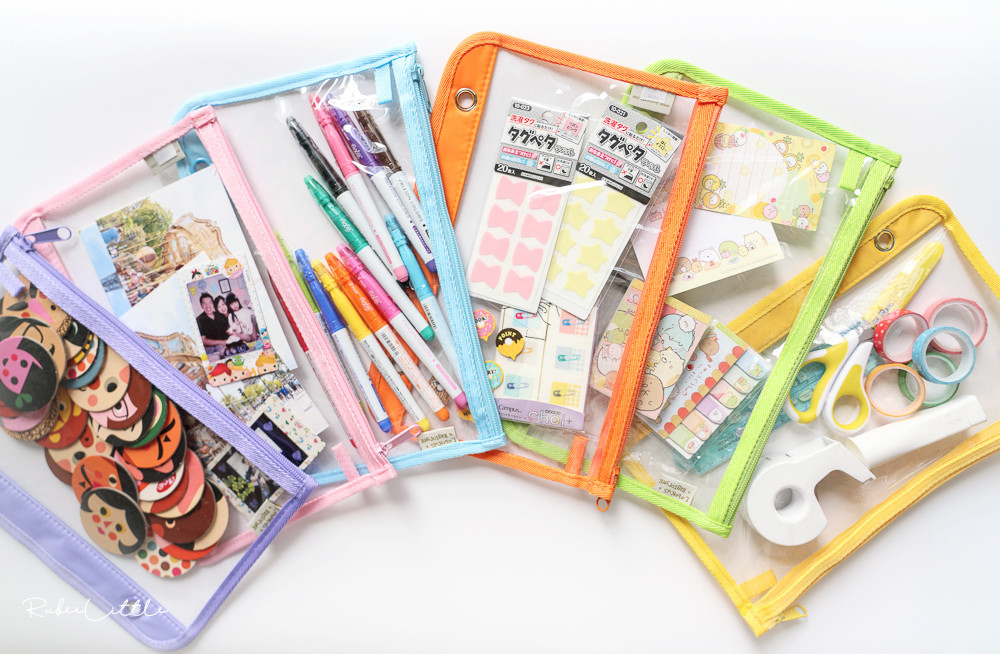 The design of the activity page allows multiple storage bags to be fixed and gathered together using rubber rings.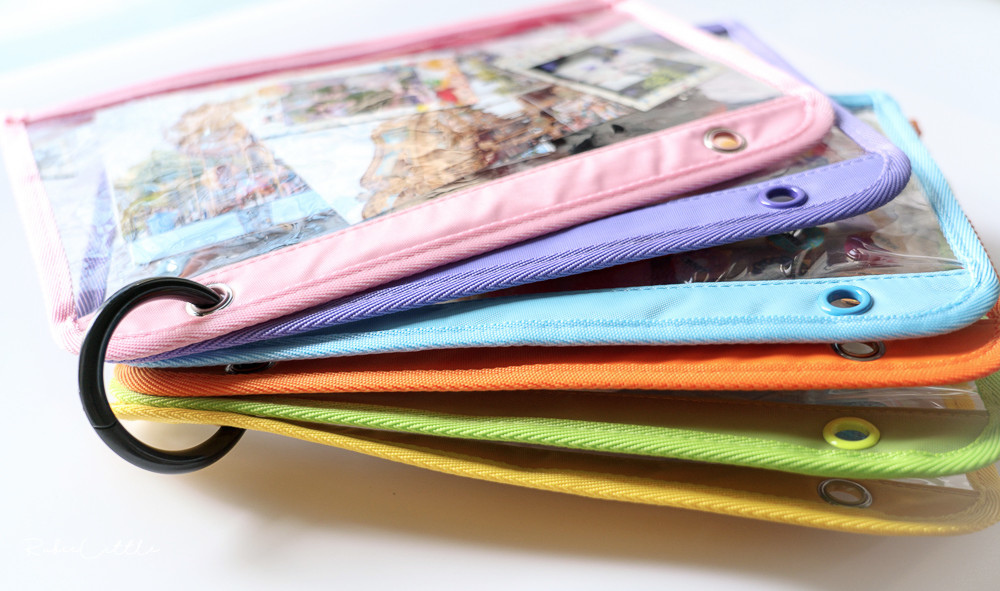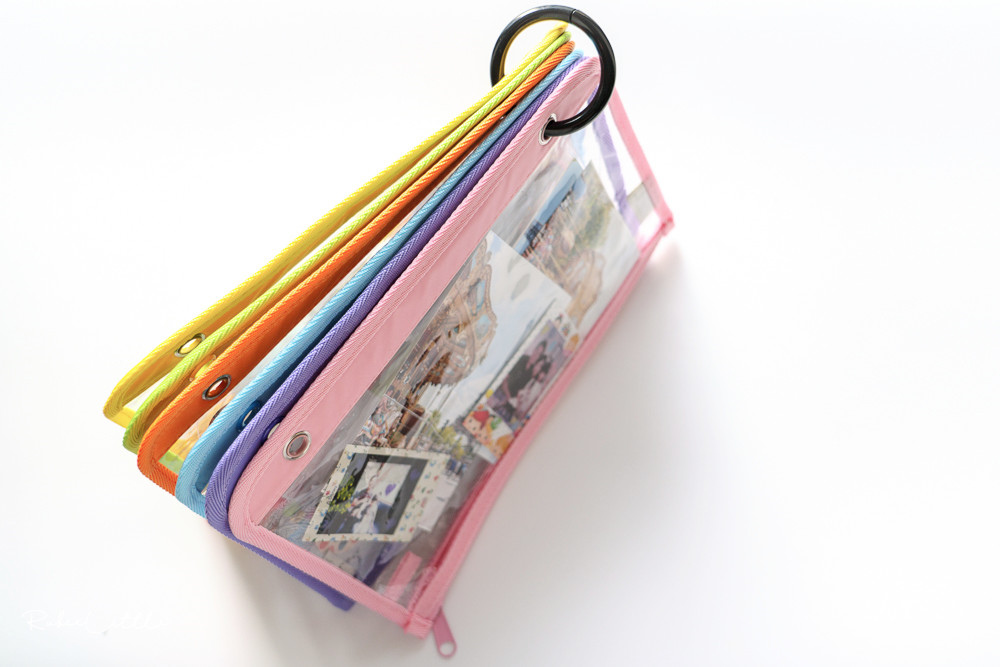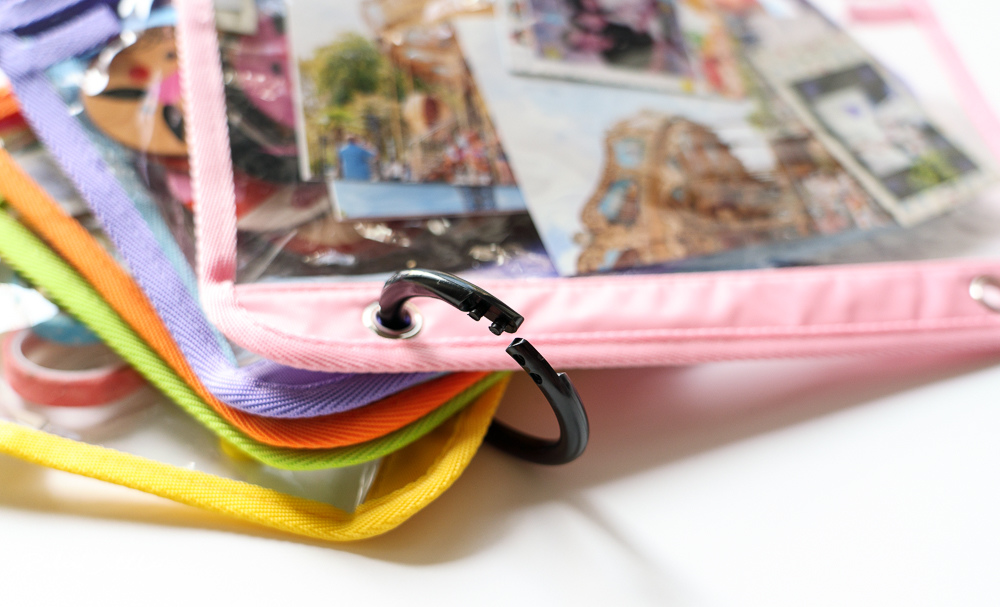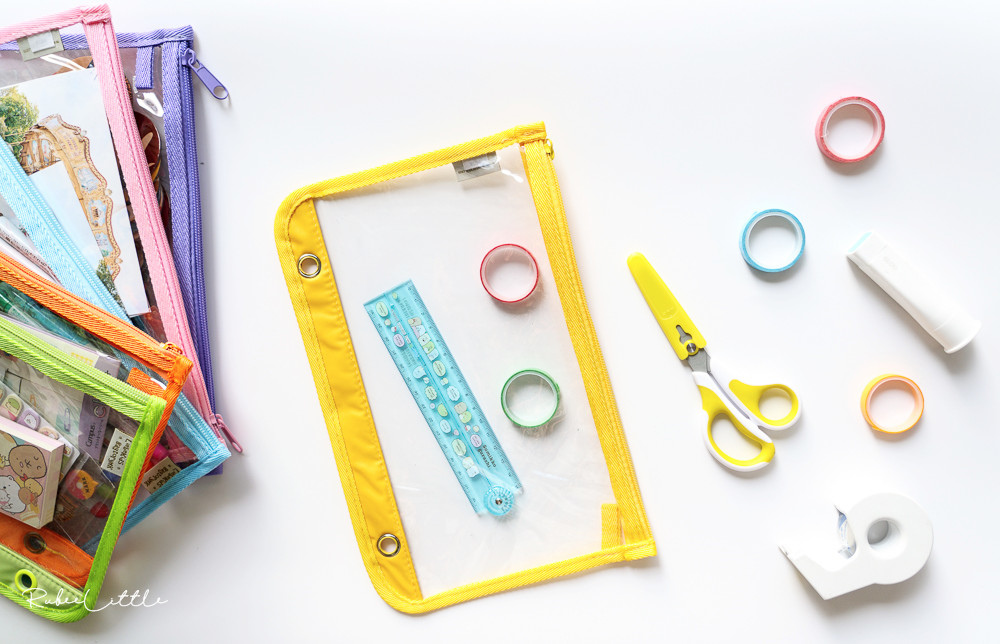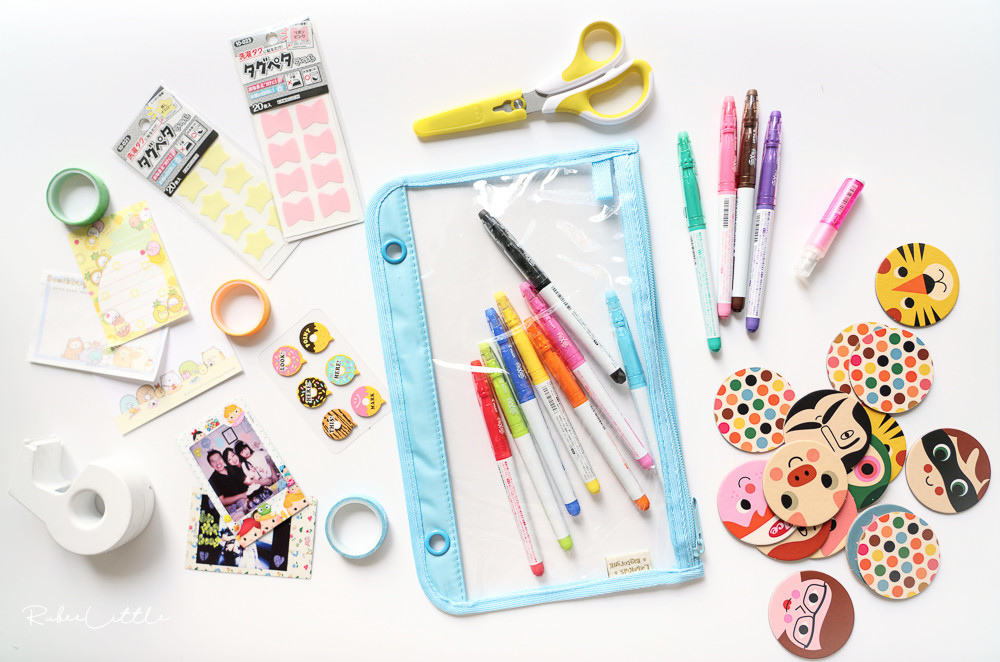 For example, it is also suitable to release foreign currency, passports, certificates, passbooks, invoices, tickets, etc. used by Congress.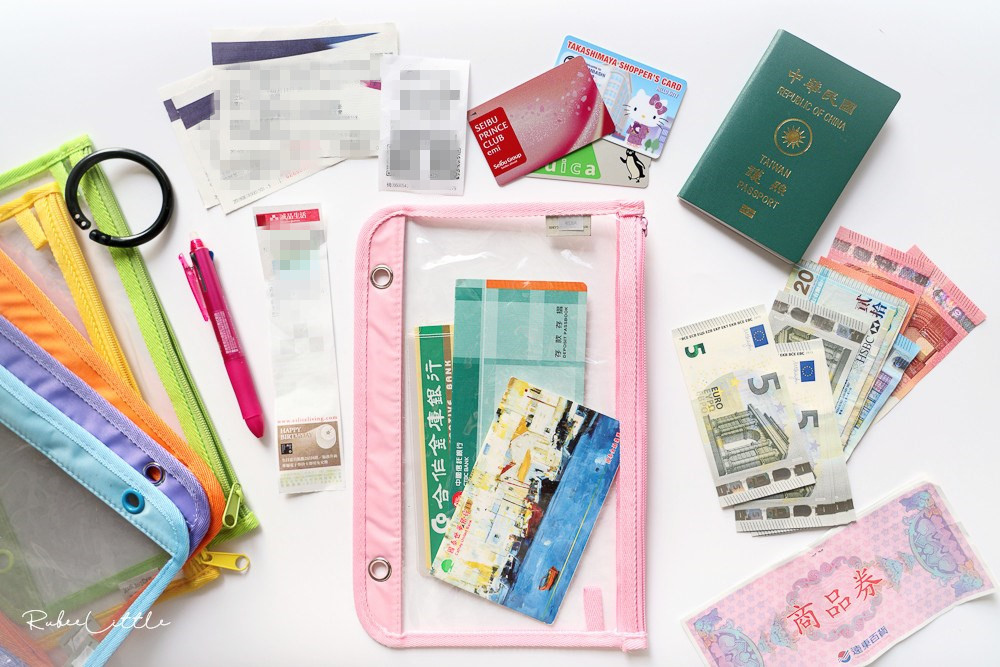 Multi-purpose activity bag (wide style)
Size: 26cm x 32cm
The same activity page design, this design is wider and can fit into A4 size. Books, notebooks and paintbrushes that I usually take with me when I go out are just right in this storage bag. The information, maps, etc. collected while going abroad can be stored in a storage bag first and then sorted out after returning to the hotel.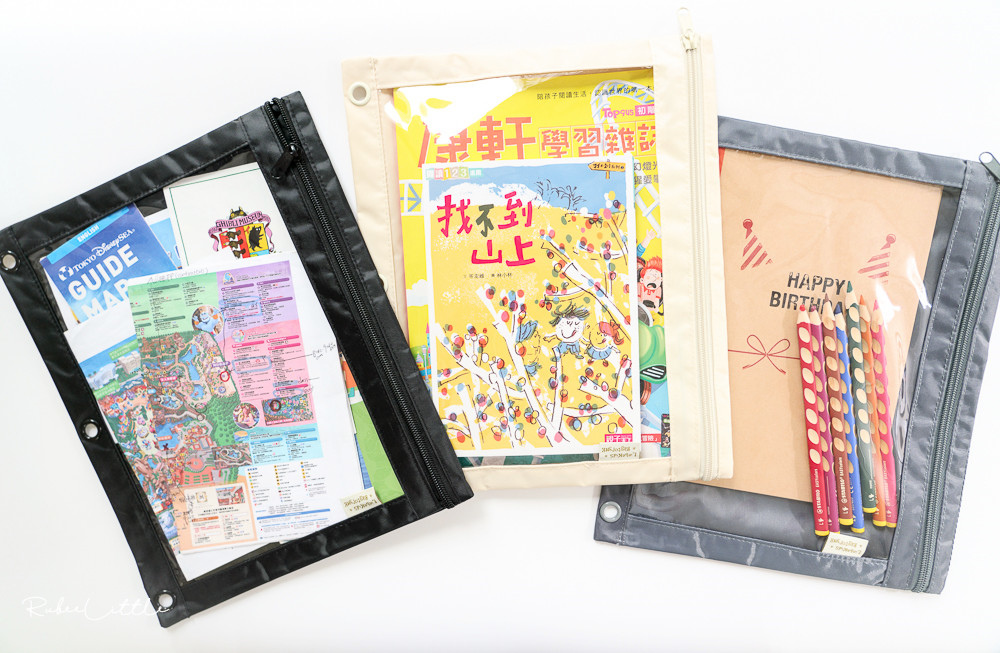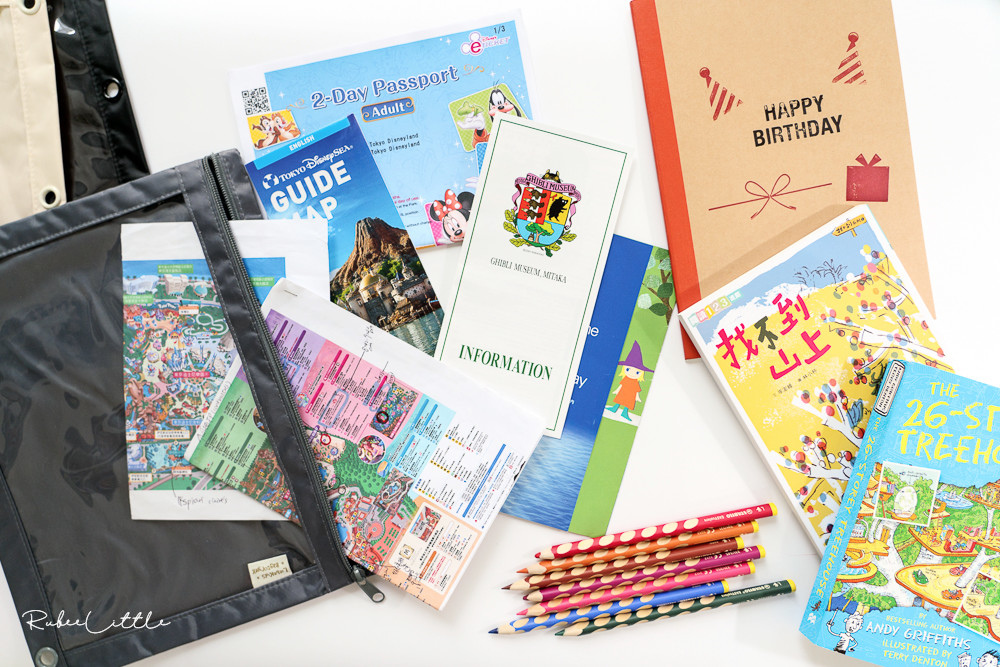 Another wonderful use is to use it to collect exam coupons. I used to use transparent folders to store them, but they were always full of stuff. Now that I have this kind of storage bag, I don't have to worry about it. The zipper design makes it easy to store!
Use rubber rings to fix them, and just use colors to classify them. They can be divided into math, Mandarin, and English, for example.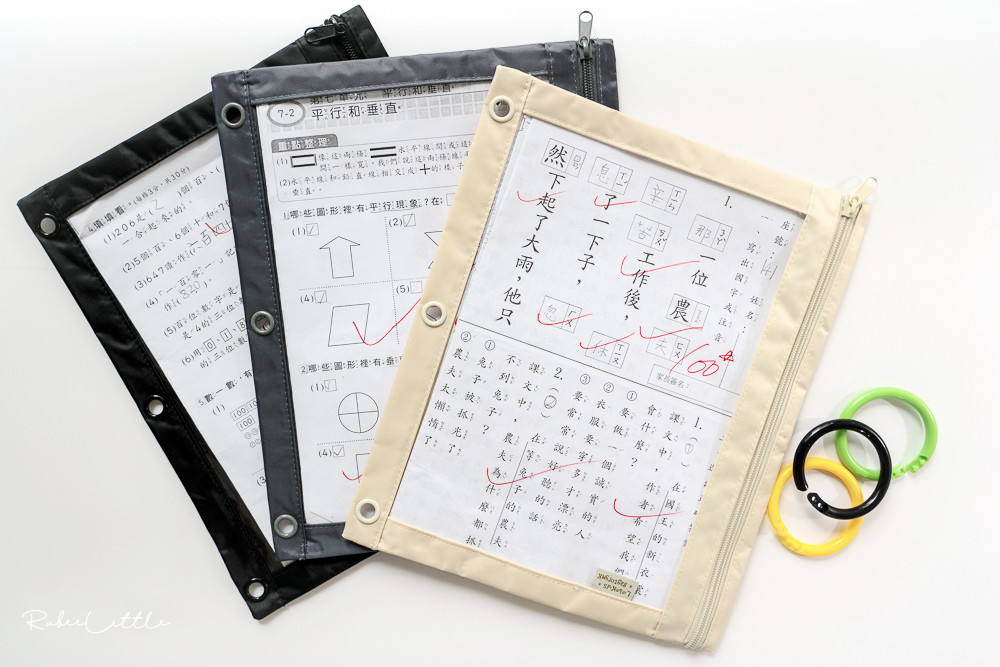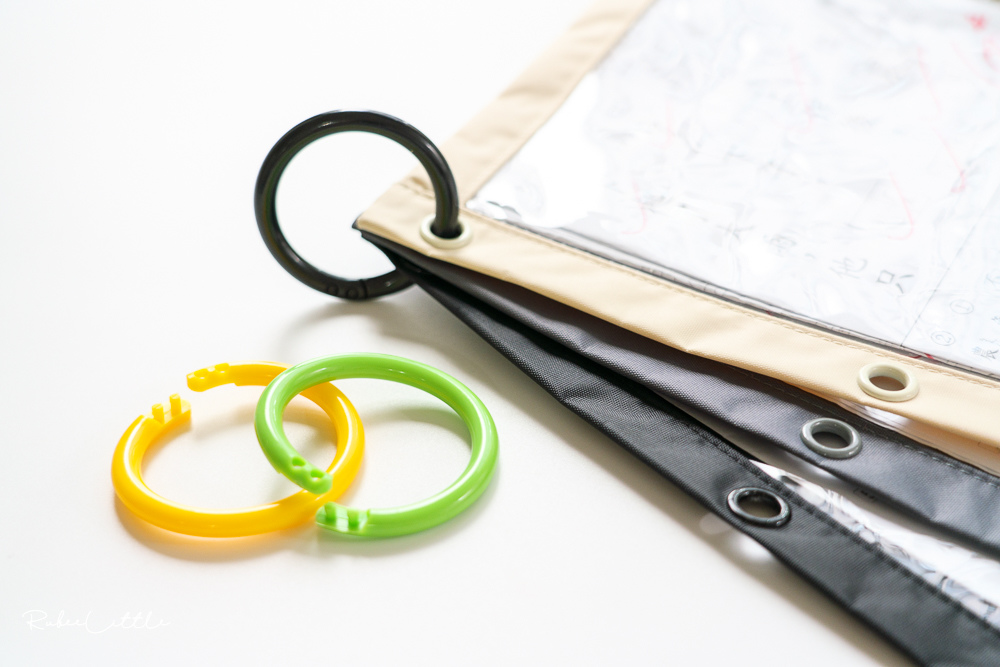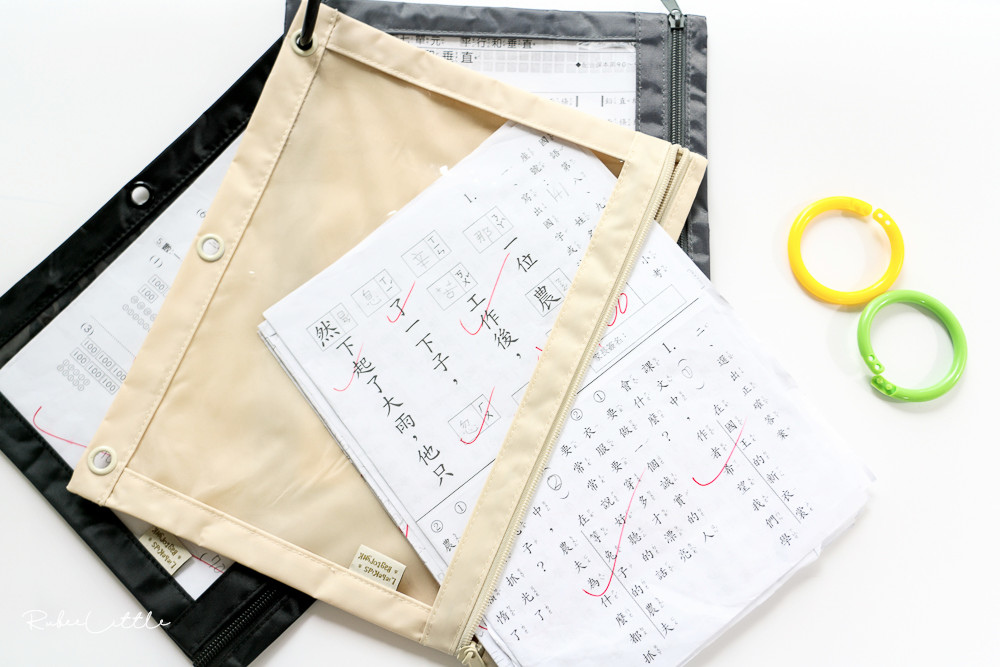 Double pocket transparent storage bag series
▸Size:
Large: H32*W26*L36cm
Medium: H32*W20*L32cm
Small: H32*W14*L32cm
This is the first time I use this storage bag with double pocket design, and it works surprisingly well. Because it has a double-opening design, it is easy to put and take. It is convenient to put it in from the top and take it from the side. It is really a considerate design! I bought three large-sized ones, which can be filled very well, but they are not full~ Ha! Now they are used to store bed bags, quilt covers, pillowcases, pillow covers, etc. In the past, it was easy to rummage through the cabinet in order to find these things. If I just took one item, I would have to fold the others again. Now I have sorted them well and it is not difficult to find things! Because there are zippers on the side that can be opened, you can just take whichever item you want. , when you take one, the ones on it won't stagger around, and they will still lie properly in the storage bag. This is highly recommended for storing clothes or items that need to be folded.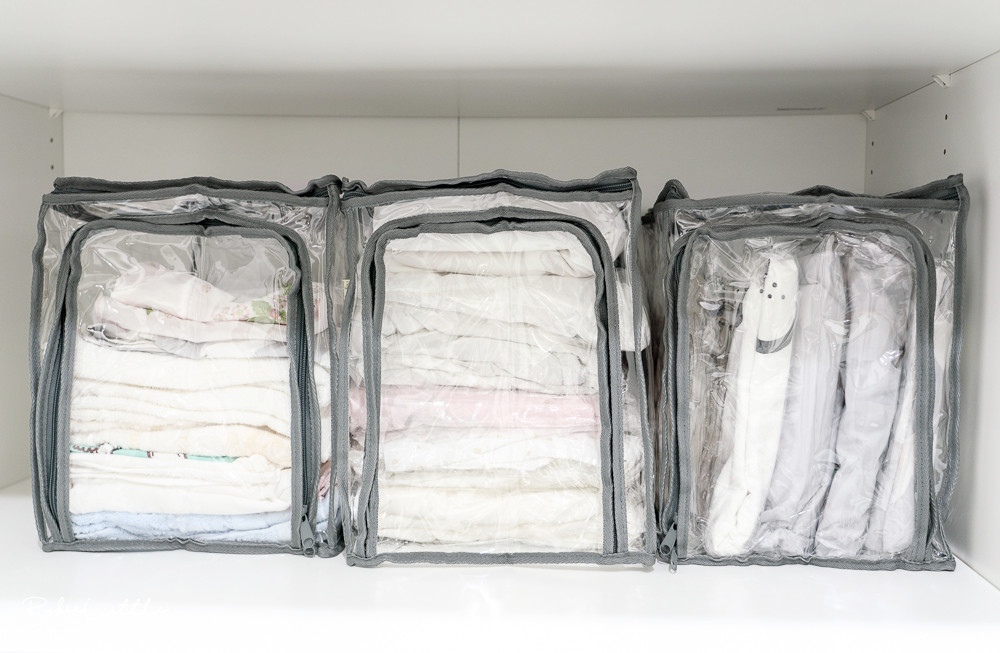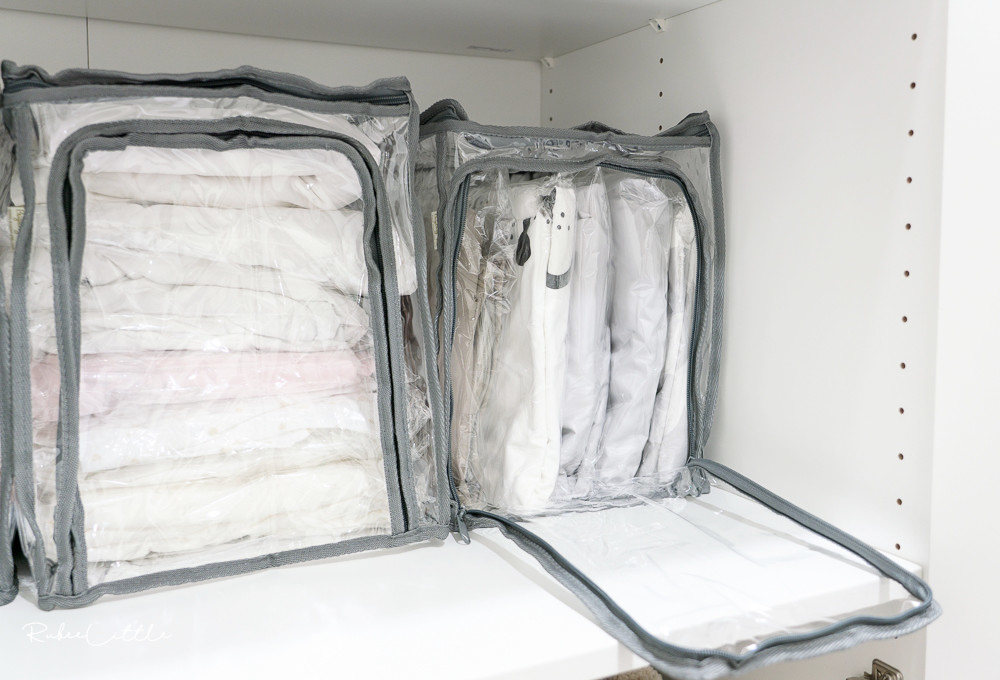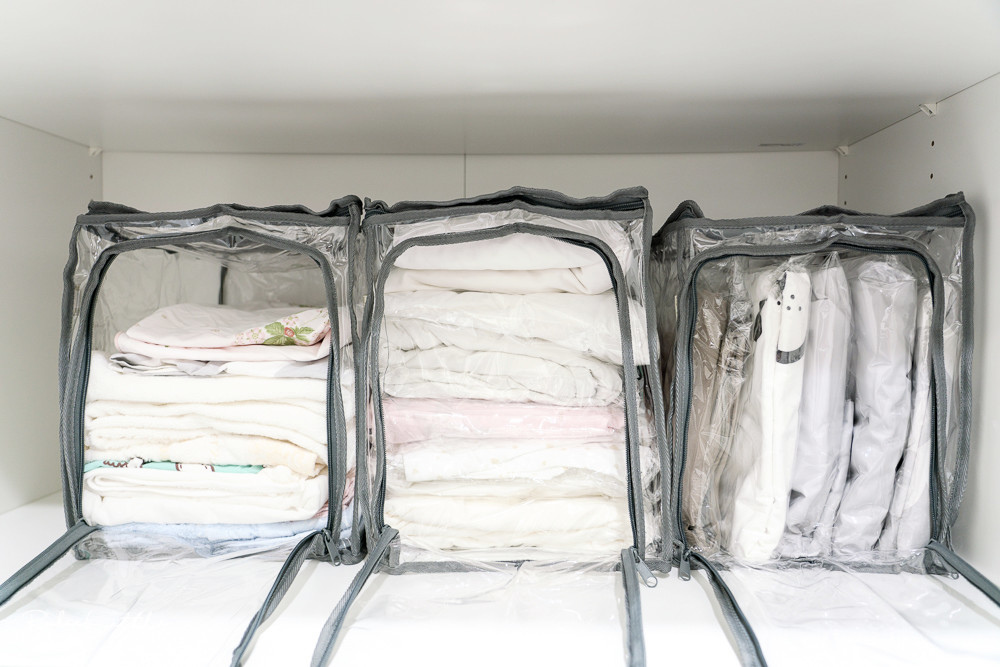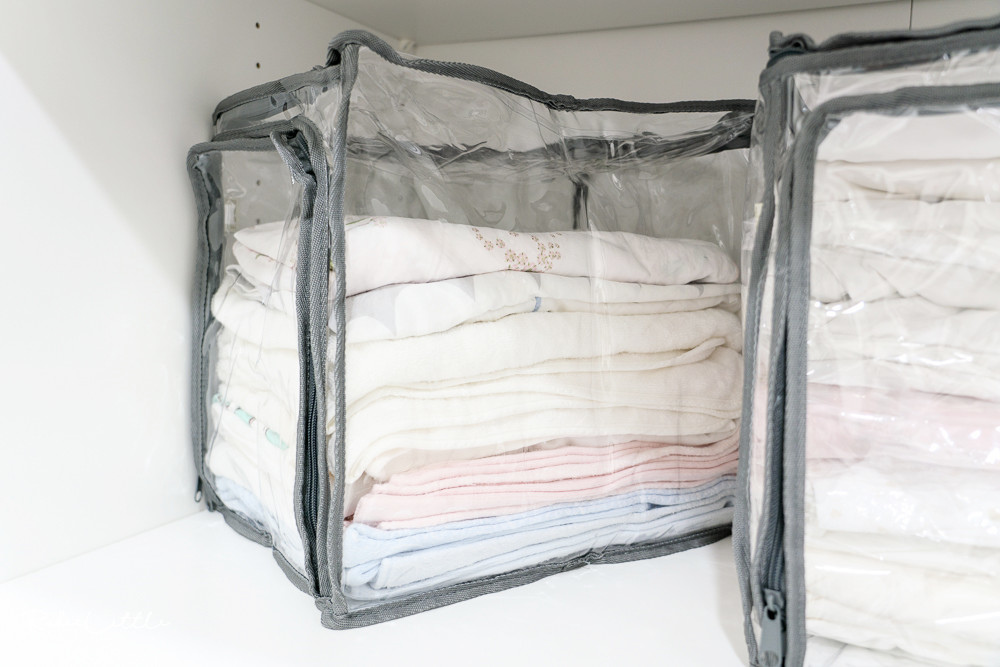 After stuffing three large ones into the cabinet, there is still a little gap left. At this time, I put a small-sized storage bag, which is just right, and the space is not wasted at all!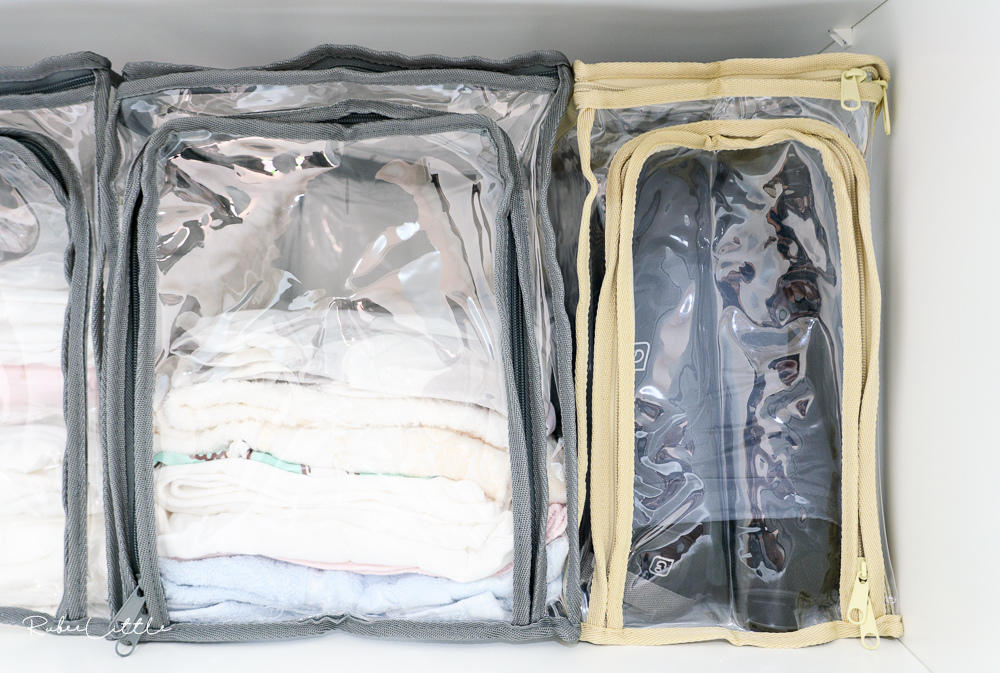 Portable space-saving universal bag (sleeping bag)
▸Size:
Large: H40*W21.5*L56cm
Small: H26*W21.5*L41.5cm
This sleeping bag series is a bit late, but it is so easy to store, and it is just right for quilts and pillows! Leave it to this sleeping bag for your children to bring to school! It is really important for children to store it easily at school~ Large opening design The key is that the bag is stiff enough! It is transparent so you can see the contents clearly and you won't pick up the wrong sleeping bag!
The pink one is a small size , suitable for an ordinary thin quilt and a small pillow. Now that I'm in elementary school and have to sleep on my stomach, this is just the thing!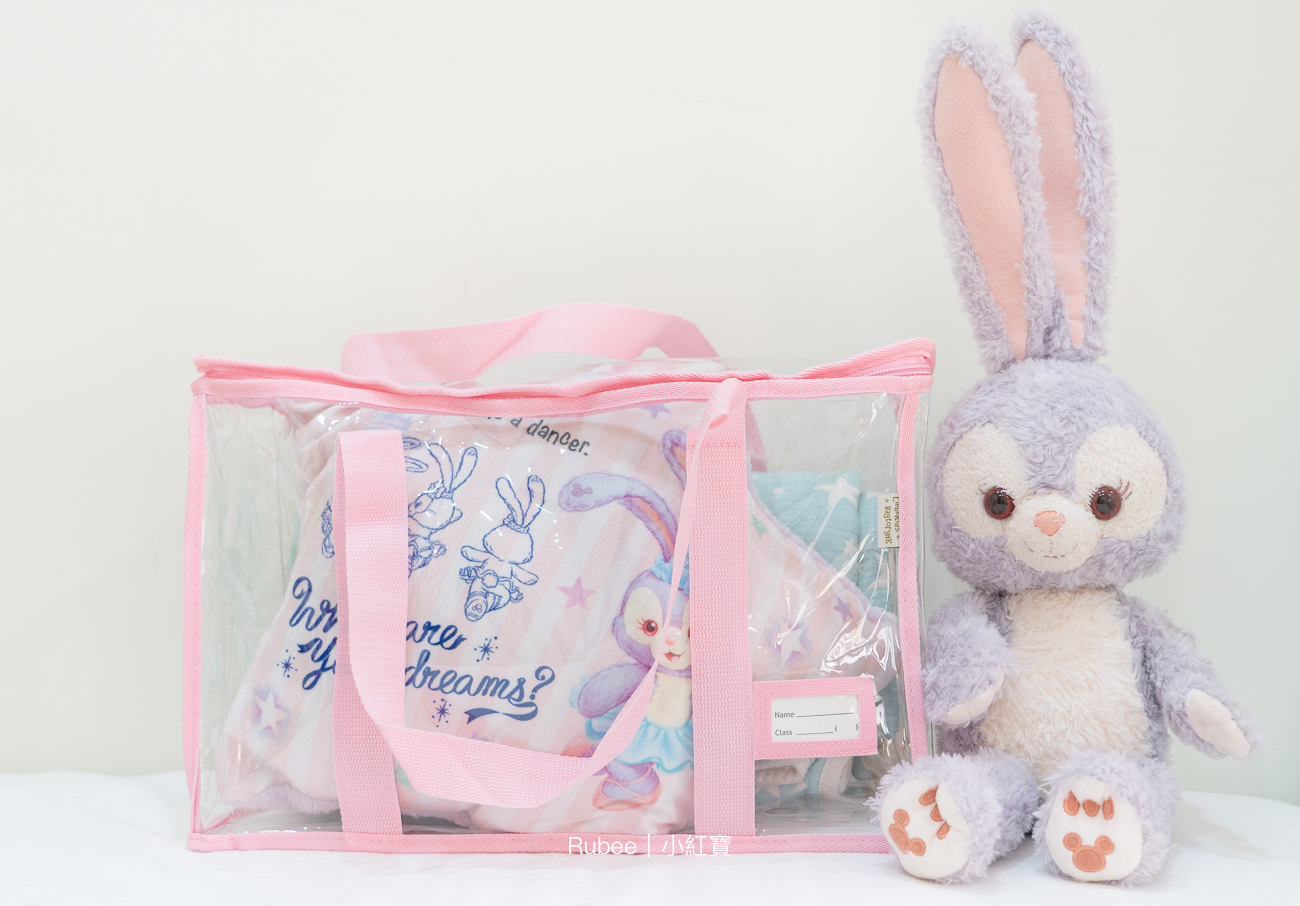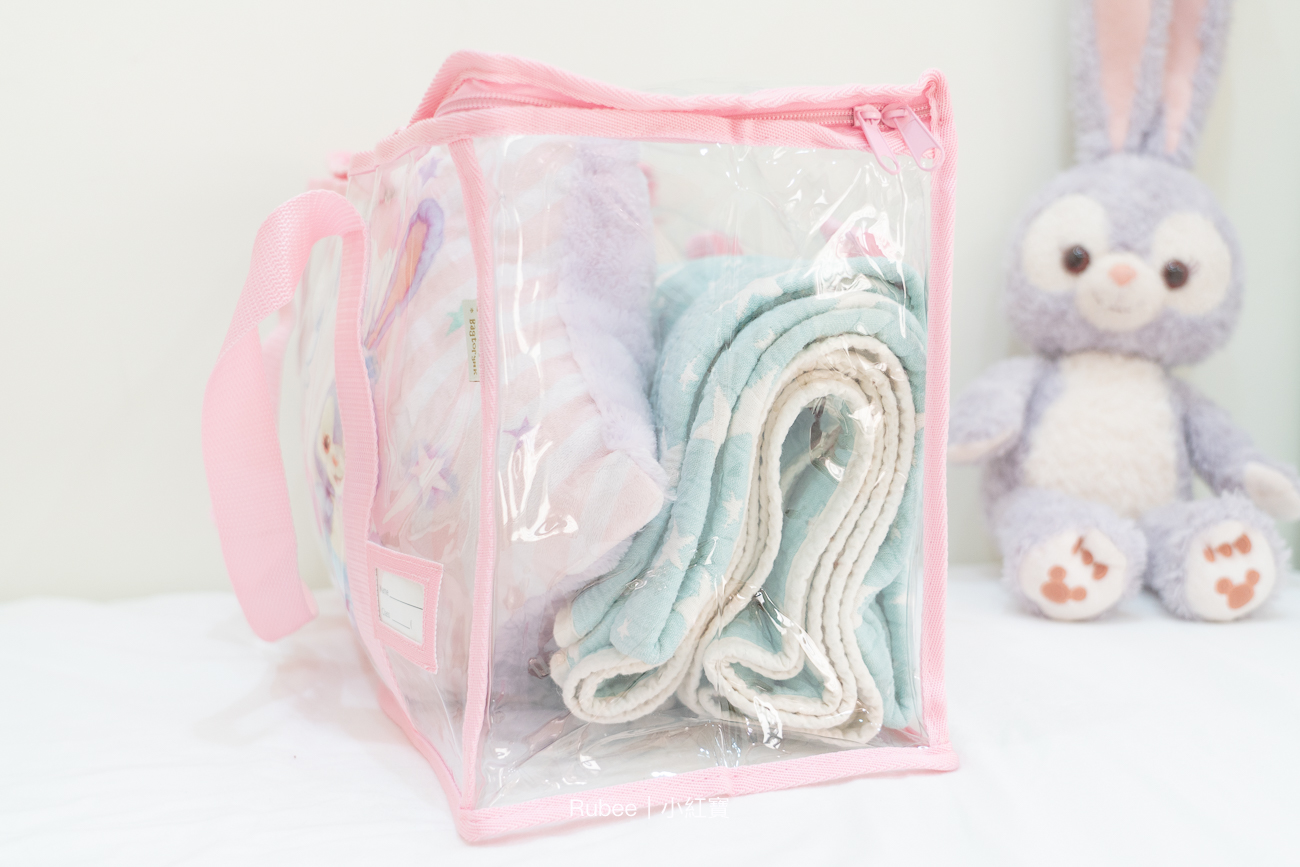 In addition to being a small sleeping bag, the small size is also very suitable as a swimming bag. It is not afraid of getting wet, and its large opening makes it easy to pack. It can also be used simply as a bag for going out, such as camping or going to the beach~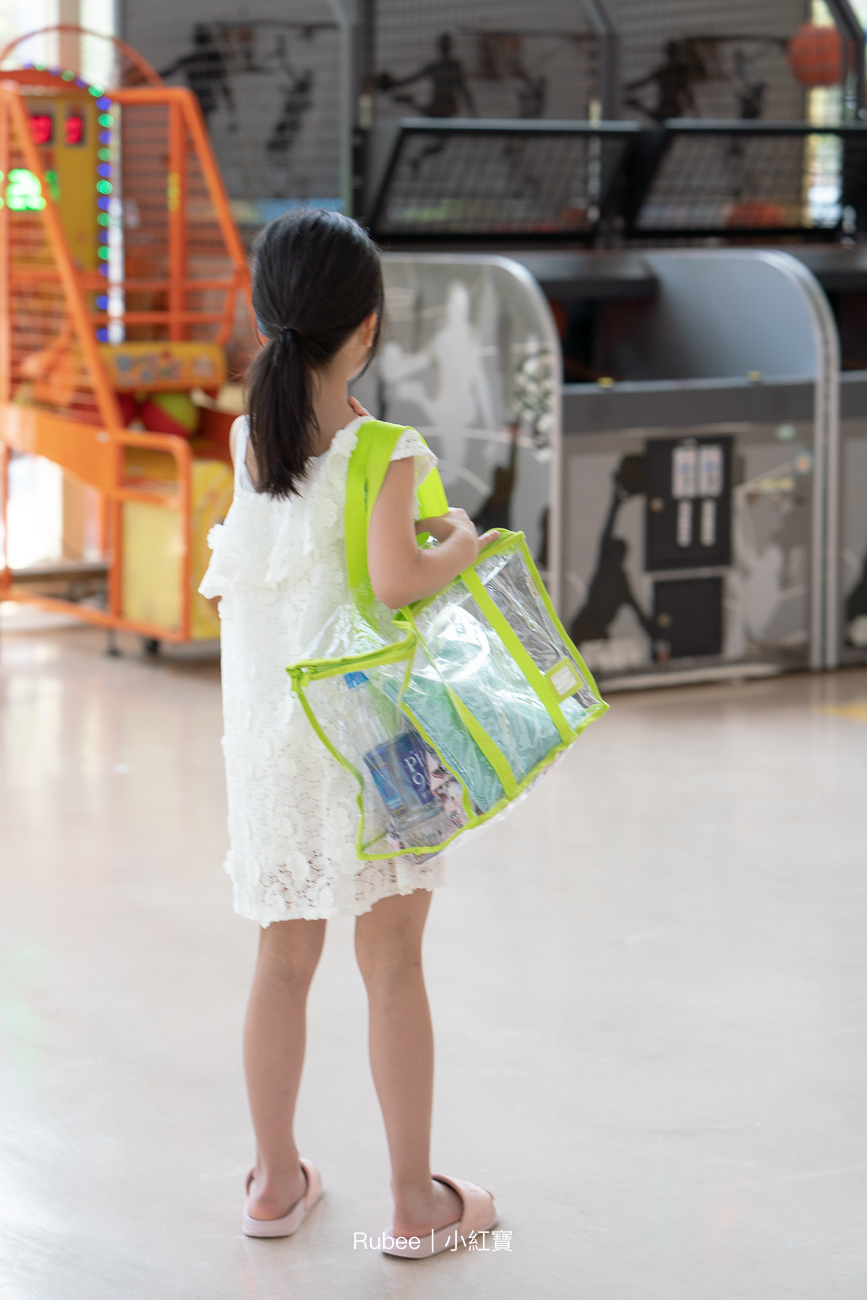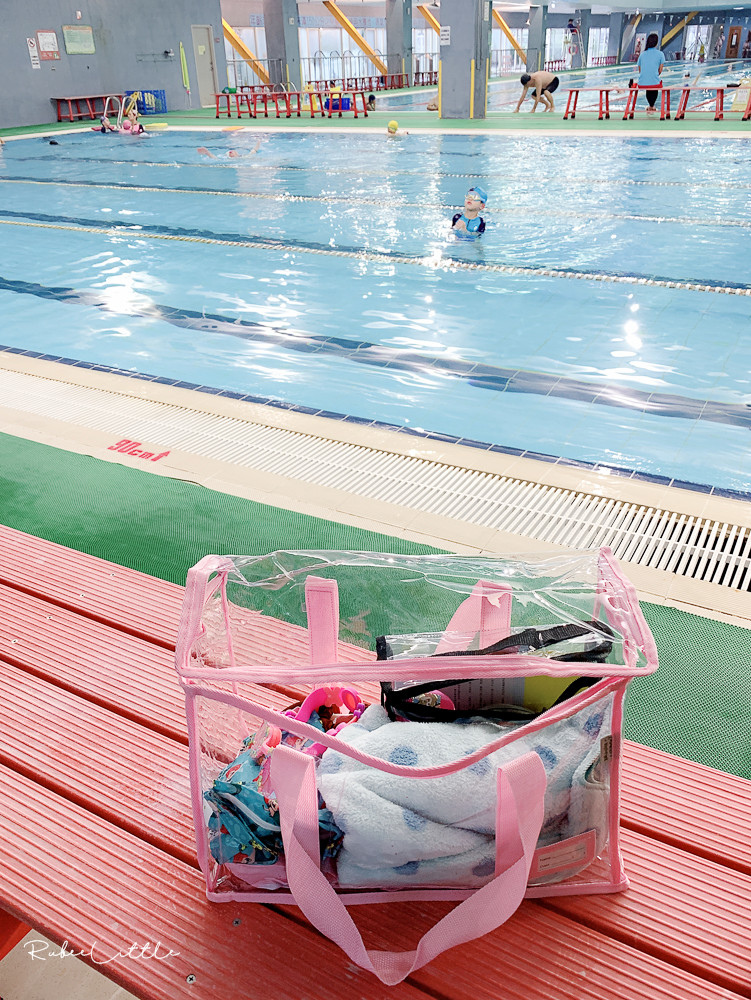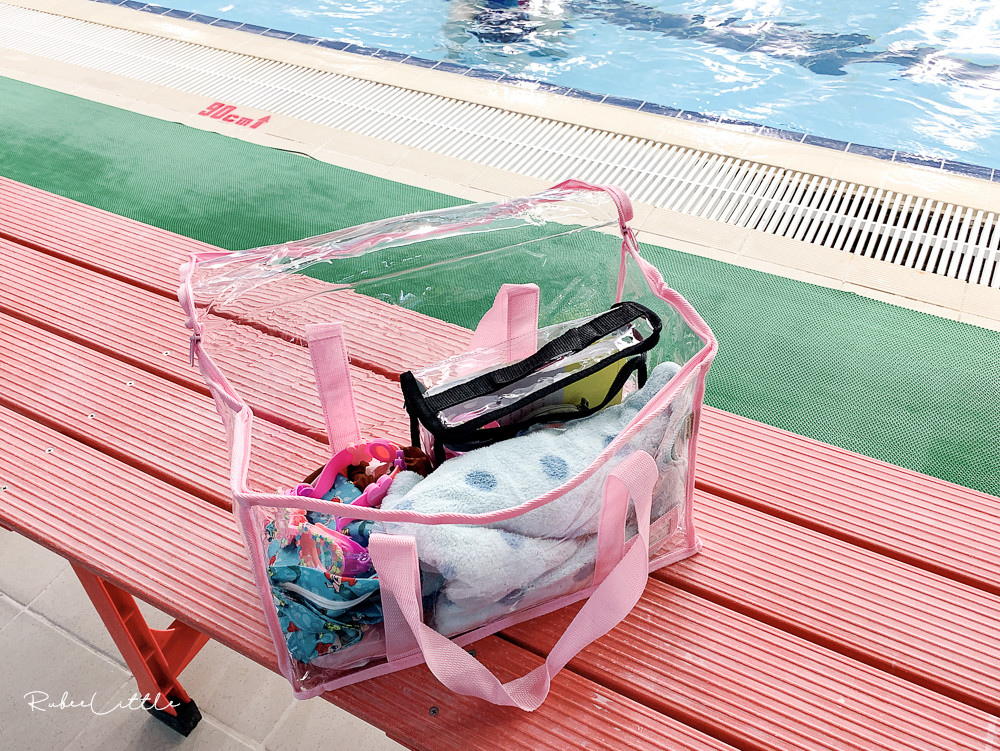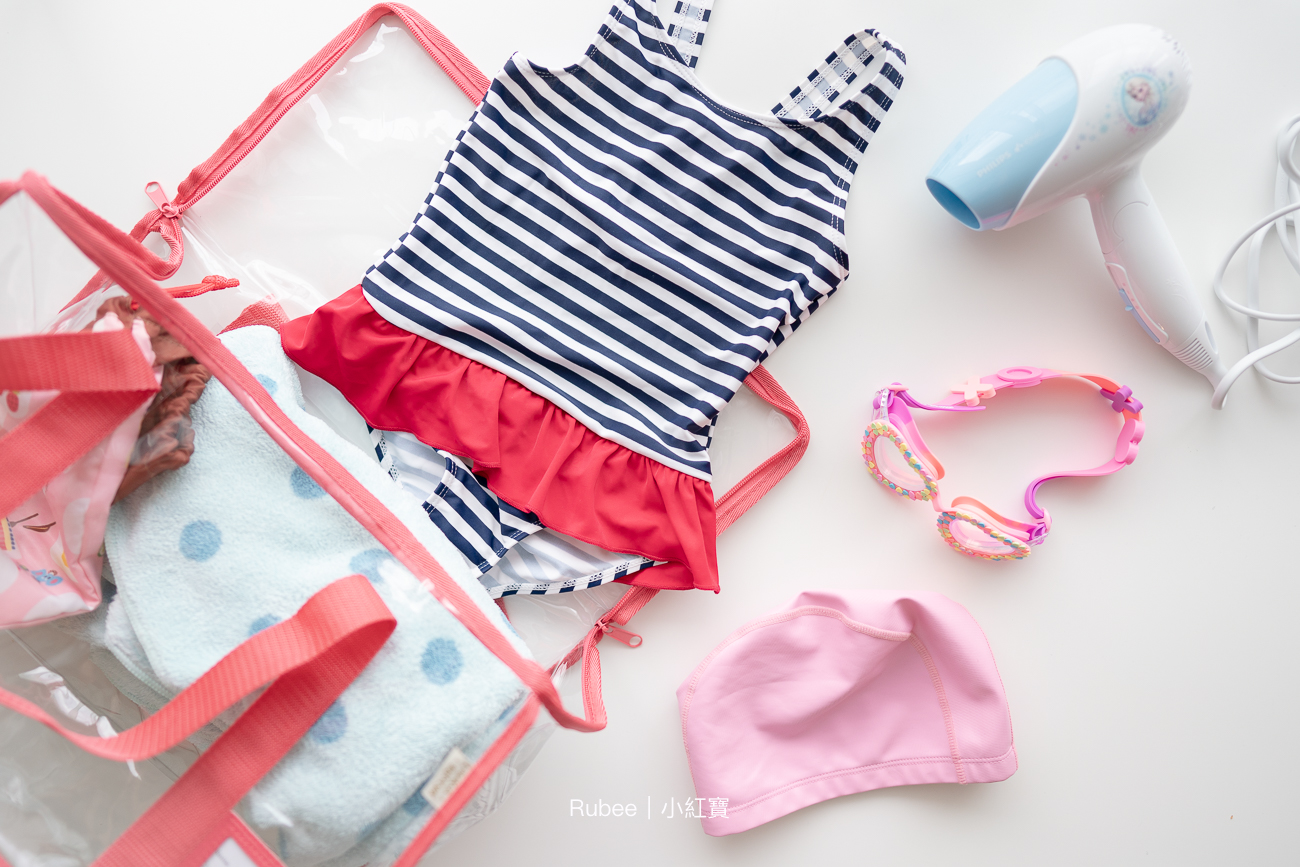 The black one is a large size sleeping bag and pillow that can be enlarged. Look at how big the opening is. Children who really don't know how to pretend can close it by themselves!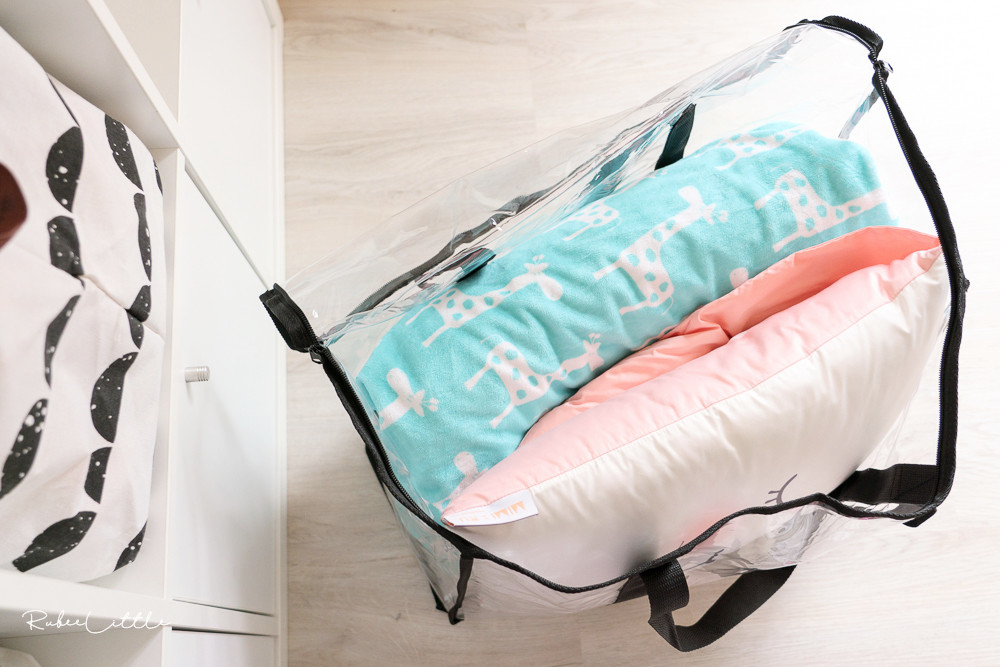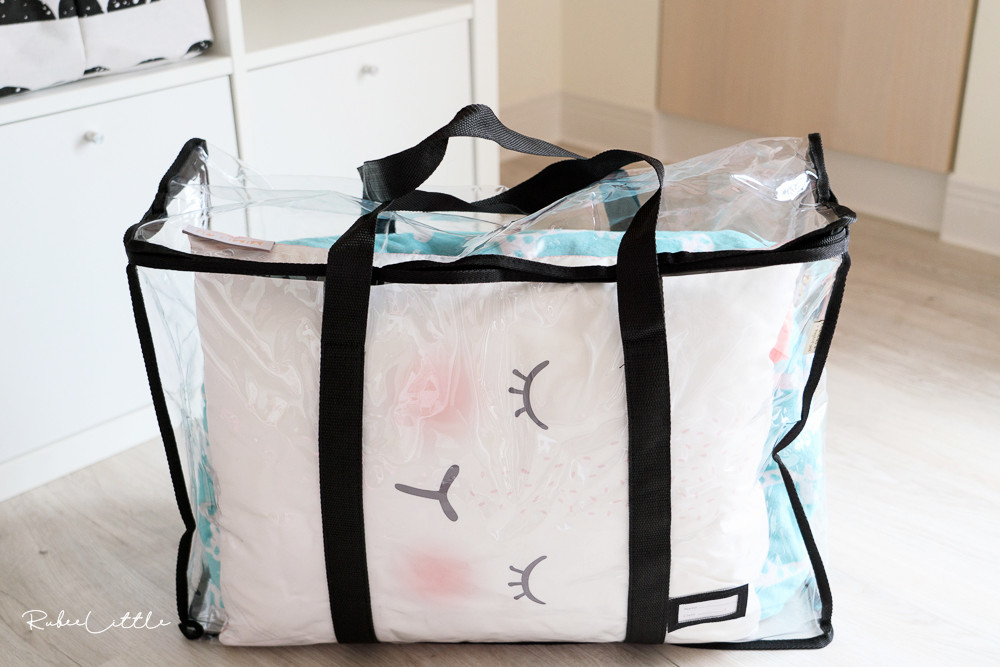 The storage bag is also thoughtfully designed with a name tag that can be written with the name of the classroom!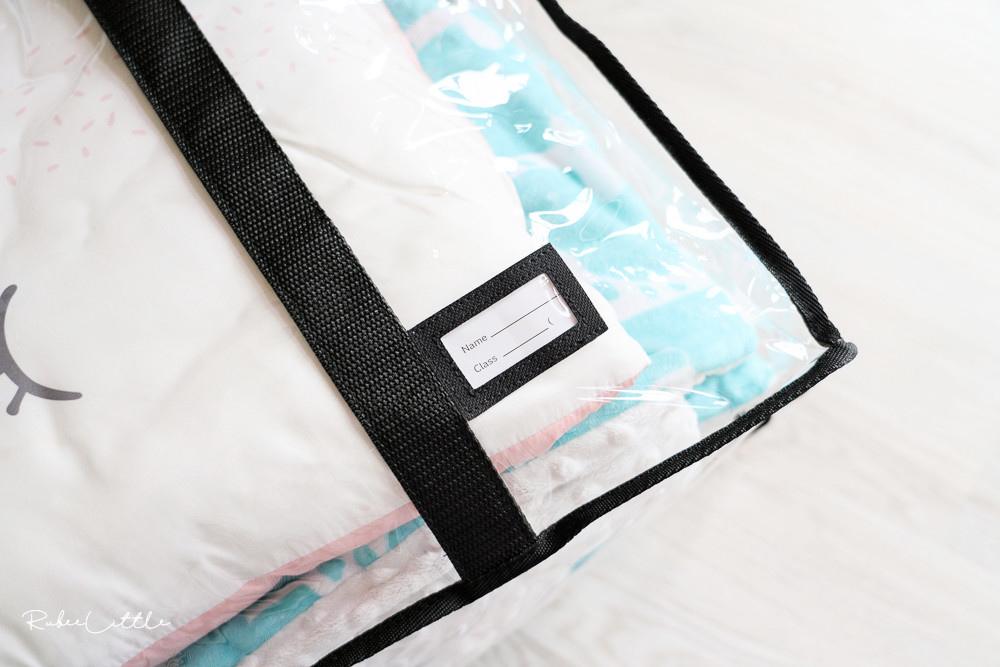 The sleeping bag stands up and is packed away, it looks so comfortable!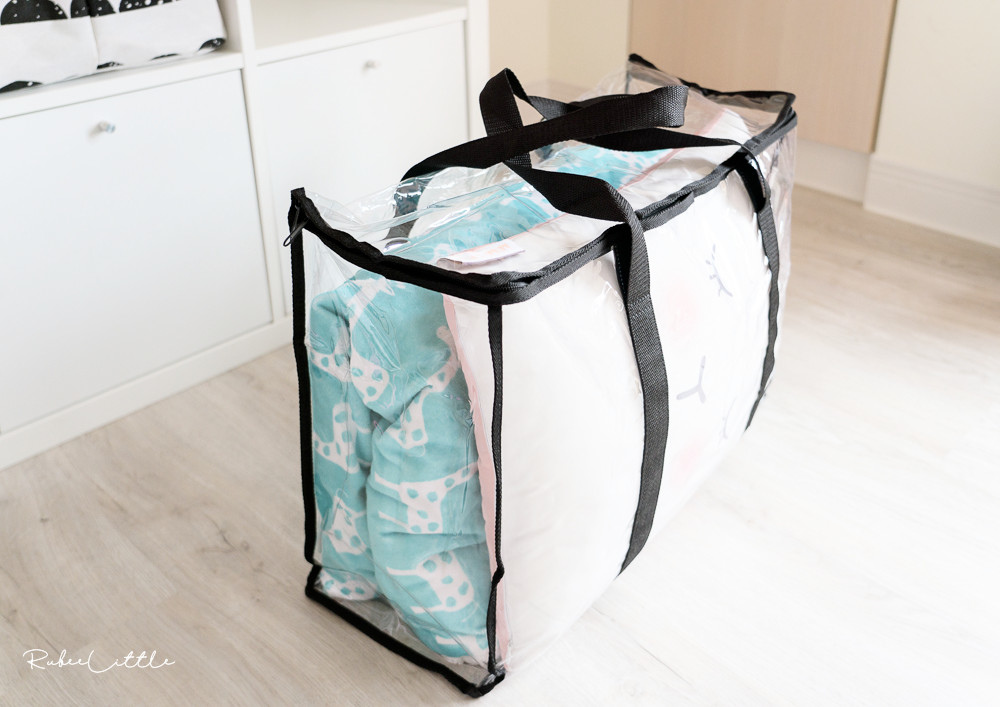 The rose red color is very beautiful~ The large-sized sleeping bag can fit a child's quilt and pillow just right!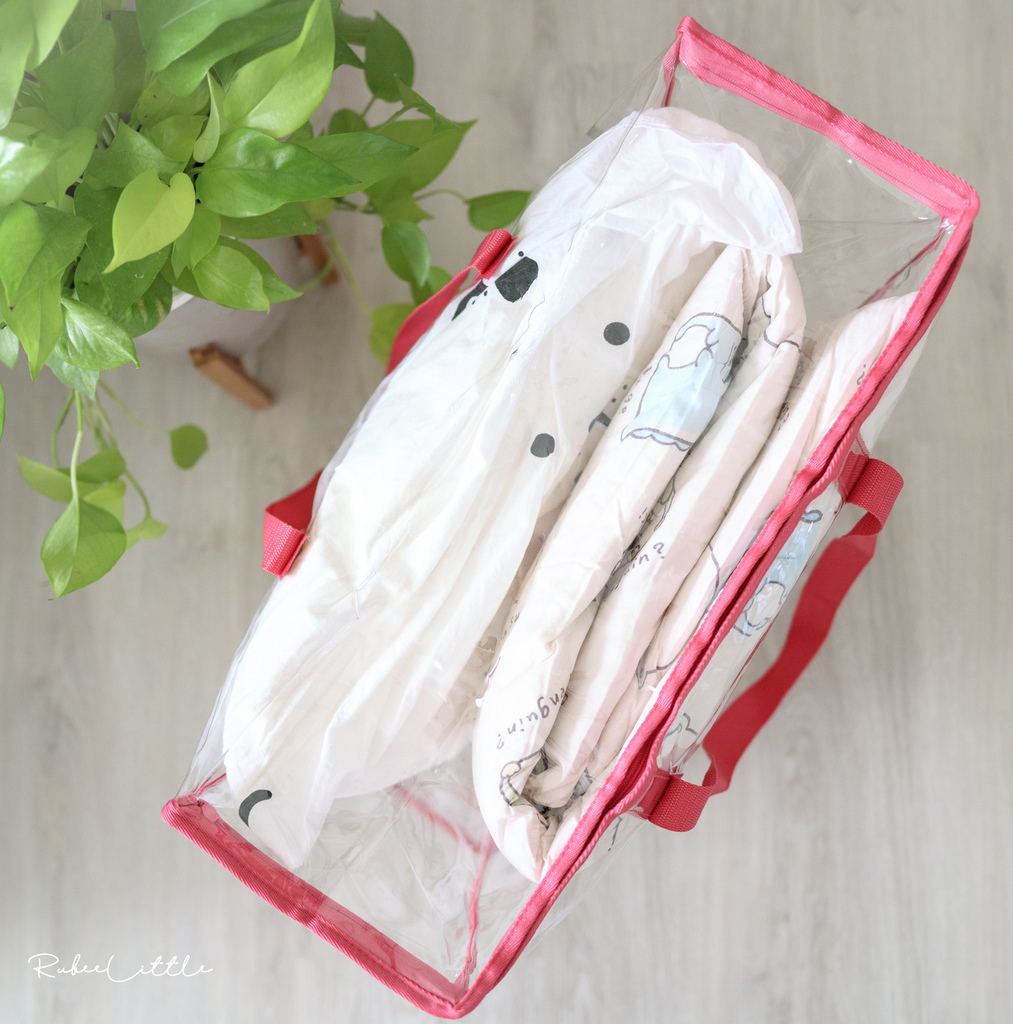 The new color of 2020 is a very trendy fluorescent pink!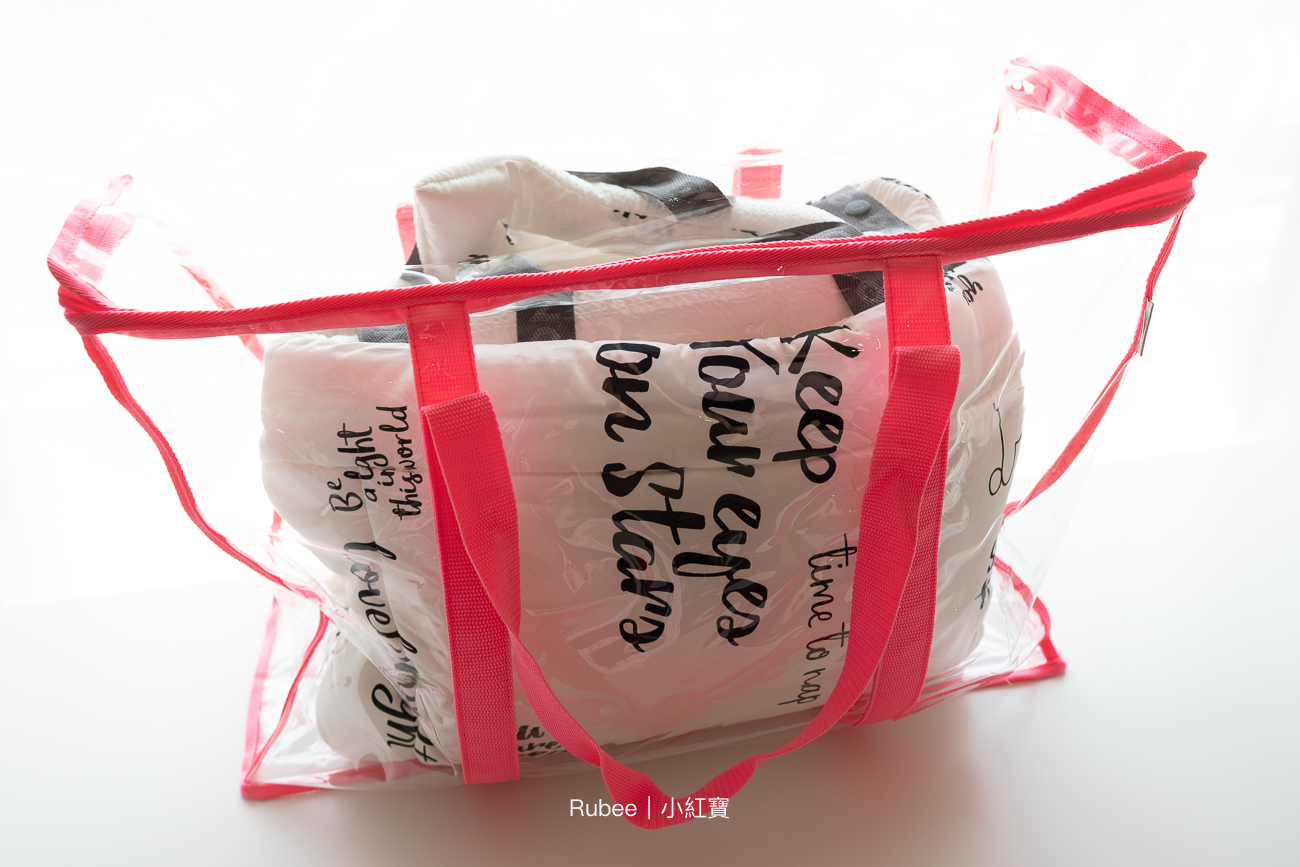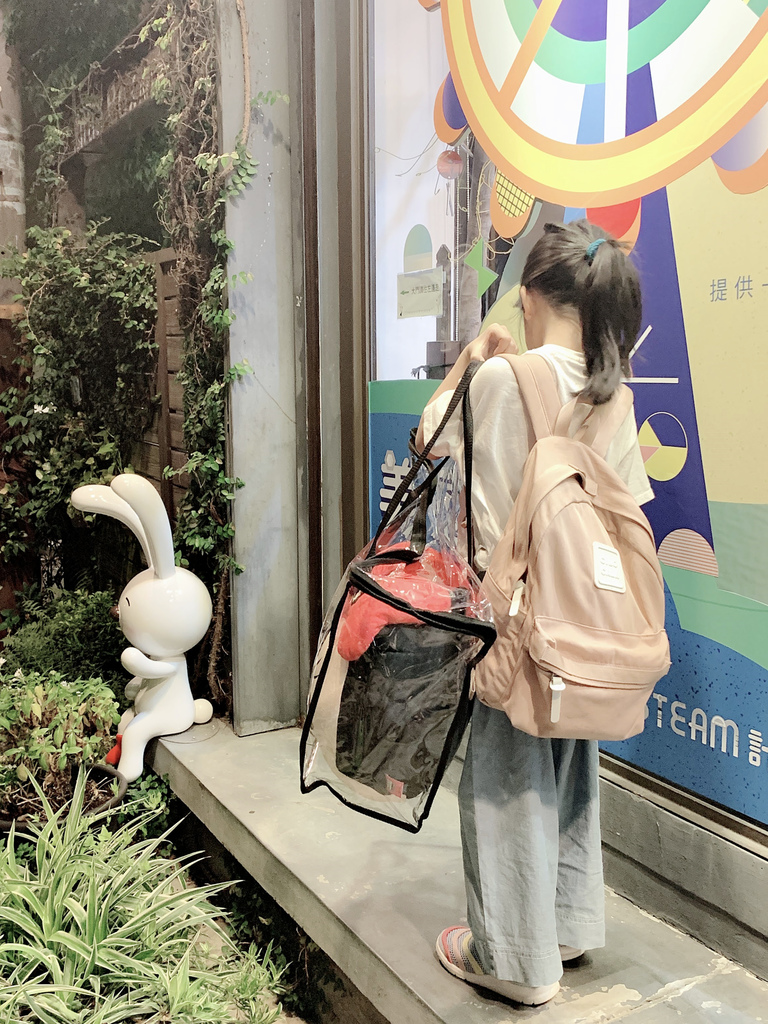 Size comparison~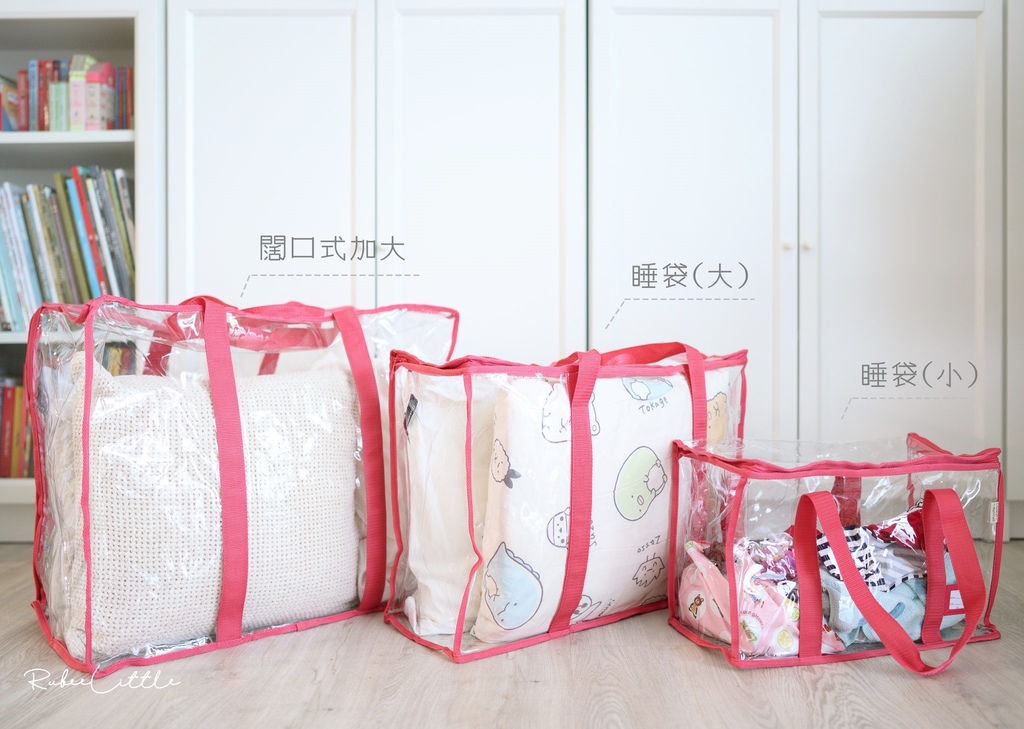 Children's bag series Backy backpack
▸Size: L24.5 x H33 x W10cm
This backpack is a new product for 2020 this year! There are so many colors to choose from, and the color matching is very lively. The size can fit A4 books. There is also a strap at the back of the backpack that can be attached to the suitcase. Love this thoughtful little design! Since I often need to pull a stroller out, it's really great to be able to fix the backpack on the trolley! Generally, backpacks will keep sliding down when left on them. It is rare to find such a design~ It is also very practical when traveling!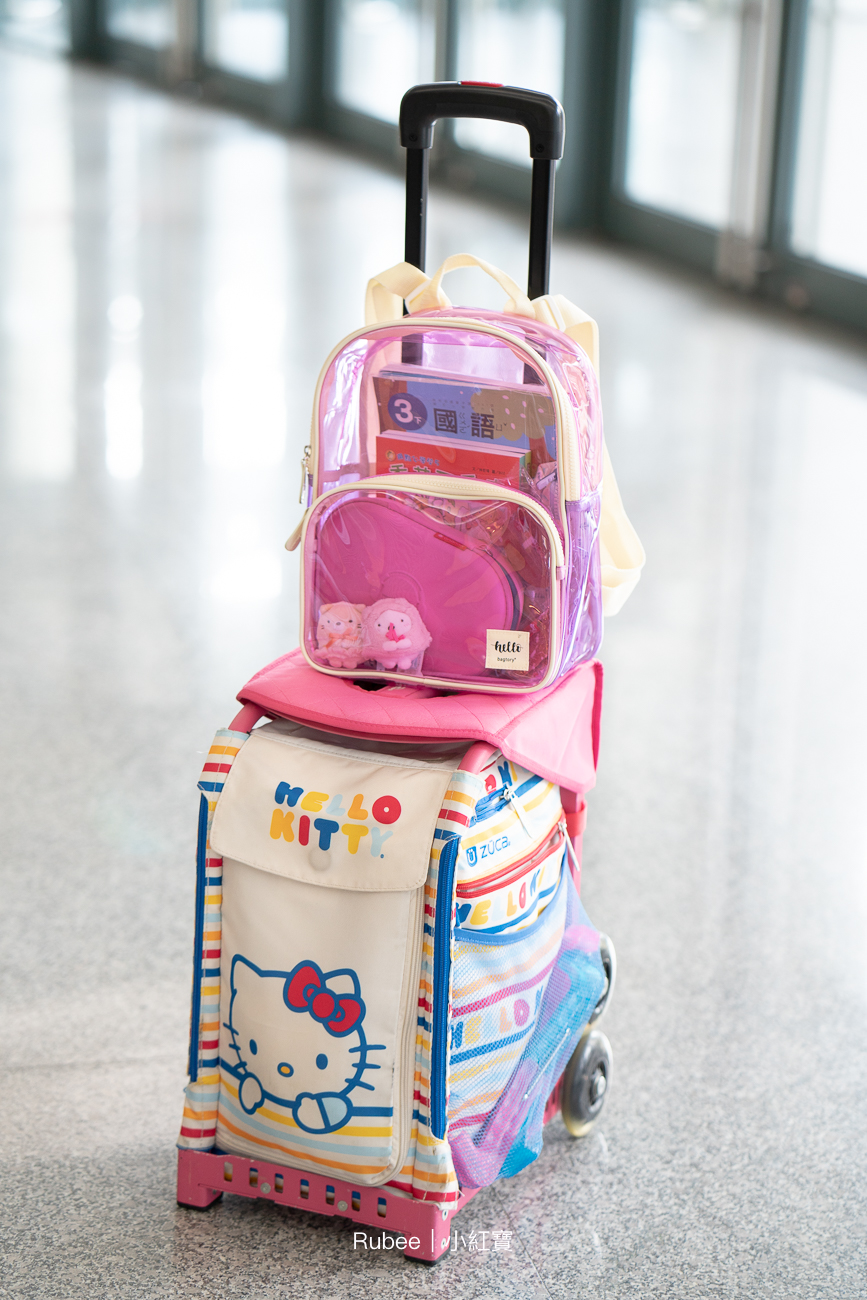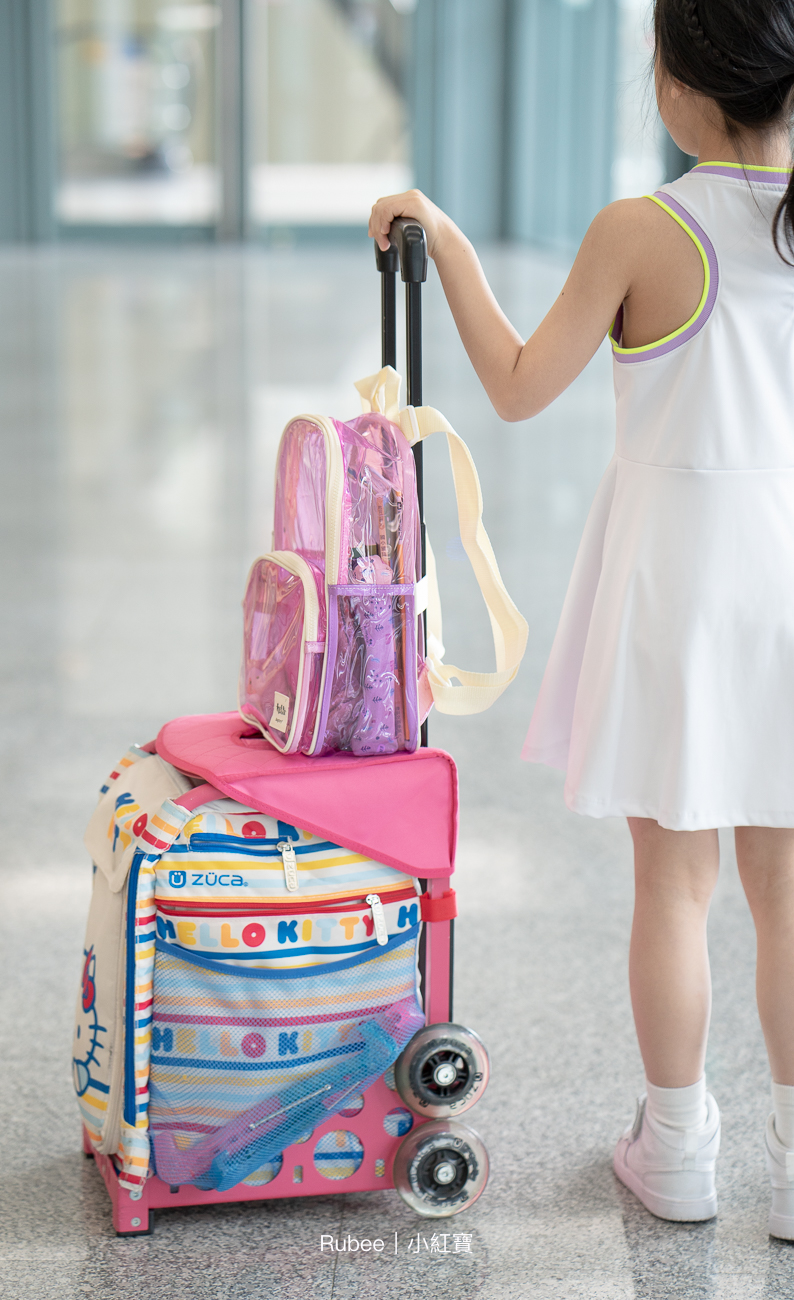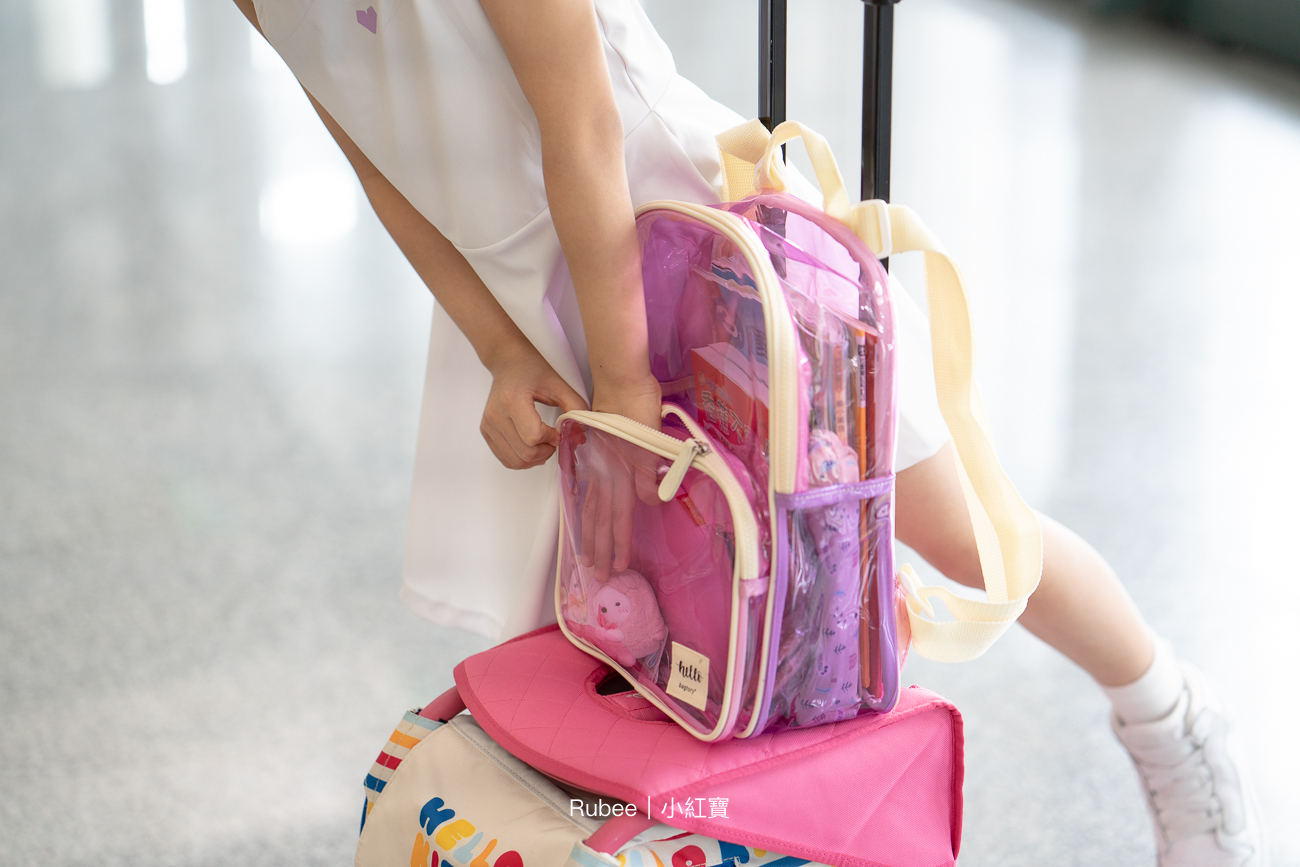 Children's bag series Toteby hand bag
▸Size: L36 x H27 x W14cm
Bags are also new this year in 2020. It has a large opening, can be carried by hand, the color is very fashionable, and the size is just right. Suitable for general use when going out.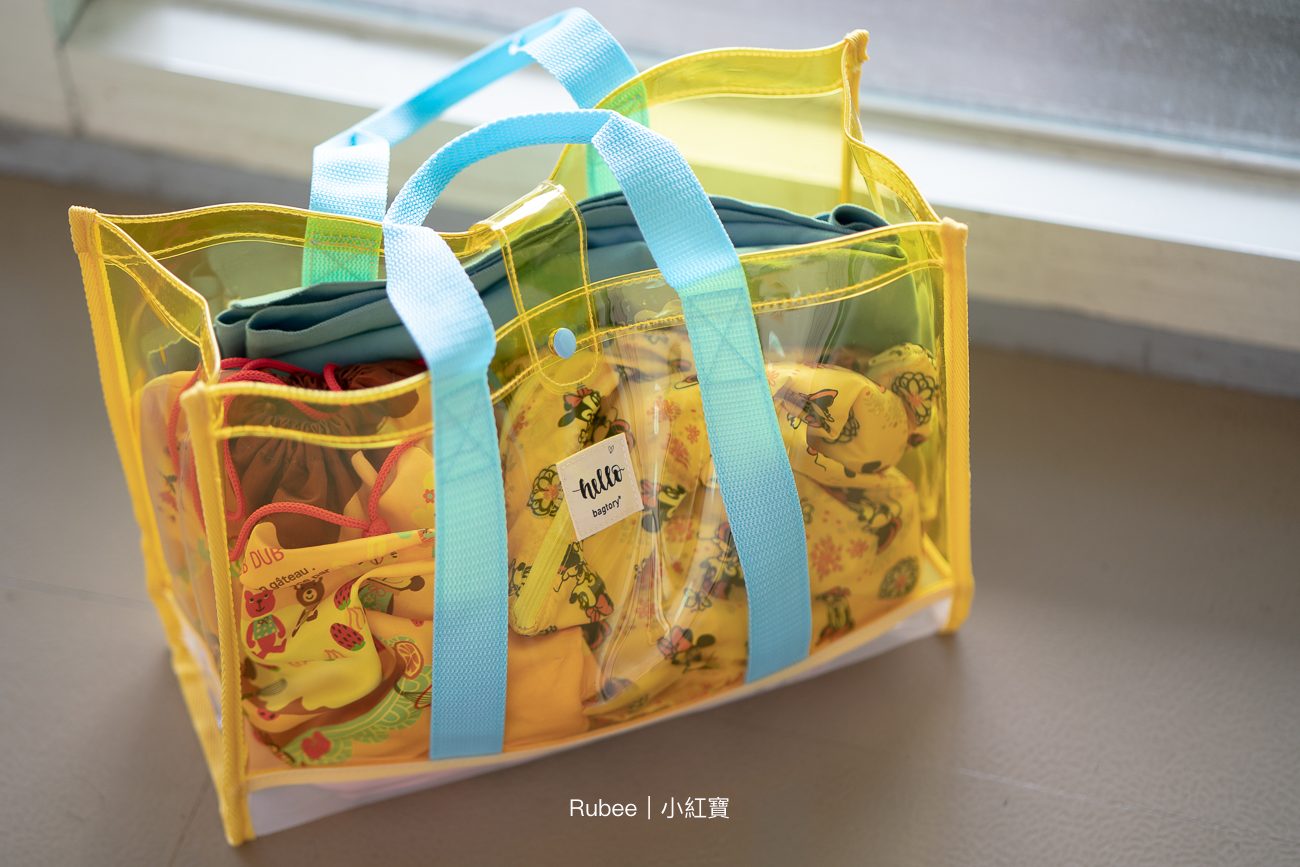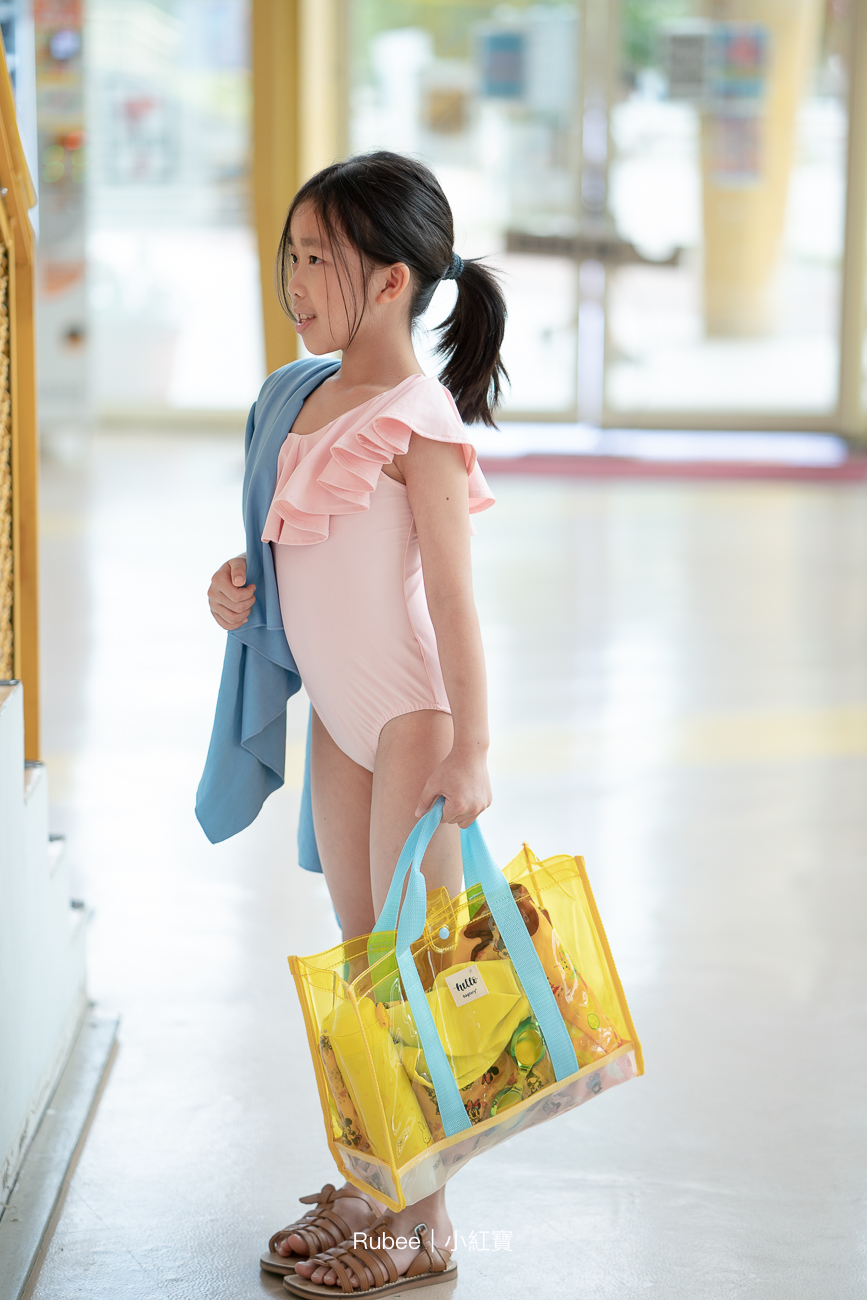 HD document book bag
A4-size: 31L x 22W x 8H accordion fold (cm)
F4-Size: 34L x 24W x 8H accordion (cm)
Each storage bag of BAGTORY has its own purpose. This file bag can be used to store books, magazines, documents, etc. There are also exclusive pockets for labeling, making it easy to sort and store them.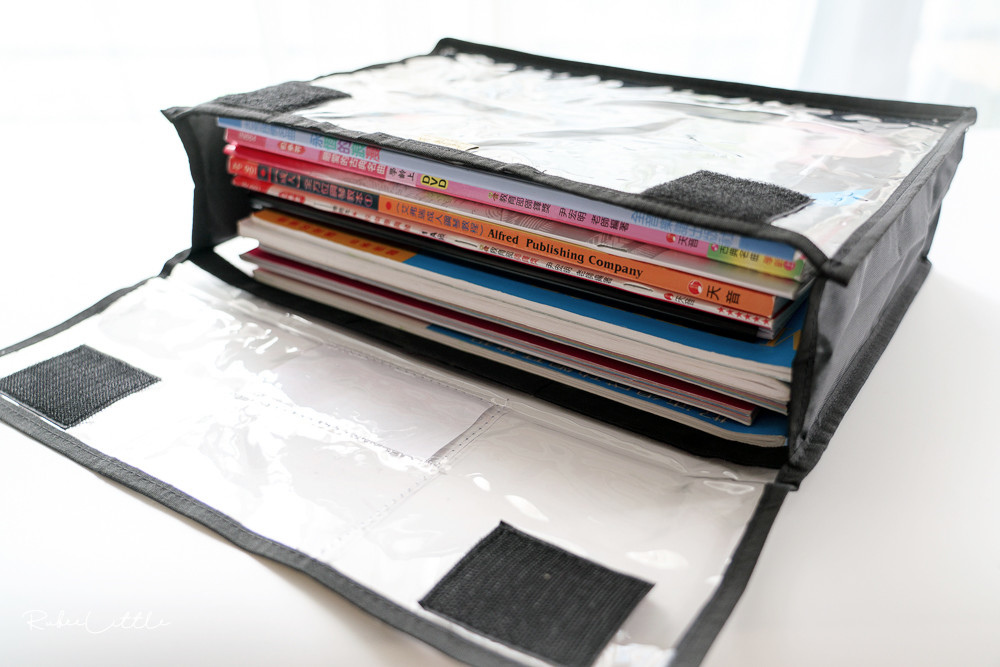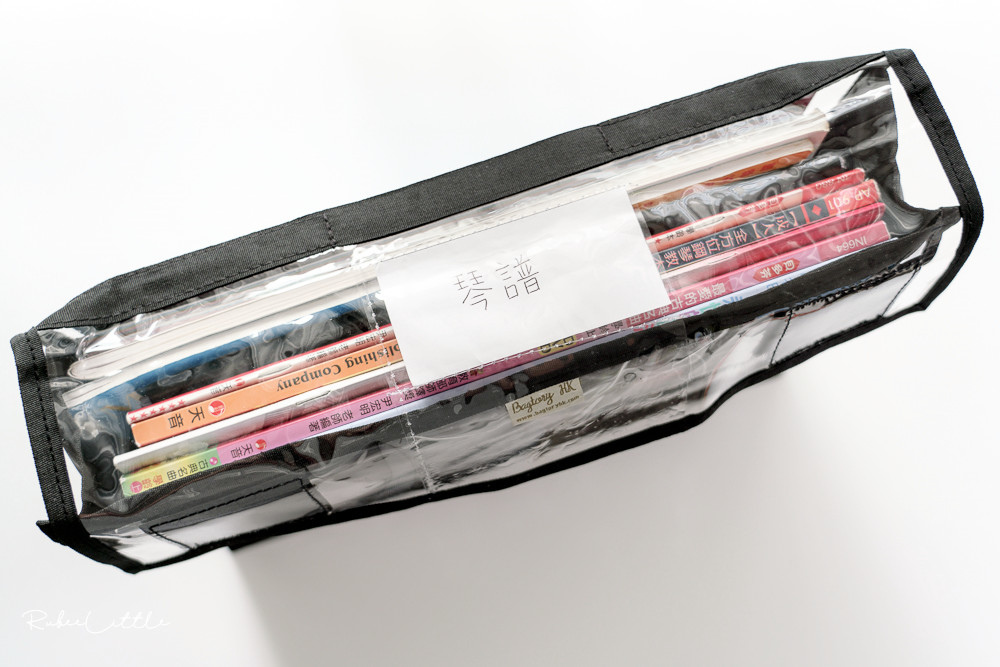 The size of F4 is just right for ordinary magazines. I have collected some paper materials at home, and now they are collected in this storage bag, making them easy to find and tidy.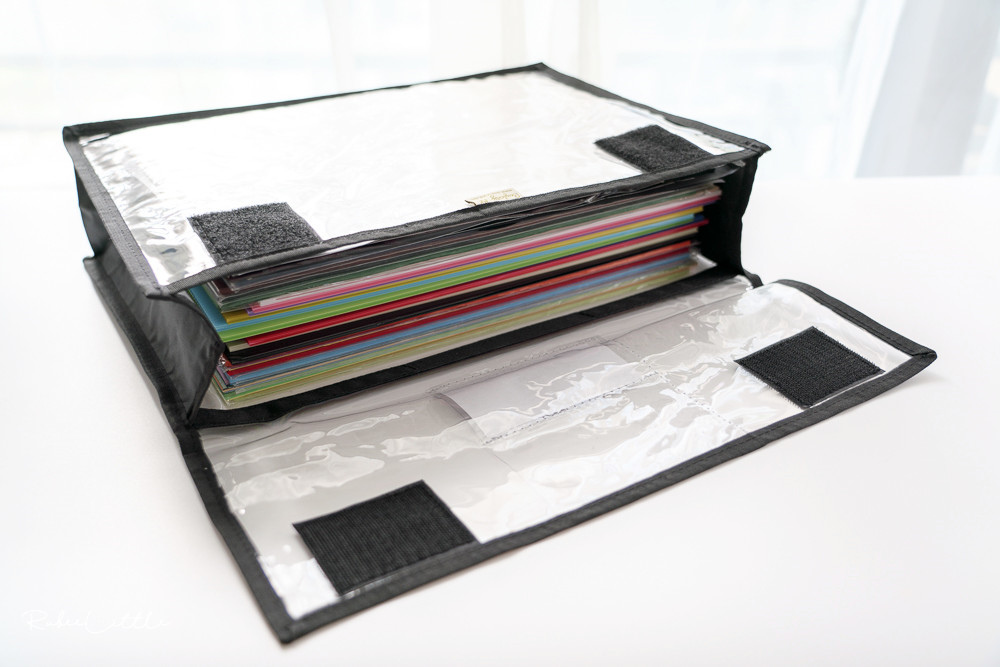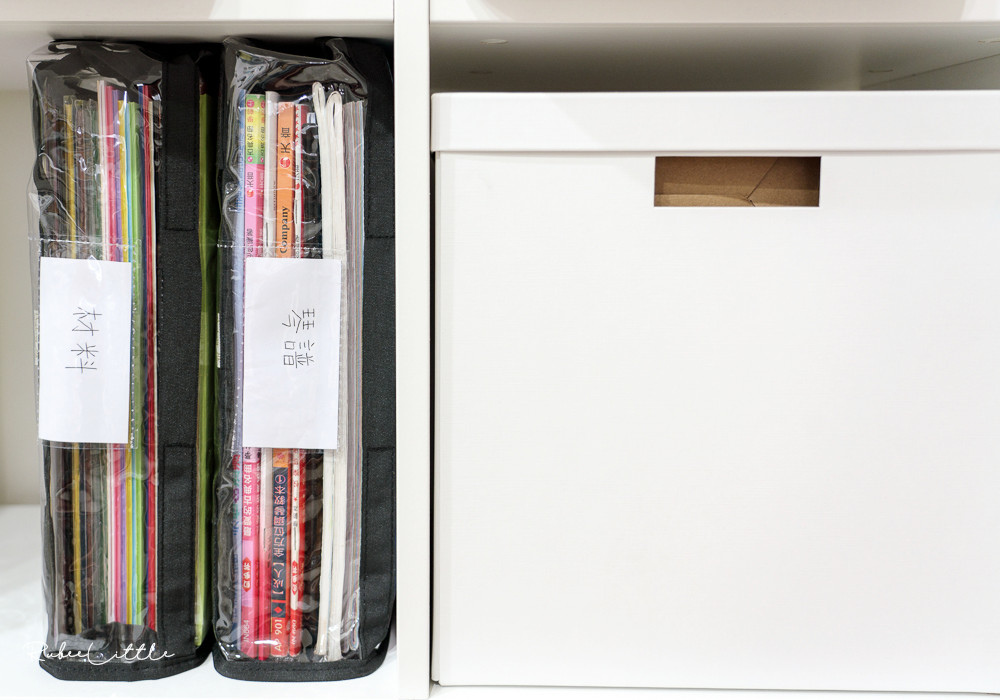 The A4 size is just right for children's school textbooks and exercise books.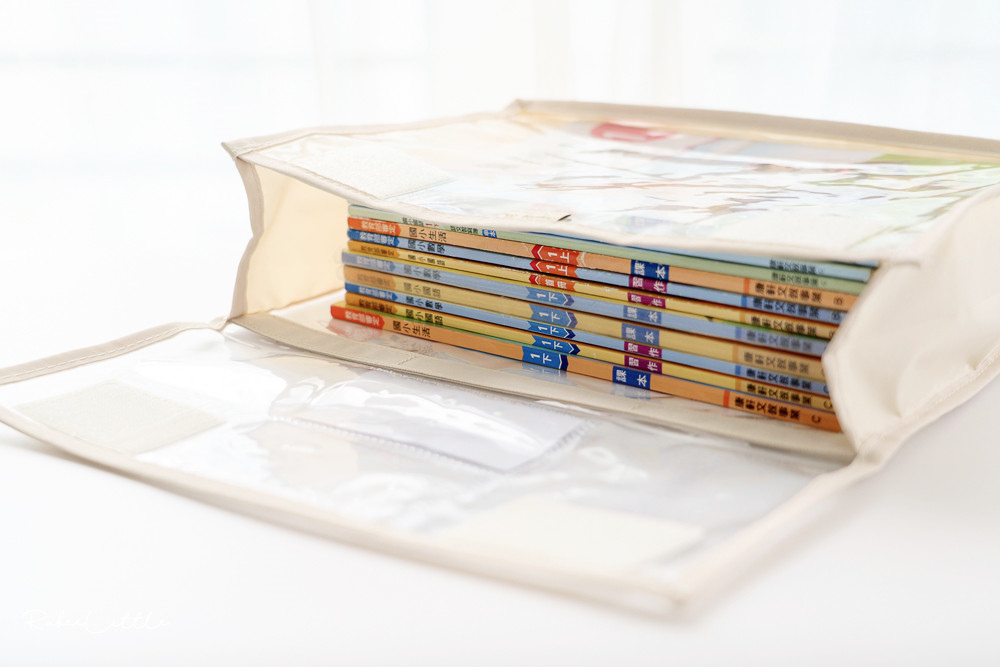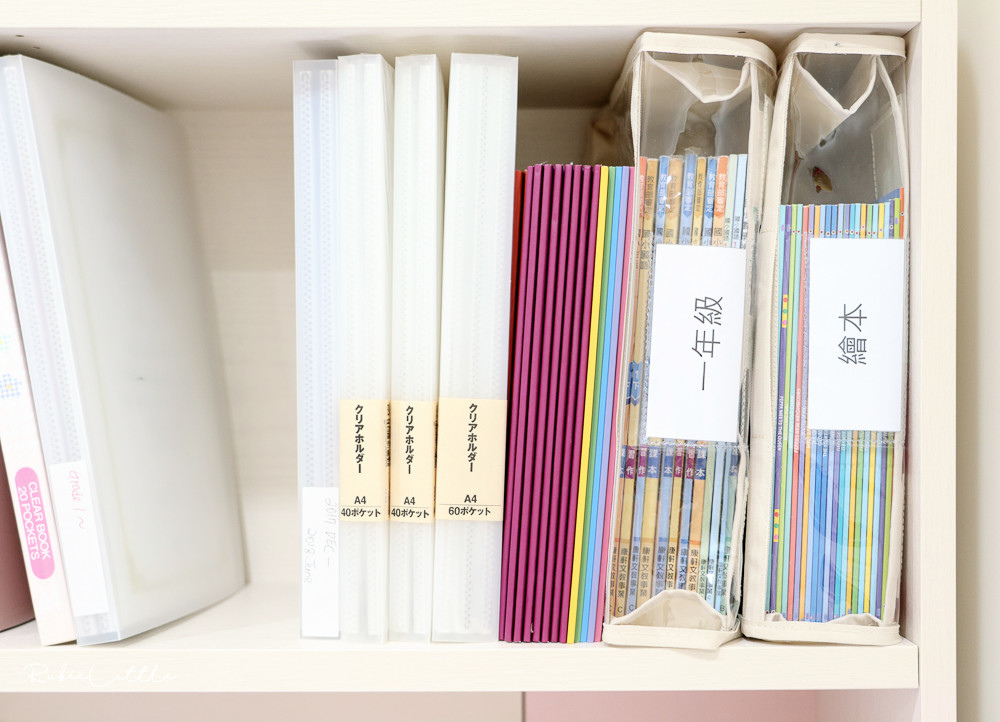 Transparent steel frame storage box
▸Size:
66L 50*40*33cm
44L 50*40*22cm
33L 50*40*17cm▸Color: black, gray, white
The steel frame storage box is the most advanced in the entire series, because it has a steel frame inside and the stiffness is upgraded, making it easy to stack as much as you want. This series also has a double-pocket design, which is easy to store and carry, and there are handles on both sides for easy movement. When not needed, it can be flattened and stored without taking up space.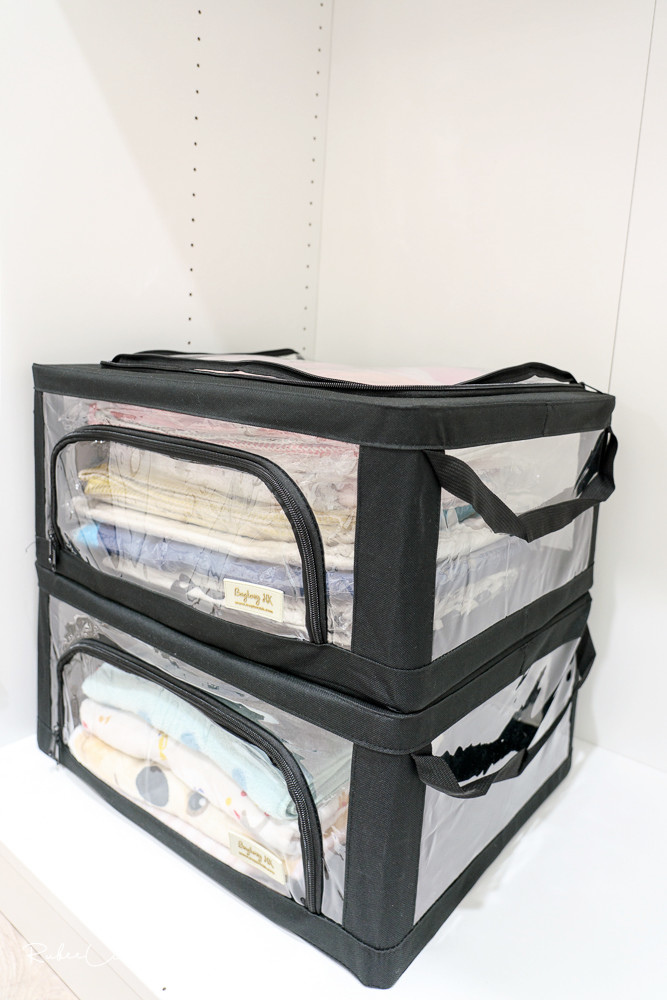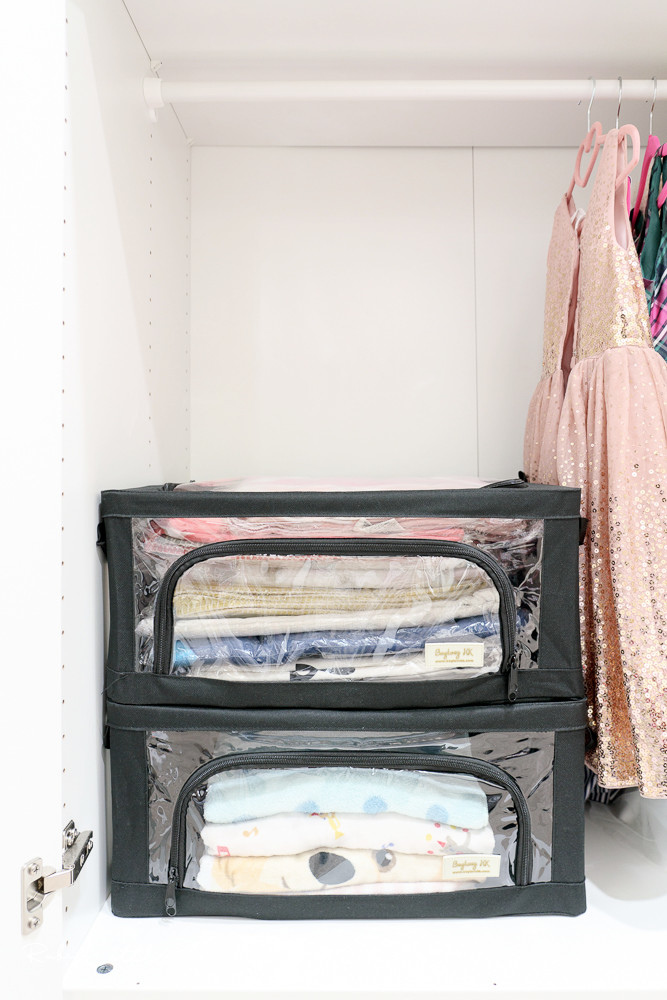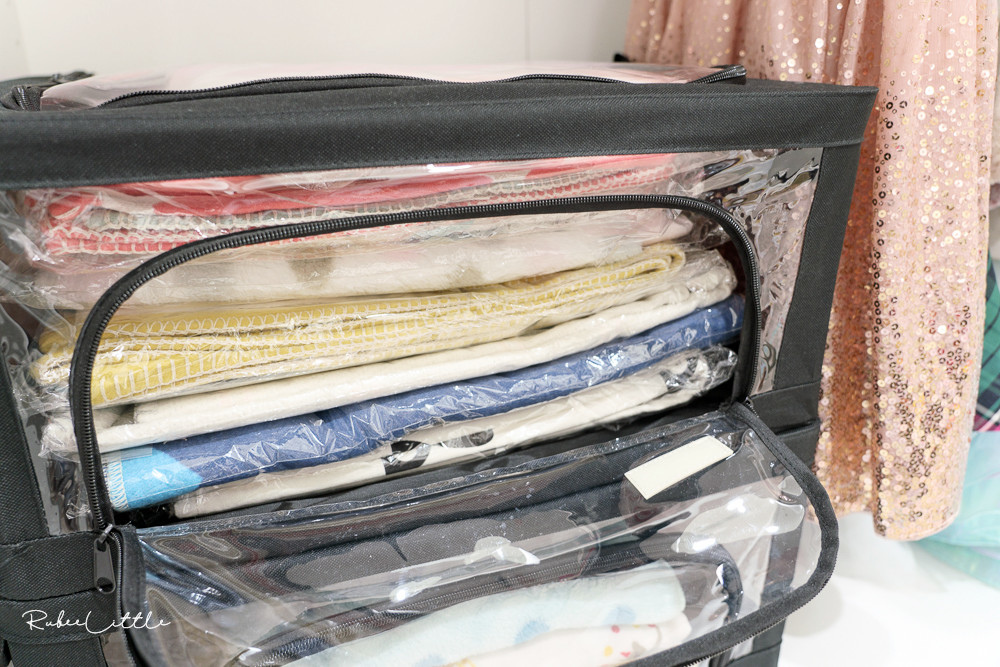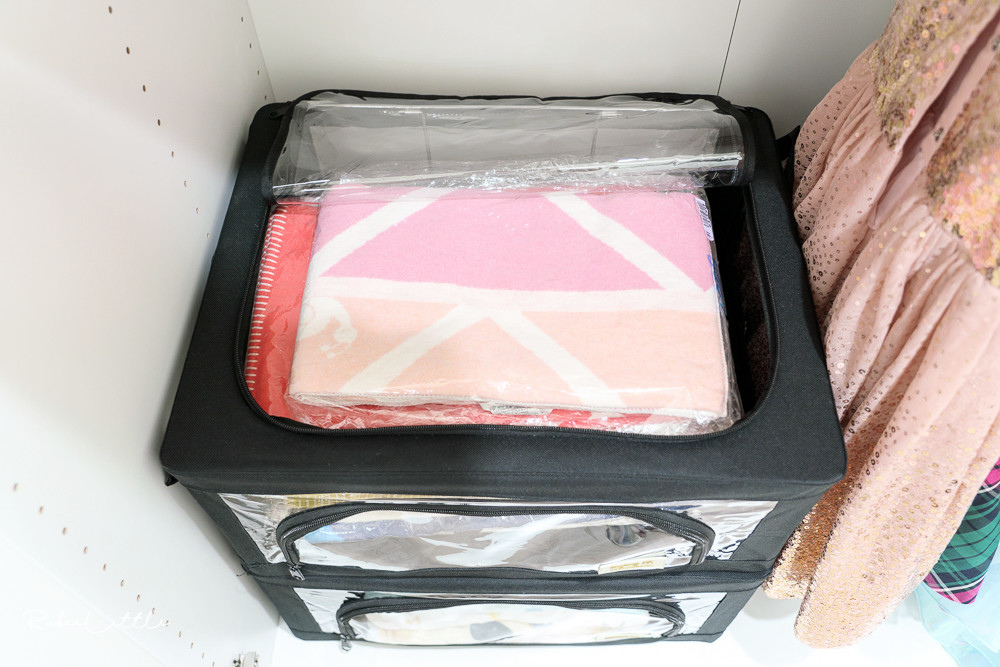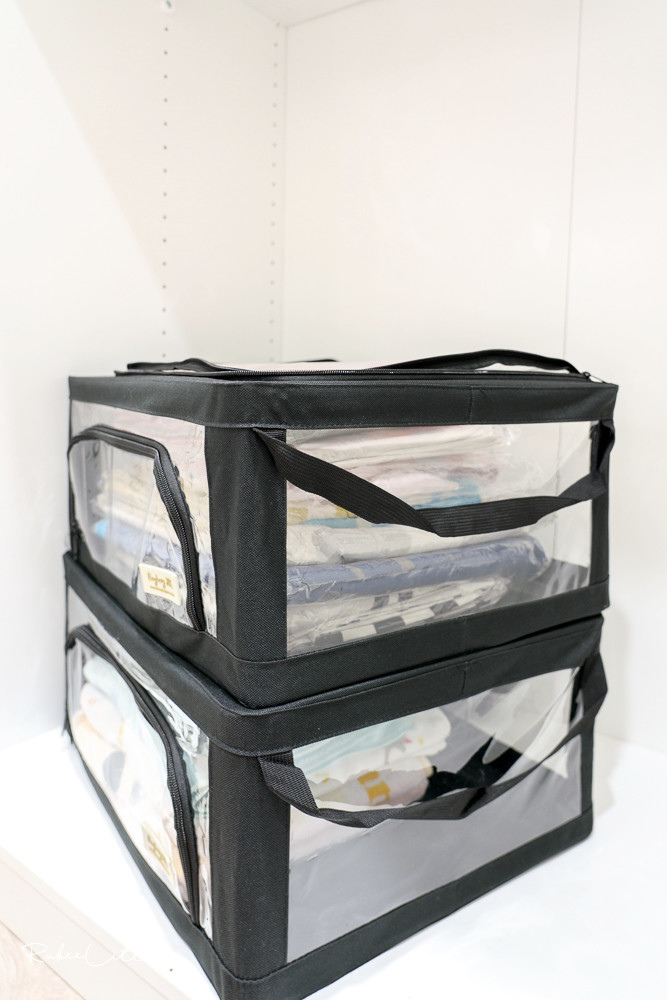 Summarize
Clothing storage: transparent steel frame storage box, double-mouth transparent storage bag
Sleeping bag and quilt storage: portable space-saving universal bag
Storage of stationery, sundries and small items: multi-purpose activity bags, lightweight mixed toy bags, easy-to-carry transparent storage series
Document storage: high-definition document bag, multi-purpose activity bag, letter and notice hanging bag
Toy storage: space-saving upright toy storage, lightweight hybrid toy bag
Travel Storage: HD Traveler Bag
Out-and-out bags: Easy-to-carry transparent storage series, Toteby handbags
Backpack: Backy Backpack
=============================================
Reprinted from [Rubee 小红宝] blog